'What a great place to be working in AI': Why this U of T alumnus left Silicon Valley for Toronto's tech scene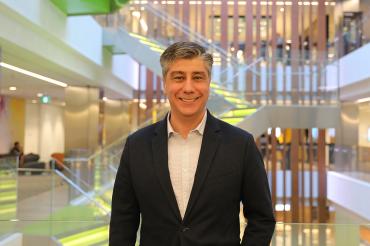 Artificial intelligence, or AI, is fundamentally changing how businesses operate, introducing challenges that would have been unimaginable just five years ago – problems that University of Toronto alumnus Alex Grbic aims to solve.
After 10 years in Silicon Valley where he led teams at chip manufacturing giants Altera and Intel, the graduate of U of T's Faculty of Applied Science & Engineering recently returned to Toronto to head up Deloitte Canada's AI practice just as the city emerges as a hotbed of machine learning research and entrepreneurship.
"What Deloitte recognized was that more and more of our clients were asking the firm to help them on their AI journey," says Grbic, who is the chief technology officer at Deloitte's AI practice, called Omnia AI.
"Some are interested in developing strategies that include the use of new technologies, while others want to differentiate themselves from competitors with solutions."
Deloitte's new practice builds upon the firm's professional services history of making sense of large and valuable datasets. Omnia AI is made up of over 300 experts who advise and implement AI-based strategies, data and analytics and end-products for a wide range of clients – from big banks to resources companies and health-care providers.
"For me, the exciting thing about being a part of this team is taking some of the technologies I've built in my previous careers and applying them to real problems, and doing that across a number of industries," Grbic says.
In Toronto's increasingly crowded tech ecosystem, Omnia AI is trying to set itself apart. Traditionally, professional services companies have provided consulting and advisory services, according to Grbic. "But actually delivering an asset? That's rare," he says, adding that delivering an AI asset, from concept to product, is even rarer.
For Grbic, the business case for Omnia AI was clear and concrete: AI allows companies to implement changes that streamline routine processes and provide valuable business insights. To take one example: Omnia AI recently developed an AI-enabled contract-management solution for legal departments that automated processes and provided valuable insights to reduce business risk.
For health-care clients, meanwhile, it developed SmartMD, which uses AI to transcribe patient-physician interactions in real-time to auto-populate medical records. The tool then takes this information and mines a patient's health record for insights on diagnoses and treatments.
"I'd like to think that organizations like ours help people move from the research space, away from that hype, and into something that is more practical," says Grbic.
In addition to his business acumen, Grbic brings deep expertise in high-performance computing.
For his PhD research, he worked in the area of large supercomputers under the supervision of Professor Emeritus Zvonko Vranesic. At Altera, a leading producer of field-programmable gate array (FPGA) devices, Grbic led a team that used FPGAs to develop specialized, accelerated computing solutions.
Grbic says the bigger picture became obvious to him while working at Intel, where he was vice-president of product marketing and planning in the programmable solutions department.
"People started to realize that this type of accelerated computing could really play a huge role in AI."
He felt the natural next step in his career was to focus on AI – a decision that led him back to his hometown of Toronto.
"I thought, 'Hey, this is a great time to make a bit of a shift in my career and look for opportunities where I can help customers take advantage of data with AI,'" he says.
"Then I asked myself, 'Where are those opportunities?' There's Silicon Valley, sure. But in terms of fast growth, high-tech cities – Toronto is near the top of the list."
Grbic says he is looking forward to what the future holds for AI and how its advancements will ripple through Omnia AI and Toronto's tech industry.
"The rate of change is increasing," he says. "And when you think of the talent here in Toronto… what a great place to be working in AI."
Engineering