What is buzzer practice with 'a $9 toilet paper-holder?' U of T's Brooke MacKenzie shares her Jeopardy! secrets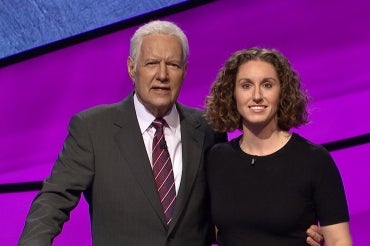 On most evenings when she was growing up, Brooke MacKenzie would tune into Jeopardy! and blurt out answers along with the contestants. 
She continued to watch the show regularly through her undergraduate years and during law school. Finally, after about a decade of doing the online tests and auditions for the show, she finally got her wish: She appeared on the popular game show last week. 
Not only that, she won US$17,300 on her debut in a nail-biting game, beating the first-placed contestant in the final round by correctly providing the question to the following Jeopardy! clue: "There are reminiscences of branding cattle & lassoing steers in "Martín Fierro", the national poem of this Western Hemisphere country." (Answer: What is Argentina?)
MacKenzie, who is pursuing a doctorate in law at the University of Toronto under the supervision of Professor Gillian Hadfield, spoke to U of T News about how she prepared for the television show –  including reading children's books and using a spring-loaded toilet paper dispenser as a makeshift buzzer – and what goes on behind the scenes when the cameras aren't rolling.
---
Many contestants spend years trying to get on the show. What was it like for you?
It was similar. For about 10 years I've been taking the online test. So about 80,000 people a year take that test. A couple of times I've been invited to an audition, which is the next stage. They hold it in eight different U.S. cities in a given year. 
Of the people who meet the cut-off score, they do a random draw. They choose about 2,500 to 3,000 people to do the audition, and then from there you do another test at the in-person audition. I think it's to make sure you are in fact the person who did well in the online test – that you didn't have your smart neighbour do it. Then they do a mock game and a little interview. 
How did you react when you were invited to appear on the show?
I was elated. It had been many months since I had auditioned, so I had assumed nothing came of it, and I would just keep trying with the online test. But one Tuesday afternoon at work I received a call on my cell phone from "Culver City, Calif." – I immediately knew this was it.
How did you study?
They gave me the offer to be on the show about a month before I was on. So for about a month I spent my evenings and weekends studying. I watched 20 hours of Ken Burns's civil war documentary. It actually worked out really well because there was a civil war category. It's something that's on the show regularly, so I knew it was a topic I needed to brush up on. 
As it turns out, the woman who stood next to me had also watched 20 hours of Ken Burns's civil war documentary. We were laughing about that. 
I also memorized world capitals and studied geography, U.S. presidents and Greek mythology. 
I'd read that a previous contestant found reading children's books really helpful, so I thought that was a really good idea because, one, it has pictures and, two, it provides a sort of high level amount of information on a lot of different things. So I read kids' books on Greek mythology and Bible stories – that kind of thing.
So you're referring to the Jeopardy! champ James Holzhauer, right? Did you think about employing his betting strategy? 
I think he's smarter than I am. But I do think that over the last several months, you've seen a lot of people making bigger bets more often when you get a Daily Double, which is something that I did. I didn't bet all of it, but I bet almost all of the money that I had in Double Jeopardy. It was something like US$7,700 to try to take the lead. 
I didn't get any Daily Doubles in the second game – and that's why I lost. 
Are you a big risk taker, generally? 
No. But a lot of it is about the math. To go back to your previous question – in addition to studying the material, I also spent a good amount of time studying the game theory and betting strategy. Once you learn it, you notice how often players screwed up. Sometimes a big bet is the right call, sometimes it's absolutely not. So I spent a bit of time learning what's the optimal bet in different situations.
Big day! Thanks to some good friends and family who joined for an epic viewing party tonight, and thank you to all those who tuned in at home and reached out to share your support. https://t.co/RbO9qsEN4Q

— Brooke MacKenzie (@mackenzb) February 14, 2020
Did you practice for the buzzer? 
I did. I read that a previous contestant had done this. You know a toilet paper-holder at home, it's spring-loaded? It's about the size of the Jeopardy! buzzer, so I went and ordered a $9 toilet paper-holder on Amazon. So for the month before, my husband and I would watch the show and I would have this toilet paper holder and practise buzzing in, which I'm sure looked a little ridiculous. 
As a lawyer, how relieved were you in the first game when "Trial Mix" came up as a category? 
I didn't make the connection, to be honest. And, actually, the clues weren't really about law. And, if they were, it would be about American law, which I don't know much about. It was more of a history category – the Salem witch trials, the Scopes trial. I'm a big baseball fan and I was really disappointed I didn't buzz in in time for a question about the Black Sox scandal. 
One funny thing that I learned is how random everything is with the selection of the players, the categories – even where you stand. They do everything with a random draw.
Between the first and second rounds, Alex Trebek makes chit-chat with the contestants. As I understand it, contestants supply a few anecdotes beforehand and he chooses one. 
That's right. 
What was it like making small talk with him? 
You have to come up with your anecdotes for the audition process. You have the opportunity to change it later.
But that felt like a lot of pressure, coming up with fun facts about myself. I don't consider myself a very interesting person. Then, when I showed up on the show, the producers picked a top three that they were going to give to Alex and one to highlight. The one they highlighted for me was how I've gone on road trips through various U.S. states and Canadian provinces.
Did your U of T education come in handy on the show? 
Not specifically, but there is a connection in that I keep going back for more degrees.
I do think there's a connection between being curious and loving learning and doing well on Jeopardy! because it's not just about memorization, but also about figuring things out and paying attention to the world around you – and learning as much as possible and problem-solving. 
How else was your experience of being on the show different from your expectations? 
I was even more nervous than I expected. 
You didn't seem that nervous. 
Oh, thank you. I've never been more nervous than when I was standing on the stage for the first time and the music comes on and the lights come up. That's the main difference. The filming actually happens at about the same pace as what you watch on television. It only takes about half an hour or so. There are breaks in the taping when the commercial breaks happen. My only interactions with Alex are what you see on TV. I didn't get to hang out with him in the green room or anything. 
I was going to ask you if you bonded over being Canadian. 
We actually didn't get the opportunity to chat about that. There is a little chit-chat that you don't hear in the credit sequence at the end. I believe on the first episode he was making fun of us for not knowing anything about opera [none of the contestants were able to correctly answer a question in the "Opera Zingers" category].
Your first game was very close. How relieved were you that the contestant in the lead got the Final Jeopardy question wrong? 
I was extremely relieved. I was expecting him to win. I wasn't sure about my answer. It was an educated guess. But I knew I was going to be right because the third-placed player had made the same guess.
It's a little funny to win because someone else gets it wrong. You don't want to celebrate too much. But he had been the champion and got to enjoy that, and so it was really nice to be able to have my own turn as champion. 
What was harder: Jeopardy! or the LSAT?
Jeopardy!, definitely. While there's a fair bit of pressure involved in both, it was easier to prepare for the LSATs – you know what kinds of questions you'll be facing – and you don't have millions of people watching you take them. But Jeopardy! was also more fun.
Any big plans for your winnings? 
We're putting some of it aside to save to get into the Toronto housing market, but my husband and I are going to climb Mount Kilimanjaro next year. That's something I was going to do if I won on Jeopardy! , and now we get to do it. 
UTC