Wesley Hall, a corporate leader working to eliminate systemic barriers, receives honorary degree
Countless Canadians know him as one of the well-heeled investors on CBC's Dragon's Den, offering a financial boost (or not) to aspiring entrepreneurs. But Wesley Hall is also well known for his deep commitment to equity, leading initiatives to help advance careers in the Black community.
For his innovative corporate and entrepreneurial leadership, and for being an outstanding champion for equity and the removal of systemic barriers affecting the Black community, Hall today receives a Doctor of Laws, honoris causa, from the University of Toronto.
Born in Jamaica and raised by his grandmother in a plantation worker's tin shack, Hall immigrated to Canada as a teenager. The first time he saw a plane up close was the day he came to Toronto. "I was poor," he told the Toronto Star in 2021. "There are times when I would go to school hungry because we didn't have food, but my grandmother did what she could."
In Toronto, he connected with his father and attended Lester B. Pearson Collegiate Institute in the northeast of the city, working evenings. After leaving high school, Hall took a variety of service jobs before landing a position as mailroom clerk at a Toronto law firm. That experience led him to enrol at George Brown College, where he earned his law clerk's certificate.
In 1994, he interviewed for a job at Global Television, but, with limited practical experience, figured he had almost no chance of being hired. He was wrong. Global's general legal counsel liked Hall and brought him on as law clerk. He worked there for a few years before moving on to CIBC Mellon and then Georgeson Canada, a shareholder communications firm.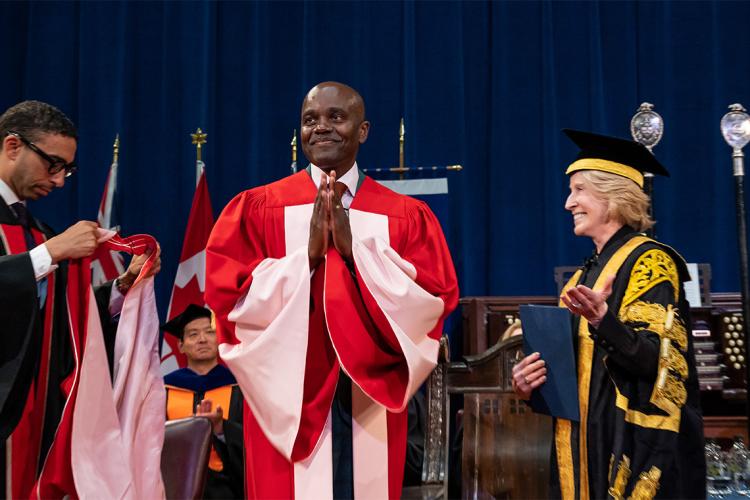 In 2002, at age 34, he decided to take out a $100,000 bank loan and establish his own company, Kingsdale Advisors. His specialty: helping companies navigate takeover bids. Since then, he has worked on multi-billion-dollar deals for Falconbridge and Petro Canada.
Hall attributes his impressive career trajectory to small steps that brought incremental successes. "I kept taking on bigger challenges, those challenges started working out and that just kept pushing me to do more," he told Wealth Professional.
Although 7.5 per cent of Toronto's residents are Black, just 0.3 per cent of corporate board positions are held by Black people, according to a recent study.
Hall saw the evidence of this statistic this every day working in Toronto's financial district. It didn't matter which company's board room he visited; he was invariably the only Black person there. "Toronto is a great multicultural society," he told the Financial Post in 2020. "Then I go down to Bay Street and I don't see it there. Why is that?"
Shortly after the murder of George Floyd in Minneapolis in May 2020, Hall founded the BlackNorth Initiative with the goal of bringing together community and corporate leaders from across the country to work toward the removal of the systemic barriers that negatively affect the lives of Black Canadians.
Companies participating in the initiative have pledged to ensure that by 2025 at least 3.5 per cent of their executives and board members – and five per cent of their interns – are drawn from the Black community. So far, more than 400 companies, including Enbridge and Sun Life Financial, have signed on.
In 2021, Hall partnered with the Rotman School of Management to introduce the first Black entrepreneurship and leadership course in Canada. This course, in which Hall continues to participate, aims to create sustainable change to combat systemic racism facing Black leaders.
"We appreciate the people who go from the mailroom to the boardroom," he told the Financial Post. "But we don't see them until they actually get there. There are so many people knocking on that door, just waiting for a chance to get in, but not getting in because there aren't enough people looking at what they have had to overcome."
Hall sits on the boards of the SickKids Foundation, Pathways to Education Canada, the Toronto International Film Festival and The Black Academy. He was named Canadian Business Leader of 2022 by the Canadian Chamber of Commerce and has received four other honorary doctorates. Hall has also written a memoir, No Bootstraps When You're Barefoot, and, with the Toronto Star, created a podcast called "Between Us with Wes Hall."
UTC