'Welcome home': U of T's on-campus housing offers more than a place to live
The university expects to add 1,450 more spaces across its three campuses over the next several years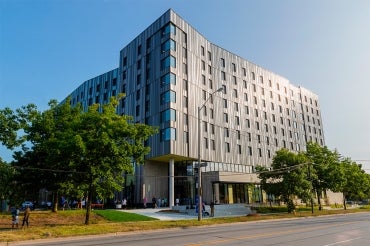 Zupaash Naveed arrived at University of Toronto just a few weeks ago, but she already feels right at home. 
The first-year computer science co-op student is part of the first cohort to live at Harmony Commons, a new, 746-bed student residence at U of T Scarborough that opened at the beginning of September. 
The residence is part of U of T's broader plan to meet the growing need for student housing across its three campuses, with 1,450 more spaces expected to be added over the next three years.
"It's amazing. There's so much more here than I expected," says Naveed, a National Scholar from Oshawa, Ont. "The technology is great, the layout is modern and clean, and it gives me the opportunity to be fully immersed among my first-year peers."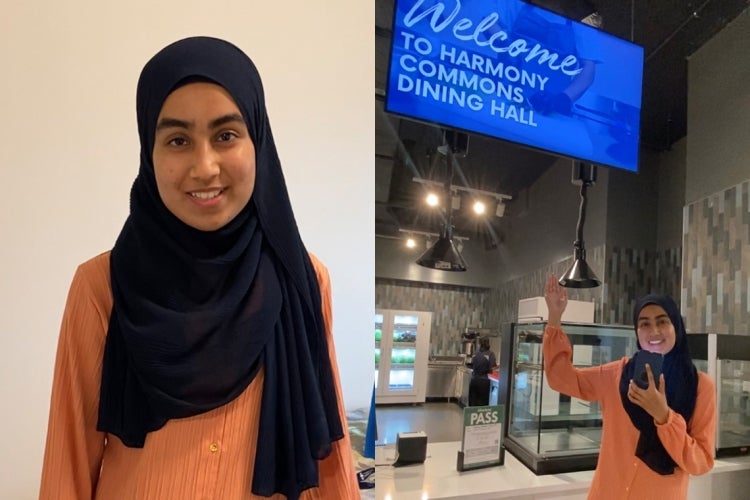 Reserved for first-year students, Harmony Commons has doubled the number of residence spaces at U of T Scarborough as part of the university's broader strategy to provide more housing options for students. It is also one of the largest buildings in North America built to highly energy-efficient passive house standards. 
Then there is the food. 
"I love it," says Naveed, pointing to the breakfast pastries and variety of international cuisines on the menu. She also appreciates the halal options and praises food services staff for being attentive to diverse dietary requirements. "They really take care of me." 
Naveed is one of more than 10,300 students living in university housing this year across U of T's three campuses. Many are new undergraduate students – both domestic and international – who, like Naveed, qualified for the university's first-year residence guarantee. Spaces are also available for upper-year and graduate students, as well as students with families.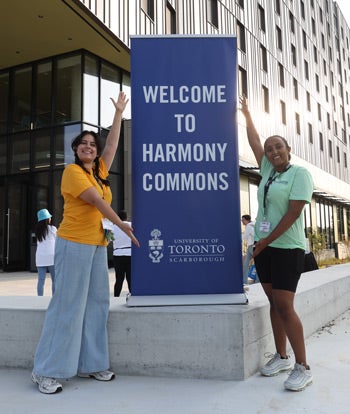 "Living in residence can be a transformational experience for our students, particularly in their first year as they navigate the transition from high school to university," says Sandy Welsh, vice-provost, students. "Being far from family and friends, adjusting to the demands of university studies, and, for our international students, adapting to life in a new country can be challenging. 
"Our residences provide a ready community and support system that enhance our students' well-being and academic success." 
Demand for university housing is growing amid rising rents and declining vacancy in the Greater Toronto Area. While surveys suggest more than 55 per cent of U of T students live with family and commute to one of the three campuses, many others, particularly in their upper years, seek off-campus rental options – with U of T providing resources, education and support – or on-campus alternatives. 
U of T is already a major provider of student housing, with several new buildings under construction. These include Oak House, a 500-bed residence on the St. George campus near Spadina and Sussex Avenues that is scheduled to open in 2024, and a new, 350-bed residence at Trinity College that is expected to be ready in fall 2025. Two more projects – one at U of T Mississauga and the other on the St. George campus – are in development and will provide 600 additional residence spaces.  
"We are working hard to build more residences faster because we know how important they are to our student experience, and we are engaging with governments around policy changes that will help us do this," says Scott Mabury, vice-president, operations and real estate partnerships. 
The university receives no government support for student housing. U of T is advocating for new financing or funding mechanisms to help universities respond to students' demand for housing, as well as continuing to work with governments at all levels on appropriate zoning frameworks that can lower barriers to adding new spaces.   
"Students bring a lot of life and business to the neighbourhoods surrounding our three campuses. Building more student residences makes for a better academic experience for them and for more dynamic neighbourhoods in this city," Mabury said. 
For Ana Divarzak, an international student from Brazil, living in residence provided a strong foundation for life at university and in Canada. Now in her third year of a biotechnology specialist and chemistry major, she arrived at U of T Mississauga in 2021 three weeks into the fall term due to visa delays and the then-mandatory 14-day quarantine for travellers entering Canada due to COVID-19. When she finally reached her residence she found a "welcome home" sign with messages from all her floormates that was taped to the door of her room, surrounded by a rainbow of candy. 
"The support and welcome I experienced from day one in residence have made a huge difference for me, especially as an international student," says Divarzak, who now works as a community assistant at U of T Mississauga. In that role, she supports eight residence student staff in Living Learning Communities (LLC), which group together students who share similar interests and areas of study.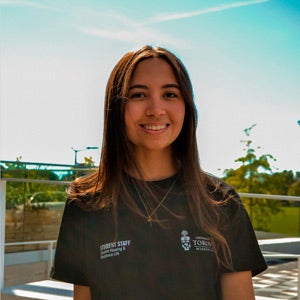 Divarzak chose to live in the life sciences Living Learning Community in her first year and credits it with enhancing her overall university experience. "It helped me make friends a lot more easily because we were in the same courses and we saw each other all the time in class, and we also had weekly community gatherings hosted by our residence LLC program facilitators and don that offered opportunities for social interaction and reflection." 
Back at U of T Scarborough, residence adviser Joshua Cloete says that in addition to acting as a resource for students on his floor, one of his main goals is to build an engaged and supportive community. 
He says he can already see the difference Harmony Commons is making to the first-year experience. 
"In the past month, I've seen more social interactions and bonding and friendships form than in my whole first year," says Cloete, a second-year paramedicine student. "Everyone on my floor already knows everyone else." 
UTC