'We need to ensure a cultural shift': U of T's Onye Nnorom on why Canada needs more Black physicians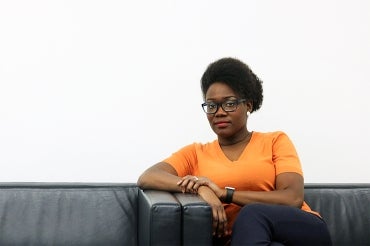 Now, more than ever, the Canadian health-care system needs to accurately reflect the diversity of the country's population.

More than 20 students who self-identify as Black who have been admitted to the University of Toronto's Faculty of Medicine's MD program for next year, and the faculty anticipates the largest number of Black students in the MD Program ever for the coming fall.

But there is further to go, say the faculty's leadership.
Dr. Onye Nnorom, Black health theme lead for the faculty's MD program and the equity, diversity and inclusion lead for the department of family and community medicine, recently spoke with a Faculty of Medicine writer about why addressing racism in health care is necessary and overdue, and why Canada needs more Black physicians.
---
Why does Canada need more Black doctors in training?

I think it's wonderful that the number of Black medical students is increasing.

But, it's important to acknowledge the historical gap that we have had as far as the under-representation of Blacks in medical schools across Canada. For incoming medical students, we need to ensure that there is a cultural shift in medicine so that we're not only increasing the number of Black medical students, but we're also ensuring that they are in a space that values equity and offers Black medical students equal opportunities for advancement.
What challenges exist for racialized students?
We know that minoritized students need better mentorship opportunities, and that they are more likely to be exposed to micro-aggressions – both from supervisors and from patients. When these incidents occur, learners don't always feel safe reporting them, and when they do, sometimes the concerns are not taken seriously, or they do not receive adequate emotional support.
Part of what needs to be addressed is about how we're changing our broader culture, in universities and in health care. I want to focus on what the students' experience will be as they move throughout their careers in medicine because they don't have as many role models who look like them.
There is also the minority tax. For those of us who are from minoritized groups, it means that you spend a lot of time educating the dominant culture about your culture and racism. It means you spend a disproportionate amount of time on committees, doing community outreach and also engaging in activities that usually academic institutions don't value as much. So, all of this effort, which is often to the benefit of the institution, is less likely to advance your career and may even consume energy that would go towards activities that are career-advancing, like research. The minority tax disproportionately affects minoritized faculty and learners.
How does increased diversity improve health care?
It's important to have more Black doctors because we've not been at the table in the same numbers. We're not represented in health care or leadership in the same proportions as we're represented in society, largely due to the complex, social impacts of systemic anti-Black racism.
We know that the Black population is about 4.7 per cent of Ontario's population, according to the 2016 census by Statistics Canada. We also know that Black physicians are approximately 2.3 per cent of the physician population, from research from 2015.
We're extremely under-represented.
A lack of representation in medicine means that, for many of the general physicians in practice, there is likely to be a gap in cultural dexterity when serving patients. This, combined with a general lack of training about Black population health means our profession is less well-equipped to serve the Black population and other under-represented communities.
What are some of the additional pressures facing racialized students and researchers?
When you're a racialized student, it can be very stressful. It can be a feeling of being isolated, and that the spotlight is on you all the time to perform and represent a group. Many of us, including myself, have had those experiences. So that adds another level of stress and can impact wellness for Black medical students. And that is at the best of times.
Research shows racialized medical students experience implicit and explicit forms of mistreatment from both physicians and patients.
However, we also know that the greater the diversity of a class, then the better the odds of people feeling included, and also opportunities for developing a level of cultural dexterity, as well as understanding other peoples' journeys and other communities' experiences. One day, each student will be a physician, so, with better diversity, then they are able to provide better care, with an entirely different lens, and hopefully one of empathy.
What are specific measures that need to be taken?
We're making some progress when it comes to the curriculum in teaching about Black population health. I do that as the Black health theme lead and work with a number of faculty to ensure students understand that Black health disparities are largely due to systemic anti-Black racism.

I also conduct research on Black population health, emphasizing the dearth of race-based data in Canadian health care.
I think faculty in medical schools across Canada also need training in anti-oppression, anti-racism and Indigenous cultural safety so we are all aligned in our actions and our thinking.
We all need to understand the great value in having a diverse student body, and an inclusive environment throughout the medical journey.
I want to see all of us feel like we can all show up as our authentic selves, feel safe doing so and reach our full potential. It is beneficial for everyone, and we will be able to better serve our patients.
Medicine