Watch U of T honorary degree recipient Dominic Barton deliver his convocation address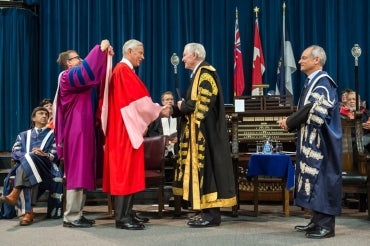 Dominic Barton, the global managing partner of McKinsey & Co., received an honorary Doctor of Laws, honoris causa, from the University of Toronto this week for his work shaping the world of business by advising government and corporate clients in Europe, North America and Asia. 
Barton spoke to students receiving master's and doctoral degrees from the Ontario Institute for Studies in Education and Master of Public Policy from the School of Graduate Studies.
The School of Public Policy & Governance Director Peter Loewen calls Barton a model of leadership, especially for those in public policy, with his "combination of intellectual rigour, ethics, worldliness, and a commitment to the public good."  
"He has also given back to his country," Loewen says. "He is the chair of the Canadian minister of finance's Advisory Council on Economic Growth, a group squarely focused on the creation of effective economic public policy which looks beyond a single electoral cycle. He is the co-chair of the Focusing Capital on the Long-Term Initiative, a group committed to moving corporate leadership to look beyond quarterly results towards a more sustainable capitalism. And he is the co-founder the Century Initiative, an organization committed to building a more prosperous and larger Canada."
UTC