Virtual field trips, digital labs and global colleagues: U of T students to explore the world this fall 
Virtual field trips that take geology students from the Bonnechere Caves to Potholes Provincial Park, Niagara Falls and Halfway Log Dump Bay. Digital labs that allow biomedical engineering students to observe their experiments at a nano-level. And partnerships with students in Mexico that explore the impact of COVID-19 on food security and trust in government. 
These are just a few of the ways University of Toronto professors are planning for a fall semester unlike any other. About 90 per cent of undergraduate courses give students the option of studying online and most of these courses will be offered online only.
It's a big – though temporary – shift in the way the university typically operates, but many U of T faculty members already have considerable experience teaching online. In fact, some say there are clear advantages to the medium. 
To take one existing example: More than 2,000 students a year enrol in Planet Earth, an online introductory course in geology taught by Professor Nicholas Eyles of the department of physical and environmental sciences at U of T Scarborough. 
"I think it leads to better motivation when students can learn in their own time," Eyles says. 
With the help of a team of U of T researchers and computer science-turned-geoscience student Shane Sookhan, Eyles created fully online lessons on mineral resources, rock formations, glacial movement, the origins of the Great Lakes and more – with each module connected to a "virtual reality trip." With a few clicks of a button, students can take a 3D tour of Albion Falls, the Cheltenham Badlands and other areas the course highlights for their geological significance. 
"They can go back and re-watch if there's anything they don't understand, and I have a lot of anecdotal evidence that the whole family gets involved," says Eyles, who explores new field areas on an orange BMW motorbike that he nicknamed "the Pumpkin."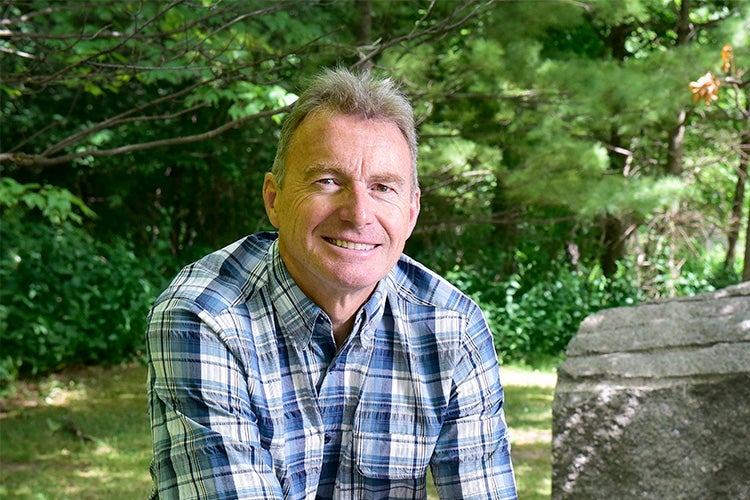 Nicholas Eyles, a professor at U of T Scarborough, teaches a popular online introductory course in geology, featuring 3D virtual tours, that draws some 2,000 students each year (photo by Ken Jones)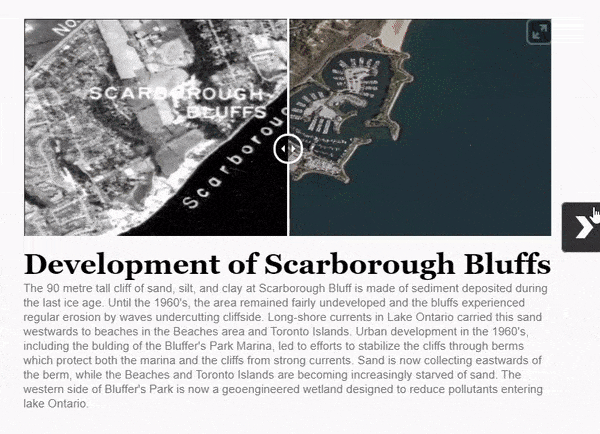 An example of Eyles's online course material from a module that looks at the urbanization of southern Ontario (deck courtesy of Planet Earth Online)
Yet, even if online learning at U of T is far from new, the scale and variety of approaches being developed at U of T for this fall is without precedent. And the desire to keep everyone in the U of T community safe, while delivering an engaging educational experience of the high quality for which U of T is globally renowned, is fueling creativity and innovation across all three campuses. 
In the Faculty of Applied Science & Engineering, for example, Dawn Kilkenny will adopt a hybrid model to teach a third-year biomedical engineering course this fall. That includes in-person office hours, "bite-size" online lectures and virtual labs. 
The lab simulations, made by the Denmark-based startup Labster, allow students to move around a digital lab space and carry out experiments. 
"It reminds students of the background theory as they go along – and that's one of the benefits of the virtual simulation," says Kilkenny, an associate professor, teaching stream, in the Institute of Biomedical Engineering. "A lot of [the simulations] bring up the biology on the micro-scale or the nano-scale, so they will intermittently show students what's happening on that small level. 
"It allows you to visualize what you normally can't see."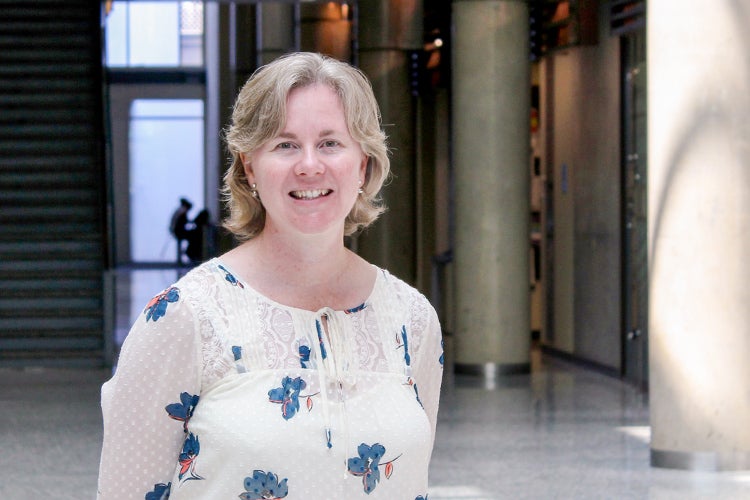 Dawn Kilkenny, an associate professor in the Faculty of Applied Science & Engineering, says virtual labs offer students additional context and background about the experiments they are pursuing (photo by Luke Ng)
The digital labs are also in use at other universities around the world, including Stanford University, Harvard University and MIT. 
While Kilkenny already used the virtual labs in her pre-pandemic courses, she says she plans to rely on them even more heavily next semester. "This has given us a push to examine digital tools that can enhance our courses," she says. 
For Joseph Wong, a professor in the department of political science and the Munk School of Global Affairs & Public Policy in the Faculty of Arts & Science, the move to a digital space created an opportunity to foster closer ties between U of T students and university students in another country – all while working together on projects related to COVID-19. 
Students in his Munk One seminar, for example, will partner with students taking a public policy course at Mexico's Monterrey Institute of Technology and Higher Education to discuss COVID-19's impact on food security, inequality and trust in government, among other topics. The themes will be addressed through policy briefs, photo essays, videos or op-eds in English and Spanish. 
"It's tapping into inter-cultural teamwork, and it's also tapping into contemporary issues that span different national settings and, finally, it taps into [students'] creative side," Wong said. 
"They will be interacting with students in a different country that has had a vastly different experience with COVID. It's one thing to read about Mexico's response to COVID-19 in the news; it's an entirely different kind of experience when you can learn about it and discuss it with students in Mexico who are in fact living through it." 
Elsewhere at the university, some professors have already reached out to students – well before classes even begin – to ensure their first year at U of T gets off to a strong start. 
Along with his colleague Mario Badr, David Liu, a teaching stream professor in the department of computer science in the Faculty of Arts & Science, created a summer prep course on Quercus to help incoming first-year students enrolled in a Foundations of Computer Science course get up to speed and become acquainted with the department. That includes introducing them to student clubs and other resources that are designed to help them find their feet on campus. 
When it comes to teaching online, Liu says he and Badr will continue in the department's longstanding tradition of encouraging "active learning," which goes well beyond delivering lectures. 
"Lecturing for a full hour or two is tough enough on a student in person," Liu says. "It's even harder on Zoom." 
Instead, Liu says his classes will typically be split into mini-lectures of under 10 minutes, with the rest of the time dedicated to activities like analyzing program code, writing code and working on mathematical proofs with a partner. If students get stuck on a concept or problem, they can have their questions answered quickly by entering their questions in an online chat monitored by a TA in real time.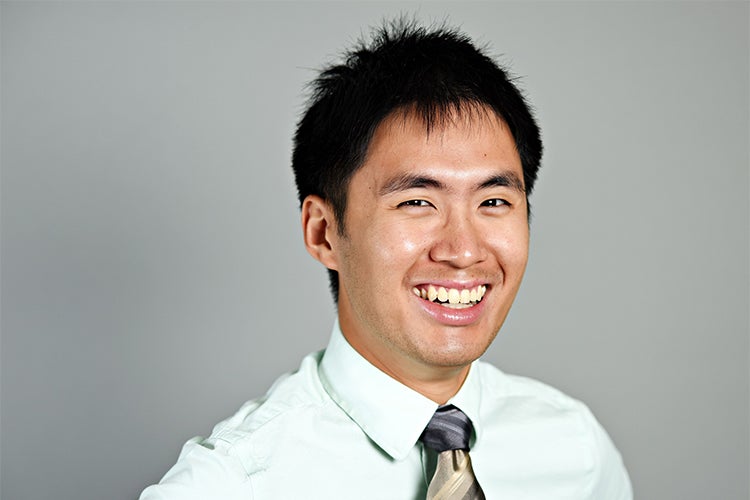 David Liu, a teaching stream professor in the department of computer science, helped create a summer prep course for incoming students to get them up to speed on the subject and acquainted with the department.
Active learning is also critical for the Faculty of Kinesiology & Physical Education's David Frost. Never one to lecture at length in front of a blackboard, the assistant professor bridges theory and practice in his courses by encouraging students to learn through hands-on activities such as designing workout programs for real-life clients. 
Frost, who has recorded videos of himself completing student-designed workout sessions and uploaded them to YouTube for the class to critique, plans to take a similarly dynamic approach to teaching this fall. 
"I guess the way we're viewing this is there are actually things you can do online that you can't do in person," says Frost. "This is an opportunity to learn in different ways." 
From his introductory kinesiology course to more advanced seminars, Frost says the shift to online will come with a number of extras for students. For example, Frost and his co-instructors plan to produce a podcast featuring guest experts who will discuss coaching philosophies and other topics relevant to the course. He has also set aside two hours per week for a group activity over Zoom that asks students to design an exercise session and put it into practice: No special gym equipment required. 
Another activity may involve a group workout; still another will take students through conducting a physical assessment. 
"Every week is going to be different," Frost says. 
UTC