In video conference with Trudeau, students raise youth-oriented concerns about COVID-19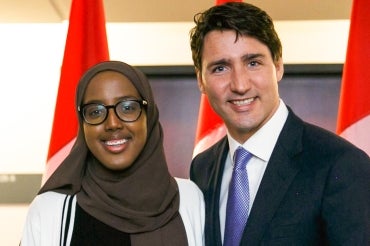 Canadians are accustomed to seeing Prime Minister Justin Trudeau on the daily news, advising us to "just stay home" during the COVID-19 pandemic. But one student at the University of Toronto recently had the chance to hear from the prime minister directly.
Habon Ali is in her final year of studies in biology and environmental science at U of T Mississauga. She's also a member of the Prime Minister's Youth Advisory Council, a non-partisan council that meets regularly to advise Trudeau on issues facing young Canadians, including mental health, reconciliation with Indigenous Peoples and economic growth.
Despite the intense pressures of running a country during an international health crisis – all while in self-isolation – Trudeau recently found time to meet with youth council members, including Ali, by video conference.
"We weren't expecting him on the call," Ali says. "It was incredible that he found time to speak to us. It's a testament to his appreciation for youth engagement and participation, and shows how much he cares to have our voices at the table."
In the meeting, Ali says council members spoke freely and frankly about concerns facing young people as a result of the pandemic.
"Youth are in a precarious place," she says, noting that many young people are concerned about employment prospects for summer jobs and internships. "We also talked about what this situation means for us regarding mental health and Internet access for youth in rural and remote communities."
Ali was appointed to the council for a two-year term in 2018. In addition to regular meetings with Trudeau, the 20-member advisory group is developing Canada's first-ever national youth policy. Ali, who is vice-president, equity for U of T Mississauga's student union, says it has been exciting to make contributions at the federal level.
"As a young, Black Muslim female, as a first-generation Canadian from a big city and as a university student, it is important to be at the table sharing my lived experiences and perspectives," she says. "Every issue is a youth issue. If it doesn't affect us now, it will affect us later."
Through the council, Ali has connected with others to create a youth response to the COVID-19  crisis. The newly launched CAN Youth Forum has a Facebook group and will soon create a website that will gather mental health resources, employment opportunities, official health data and webinars – creating a one-stop digital resource hub to help Canada's youth, aged 14 to 30, cope with the pandemic.
"This initiative will engage us during this time and create a space for young people to share opportunities, learn and have conversations," Ali says.
Ali first became involved in health and social justice issues in her Somali-Canadian community of Rexdale in Toronto's west end. Born to parents who came to Canada as refugees, Ali credits her early exposure to the challenges faced by immigrant families as the inspiration for her interest in community advocacy.
"Cultural and language barriers impacted the health of the people around me, and it was frustrating to see," says Ali. "My volunteering was directed by issues that I saw in my community and wondering what I could do about it."
Despite the uncertainties posed by the pandemic, Ali is looking forward to the future. In September, she will begin the Masters of Global Affairs program at U of T's Munk School of Global Affairs & Public Policy.
"How do I want to make change in the world?" she asks. "I see that the things I like – migration, health policy, equity, global relations and international policy – are coming together. The future is really wide open."
UTM