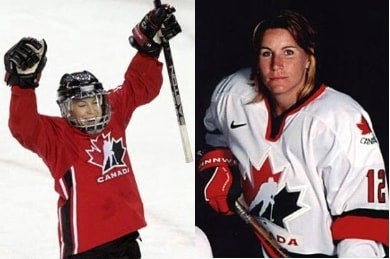 Varsity Blues add more Olympians to coaching ranks
Alumni Jayna Hefford, Lori Dupuis join women's hockey staff
Varsity Blues women's hockey head coach Vicky Sunohara has announced the addition of fellow Olympians and U of T alumni Jayna Hefford and Lori Dupuis, as well as former Canadian Women's Hockey League standout Kristi Alcorn, as part-time assistant coaches for the 2011-12 season.

"Jayna, Lori and Kristi bring a wealth of knowledge and incredible experience to our team as both players and coaches," said Sunohara. "I am thrilled to have them on staff as I'm sure their passion for the game and understanding of what it takes to be a high performance athlete will translate well with our students-athletes. There is no doubt in my mind that our players will benefit from having them on board."

Hefford is a six-time world champion and only one of three players in Canadian women's hockey history to score over 100 goals in international competition. The Varsity Blues alumna ranked second on the team in scoring when she helped Canada to a gold medal at the 2010 Olympic Games in Vancouver – her third gold medal in four Olympic appearances. She is an advance high performance certified coach and has been a guest coach at both under-18 and under-22 levels for the Canadian national teams.
A captain of the Varsity Blues from 1994-97, Dupuis won three world championship and an Olympic gold medal over her 10 years as a member of Team Canada. She is a five-time OUA all-star and is the Varsity Blues all-time leading scorer with 58 goals and 78 assists for 136 points. She and Hefford have co-owned a hockey school since 1998 and Dupuis has run development camps with several minor girl's hockey associations over the past decade. Off the ice, Dupuis works as a mortgage broker with Mortgage Architects.

Alcorn played five years of NCAA Division 1 hockey at Quinnipiac University. Post graduation, she got involved with Howe Hockey development, where she started the female hockey program that reached out to players and helped organize European tours, tournaments and camps. She later founded Rogue Hockey, which helps players get exposure to North American universities and elite training. She played with the Brampton Thunder in the CWHL and is also a successful lacrosse player, having played for both Team Ontario and Team Canada.

Sunohara took the reins of one of U of T's most decorated teams in early August. Since 1971-72, the Varsity Blues have captured 17 conference championships, more than any other team in Ontario and was the team of the 90s, winning six OUA titles and placing first in the OUA every season.

The Blues women's hockey team opens their 2011-12 regular season on Sunday, October 9 when they host the Ryerson Rams at Varsity Arena. The puck drops at 4 p.m.