US$13-million trial aims to expand access to talk therapy for new and soon-to-be moms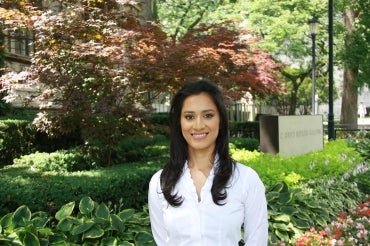 The University of Toronto's Daisy Singla is leading a study in Canada and the U.S. that will test whether nurses can provide talk therapy for new and expecting mothers as effectively as psychiatrists and other specialists. The study could provide evidence to expand access to evidence-based therapy for pre- and postpartum anxiety and depression.
Singla is an assistant professor of psychiatry at U of T and a clinician scientist at the Lunenfeld Tanenbaum Research Institute, part of Sinai Health System. She and her collaborators – Dr. Samantha Meltzer-Brody from the University of North Carolina at Chapel Hill and Dr. Richard Silver at the University of Chicago — are supported by US$13.2 million from the Patient-Centered Outcomes Research Institute (PCORI).
About 80 per cent of women who need care for pre- and postpartum anxiety and depression do not have access to it, often due to a shortage of specialists. The trial will target women's mental health through behavioural activation (BA), a talk therapy that aims to increase enjoyable and fulfilling activities that can be delivered weekly in as few as six sessions.
Singla recently spoke with writer Ben Gane about the trial, which will start enrolling 1,300 participants in early 2020.
---
What are the driving ideas behind this study?
The key idea is increasing access to evidence-based talk therapies. We want to compare two innovative approaches (non-specialists and telemedicine) to treatment as usual (specialists and in-person treatment). Non-specialists include anyone without formal training in mental health – a peer, a teacher, or a nurse. We're training nurses to provide weekly behavioural activation (BA) talk therapy and then comparing patient outcomes to specialists delivering the same treatment. We will also examine whether BA delivered via telemedicine will be as effective as it is in-person.
Why is behavioural activation a good fit for this study?
Multiple studies have demonstrated the comparable effectiveness of BA to longer courses of treatment and medications in targeting depression. BA is relatively easy to learn and easy to teach; that's important when training non-specialists.
Why do you think care provided by non-specialists will be effective?
Research on the effectiveness of non-specialist delivered treatments for mental health dates back to the 1950s. I've had the good fortune of being mentored by global mental health pioneer Dr. Vikram Patel; he and others have tackled the issue of access in low-resource settings for years, and they found that training non-specialists to provide patient-centred care can be an extremely effective way to deliver talk therapies. This includes providing care in settings convenient for the patient, reducing the number of treatment sessions to as few as eight and involving key family members. In this study, we have the opportunity to reverse engineer some of the very innovative and effective delivery strategies from the Global South to the Global North. 
You're also exploring the effectiveness of using telemedicine to provide deliver therapy remotely. What's the significance of providing care remotely?
Telemedicine is a particularly valuable tool when providing care for pregnant and postpartum moms. Whether you're having a baby soon, or you've recently given birth and you're caring for an infant, it can be a challenge to get out of the house and attend a session. Using telemedicine, you can deliver care at home. At Sinai, our perinatal psychiatrists led by Dr. Ariel Dalfen have done a terrific job of using telemedicine to provide care to mothers across Ontario. But we do not know if BA delivered remotely is as effective as BA delivered in-person.
You're one of the youngest applicants to ever receive a PCORI grant of this size. What does this mean to you?
To be honest, I am beyond words. I am so grateful for PCORI's vote of confidence in our ideas and our team. PCORI's mission is to further research that will directly benefit patients and improve their lives in real ways; I am fortunate to be working with a funder whose pragmatic and person-centred values align with my own. In addition, both Dr. Jim Woodgett (director of the Lunenfeld-Tanenbaum Research Institute) and Dr. Lesley Wiesenfeld (psychiatrist-in-chief at Sinai Health System) have been relentlessly supportive in this initiative.
I hope this award encourages other early career researchers – especially young women – to explore their passions while building a diverse team of experienced colleagues. I also hope it inspires Canadian funders to take a chance on young people and their ideas. Too often, we are told to wait our turn and by the time that happens, individuals are too tired or too disgruntled to explore innovations that are so essential to existing health-care systems. The ongoing status quo needs to change if we want to achieve our shared goal of improving access to mental health care.
What long-term impact do you hope this study will have?
This research has the potential to increase the accessibility, scalability and cost-effectiveness of evidence-based psychological treatments for perinatal women worldwide. In short, we're exploring practical and efficient solutions to get the treatments that we know work to those that could benefit the most.
Facutly of Medicine