Choong Chin Liew, known as C.C., "really had a vision of translating basic research in genomics into a practical application for the benefit of humankind," says Peter Lewis, Professor Emeritus of biochemistry at U of T (photo courtesy of the Liew family)
Choong Chin Liew was a visionary research scientist whose work on cardiovascular genetics is still paving the way for early detection of a wide variety of diseases from simple blood tests.

Liew, who died in August at the age of 81, was also an enthusiastic mentor to many medical researchers, an entrepreneur and a devoted family man who loved Ontario's cottage country.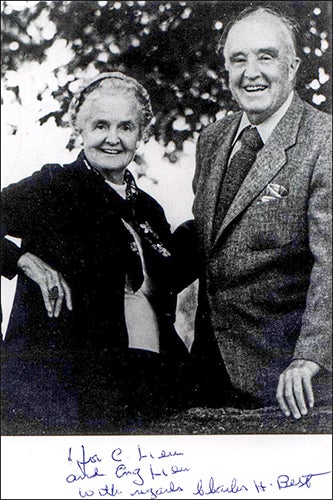 Liew, known to everyone as "C.C.," arrived in Canada from Malaysia in 1962 to do graduate work at the University of Toronto with
Charles Bes
t (pictured left with his wife), the co-discoverer of insulin. He became an assistant professor in 1970, achieved full tenure in 1979, and was a Professor Emeritus in clinical biochemistry and medicine at the time of his death.
Liew's early work was on diabetes and heart failure, but he is best known for developing what he called the "Sentinel Principle," the concept that many diseases can be detected and monitored through their gene expression in the blood.  Because of the transfer of information between blood cells and tissue cells, he postulated, blood tests can unlock information about diseases elsewhere in the body.

Liew was active in transferring his discoveries to the private sector, earning many patents and founding companies that are still in the process of developing diagnostic tools. A blood test for early assessment of colorectal cancer risk, based on the Sentinel Principle, is currently on the market. Other tests, for several other cancers and even Alzheimer's disease, are in development.

"C.C. really had a vision of translating basic research in genomics into a practical application for the benefit of humankind," says Peter Lewis, Professor Emeritus of biochemistry at U of T, and a colleague and friend of Liew's for several decades. "His goal was to turn the discovery, from back in the 1990s, into a practical application for the prognostication of disease from a drop of blood."

A younger C.C. Liew at his microscope (photo courtesy of Liew family)
Liew was "driven," Lewis says, and "there was not enough time in the day for all the activities he was pursuing." But he was a delight to work with and very modest about his accomplishments, Lewis adds.  "He didn't seek out recognition publicly, and really flew below the radar."

Liew's enthusiasm for research was infectious, and that energy influenced many students who worked with him. "I got a positive vibe from him," says Mansoor Husain, who spent time in Liew's lab as a medical trainee and is now director of the Toronto General Hospital Research Institute. "He obviously loved science. He always had a sparkle in his eye and excitement in his voice when he talked about research."
As well as being passionate about the work, Liew was also welcoming, and trusted his students, Husain says.

Liew maintained that vigour right until the end of his life, as he continued to work to apply his discoveries. In recent years he collaborated with Alberta-based entrepreneur and scientist Jacqueline Shan, on research into potential applications of his techniques in treating Alzheimer's disease. Shan, co-creator of Cold-FX, recognized that Liew's work on early detection of illnesses from the analysis of genomic markers in blood was revolutionary, and might lead to the creation of targeted medicines for Alzheimer's patients.

"He was one of the best scientists I've ever seen," Shan says. "He was very persistent," even in his later years when he was ill and having chemotherapy treatment. "He worked harder than anybody in the lab. He had an urgency to contribute."
 At the same time, Liew was very caring, she says, and concerned about his colleagues' families and health. On one long-distance airplane trip, he offered her tips on getting to sleep, so she would be fresh upon arrival, she says.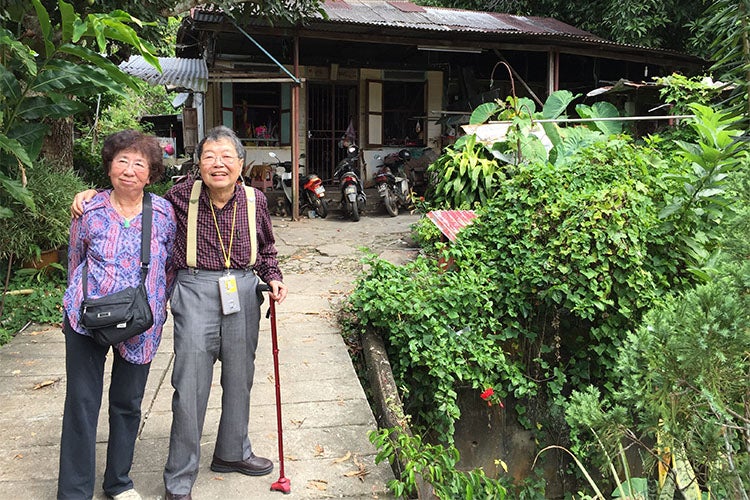 C.C. Liew and his wife Eng in 2017 on a family trip to Sungai Siput, where he was born (photo courtesy of Liew family)
Choong Chin Liew was born in 1937 in the small village of Sungai Siput in what was then called Malaya. (It became part of Malaysia in 1963). His father was a teacher from China who had moved to Malaya, while his mother was a Chinese-Malayan from Penang. Liew did not have a peaceful childhood, he noted in an autobiography he wrote in 2010, because of the Japanese invasion of Malaya during the Second World War and Japan's persecution of its Chinese population.
"To escape these upheavals our family moved deep into the jungle," Liew wrote. "There, we were able to wait out the war in safety." But after the war there was more turmoil, as the British colonial government tried to crack down on communist insurgents, in what developed into a bloody guerrilla war.

Liew's family moved to the city of George Town on Penang island, where he went to high school before studying biology at Nanyang University in Singapore. After graduation he taught and worked as a teaching assistant, then decided to pursue graduate work overseas. He wrote to Charles Best, who was then head of the physiology department at U of T. Best offered him a fellowship.

Liew arrived in Canada by boat in 1962. He noted in his biography that "I was only one of thousands in a history of Chinese immigrants to Canada, over a time span that stretches back to the eighteenth century."  He was lucky, he added, because "by the time I arrived in the 1960s, Toronto was considered quite welcoming."

Liew was intensely committed to his studies, and often slept in the lab. He also stayed away from the demonstrations and protests that were erupting on campus in the 1960s. "I had already experienced more than a fair share of war and politics in Malaysia," he wrote. "I had left all of that behind in the forests of rubber."
But it was a tough time, as he found the Canadian winters difficult, and he struggled to work and live in an English-speaking environment.

Eng and C.C. when they were dating: She moved to Canada two years after he arrived and they marrried soon after (photo courtesy of Liew family)
Two years after his arrival in Canada things improved when his girlfriend Eng came from Malaysia to join him, and they were married at Toronto City Hall a few months later.

After getting his master's degree in physiology and a PhD in pathological chemistry under renowned U of T professor Allan Gornall, Liew conducted post-doctoral research in Britain and in New York.  He had planned to return to Malaysia, but an explosion of anti-Chinese violence there in 1969 changed his mind, and he took a job at U of T as assistant professor in clinical biochemistry.

Liew's daughter Gailina says her father was absolutely devoted to the pursuit of science, but he also carved out time for his family. "We would have supper with him every night, but it would be late because he would be working in the lab."  She and her brothers would occasionally spend evenings and weekends in their father's lab at the Banting Institute on College Street.
"I remember sometimes helping to wash test tubes."

The family also accompanied Liew on his sabbatical travels, including time in Europe and a three-month tour of Chinese universities. There was always music in the house, Gailina says, because her father loved classical music and opera, and learned to play the piano.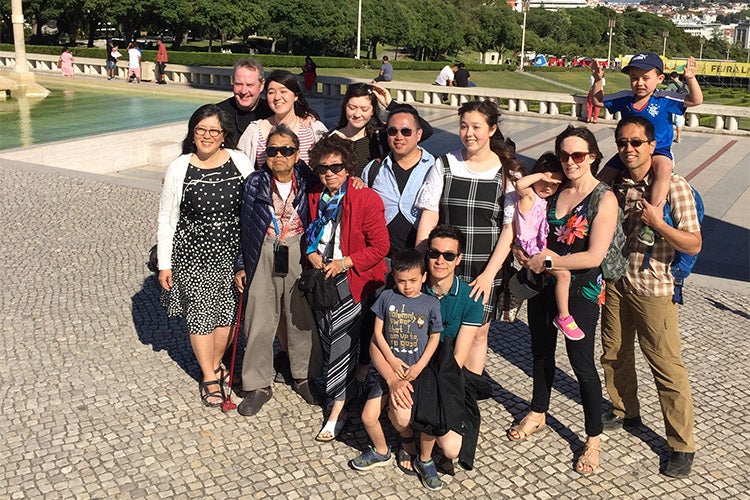 C.C. (second from left in front row) with his family this past June in Lisbon, Portugal (photo courtesy of Gailina Liew)
In the mid 1970s Liew bought a cottage north of Toronto, cementing his connection to Canada. Several of his colleagues at U of T had cottages, he wrote in his memoir, and "it seemed to me like the thing to do in Canada." The cottage was a place to relax, read and write, he wrote, and became a treasured weekend getaway.

In the 1990s Liew's work evolved into the study of cardiac gene sequencing, and in 2000 he established a lab at Harvard Medical School in Boston to continue the research. He made significant discoveries linking gene expression with disease, and found that changes in blood genes reflected broader changes in health.

Recognizing the commercial possibilities of this research – and the need for capital to pursue the work – Liew formed a private company called GeneNews, which is now traded on the Toronto Stock Exchange under the name StageZero Life Sciences. Later he created other business ventures to apply the Sentinel Principle, including companies in Malaysia and China. His long-term aim, he wrote in his memoir, was to "build a personalized health management system that would allow anyone to manage their own health from the information that can be read in a single drop of blood."

For several years, he worked closely with his daughter Gailina, who held senior executive positions at GeneNews thanks to her background in molecular genetics and her experience as a lawyer. It was a privilege working alongside her father, she says. "He was the scientific visionary and the rest of us just had to help capture all that thinking and turn it into a product."

Liew's most important goal throughout his life of research "was to make a positive difference to  the patient" by helping prevent diseases or detect them early, Gailina says. But he also touched people all around the world, because he was so outgoing, gregarious, generous and kind-hearted.

Liew died after several years fighting multiple myeloma, but "he was working up until his last day," Gailina says.
He leaves his wife Eng, brother Jack Chor, daughter Gailina, sons Allan and Victor, and seven grandchildren. The family has set up an endowment fund in C.C. Liew's memory to award scholarships and grants to support research aimed at improving human health.