#UofTGrad18: U of T's Adam Benn on becoming a role model for LGBT2SQ community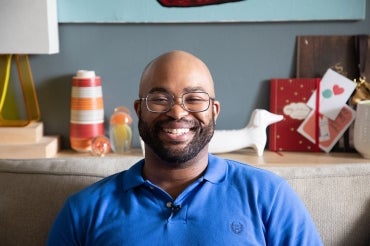 Taking off his clothes and posing (mostly) nude for NOW magazine wasn't something Adam Benn ever thought he'd do.
But as a Black, queer, not-so-chiselled man, he says it was an opportunity he had to take. 
"It was the idea of representation, of being in that space, of saying, 'This is me and who I am,' and being comfortable enough with my body," he says, noting most of the images of gay men in mainstream media feature six-pack abs, sculpted chests and bulging biceps.
"I wanted to show that you don't need to have this perfect, athletic body to be confident in who you are."  
Representation will also be important to the Master of Education student at his convocation. The 32-year-old graduates from the University of Toronto's Ontario Institute for Studies in Education (OISE) on Tuesday.
"It's important in terms of marking a new beginning and taking forward what I've learned. But it's also ensuring I'm taking up space as a Black, queer person," he says.
Thanks to his studies at OISE, Benn is standing out in many ways. In his work at a Toronto community health centre, where he manages LGBT2SQ support programs, he says he now feels even more empowered to make an impact.
Given that part of his role involves leading courses and training programs, Benn says his studies are helping him on the job.
Benn says he now has an increased understanding of evaluation processes, curriculum design and development, how to identify learners' goals, and how to ensure training meets those goals.
"I also learned about some of the pitfalls education can have, and about different modalities so that people can connect through different ways of learning," he says, also noting how much he's appreciated the community development component. 
Benn says two professors in particular have helped in his journey: his faculty adviser Jamie Magnusson and Lance McCready, both associate professors at OISE.
"I didn't take any classes with him, but he identified himself early on as someone I could go to for support, and that meant a lot," he says of McCready.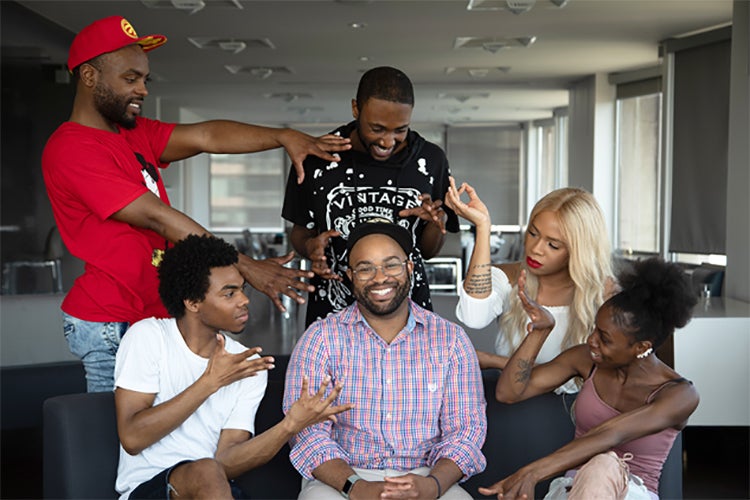 Adam Benn with members of the Toronto Kiki Ballroom Alliance, a group of LGBT2SQ youth he works with (photo by Lisa Lightbourn)
The importance of support is something Benn understands well – growing up in Scarborough, Ont., he didn't really have anyone he felt he could turn to.
Like many in the LGBT2SQ community, he knew he was gay at a young age, but didn't feel comfortable coming out until he was much older: At 16, he confided in a few select friends, but it wasn't until university that he came out to his family and social circle.

"Gym class was a nightmare for me," he says. "Primarily because it was based on your ability to perform, and sports just weren't something I was good at. While I got better, it wasn't really about that progression, it was more, you're not the standard you're supposed to be."
He says an all-boys gym class in Grade 10 didn't help.
"It definitely has an effect in terms of that idea of masculinity and having that athletic body and being able to perform athletically. It didn't make me feel very good about myself," he said.
It was in his undergrad at McMaster University, he says, when he finally found a positive athletic outlet.
"I joined the cheerleading team," he says with a smile.
With Benn seeking a more supportive space, and cheerleaders needing more guys on the team – it was a perfect fit.
"I had a team that was like, 'Wow, look at how great you are, you did two laps last time, now you're doing three laps.' That supportive environment really encouraged me to keep going," he said.
Finally open about his sexuality, and feeling healthier mentally and physically, his life began to change. And since then, Benn has devoted himself to helping others facing challenges like those he once faced. 
Not only did he defy body image standards by stripping down for NOW magazine, he's also giving today's Black, queer youth the role model he never had.
Among many endeavours, Benn is a personal trainer, helping to ensure others – many of whom are also queer men – feel encouraged in fitness. He has also worked with a group that gives LGBT2SQ youth a safe, non-competitive space to be active through activities like rock climbing and canoeing.
Programs like that are especially important, Benn says, because many LGBT2SQ youth avoid recreational spaces due to the homophobia that often exists within them.
And, in his role at the community health centre, Benn devotes his days to helping LGBT2SQ youth find the various supports they need.
"Maybe there's transphobia or homophobia at home, or maybe there's someone in the house who makes it threatening, so people leave because of that… Part of what I do is create a safe space for them, connecting them to resources, mental health support, employment support and housing support," he said.
As for the most rewarding aspect of it all, Benn says he's reminded every year at the Toronto PRIDE parade, which he'll be marching in yet again on June 24.
"Seeing newcomer youth who come from places with rampant homophobia or transphobia…for those people to march in the parade with a flag, and be able to express themselves, those are really gratifying moments," he says.
It's also the day-to-day moments that mean a lot.
"It might be as simple as, 'This youth has gone two days without using' or 'This youth tried this program for two days'. It's just seeing that people are really dedicated to making those positive changes in their lives. They're not always able to, but the support that you provide helps them make more and more of those choices," he said.
Now armed with even more knowledge and tools to succeed, Benn says he will be able to make even more of a difference.
"It's been very rewarding and very fulfilling," he said. "There's a lot of work that needs to be done, and I can't wait to put these skills into practice."
OISE