#UofTGrad17: Three things you should know about Phil Fontaine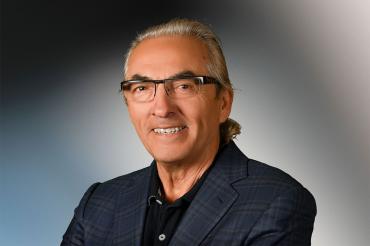 When the Truth and Reconciliation Commission released its final report in 2015, it signified hope that Canada would begin to heal its relationship with Indigenous peoples.
For many years leading up to the commission, Indigenous leader Larry Phillip (Phil) Fontaine had been advocating for Indigenous rights in Canada.
Once a quiet man with a fear of public speaking, Fontaine has used his voice to help move the issue of Indigenous rights beyond the tragic history of mistreatment of Indigenous people to a hopeful look to the future, advocating for an improved relationship with Canada.
Today, Fontaine receives a Doctor of Laws, honoris causa, "for his outstanding service to the nation, as an advocate for Indigenous people." He is among 16 people being recognized with honorary degrees by the University of Toronto in 2017.
Below, are three things you should know about Fontaine.
---
Leadership roles
Fontaine was born in Sagkeeng First Nation on the Fort Alexander Reserve in Manitoba. Inspired by his mother's political activity, Fontaine became his community's chief at the age of 28. He also served as a regional director with the federal government in the Yukon, was Manitoba's Vice-Chief for the Assembly of First Nations and later the Grand Chief for the Assembly of Manitoba Chiefs where he served for an unprecedented three terms. In 1997, he was elected National Chief of the Assembly of First Nations. After one term as National Chief, he was appointed Chief Commissioner of the Indian Claims Commission. Fontaine returned to the Assembly of the First Nations as National Chief, for two more terms, in 2003 and held the post until 2009.
He has also been chief commissioner of the Indian Claims Commission and special adviser to the Royal Bank of Canada.
Currently, Fontaine is president of his company, Ishkonigan Consulting and Mediation Inc., which provides services and advice to establish successful and effective partnerships between Indigenous communities, governments and corporations.
"The reality is for most First Nation communities, that they live in resource rich parts of the country that offer very little alternate opportunity," he told the Globe & Mail. "And we cannot make decisions that doom First Nations to a life of perpetual poverty. Resource development can be done appropriately and in an acceptable manner – that's the challenge." 
Residential schools
In 1990, Fontaine was one of the first people to speak openly about the horrific abuse he experienced in a residential school, and his story encouraged other residential school survivors to come forward.
Fontaine played a key role in negotiating the Indian Residential Schools Settlement Agreement. It was the largest class action settlement in Canadian history, meaning the resolution of more than 20 cases and more than 15,000 individual claims relating to a 150-year period.
His work raising awareness about Canada's ugly history has helped with the establishment of the Truth and Reconciliation Commission, which released its final report in 2015.
Reconciliation
As Canada prepares to celebrate 150 years of Confederation, Fontaine said in his talk at U of T's Faculty of Law this year that it's his opportunity to do something "spectacular."
He has launched a civic action campaign, Recognition2Action, to educate people about the role Indigenous people have played in founding Canada.
His goal is to see an Act of Recognition passed in Parliament.
"It fills the gap created by our peoples and the rest of Canada. Confederation constitutionally protected French and English languages, laws and religions, while the same Indigenous rights were ignored," he said noting how potlatches, sundances, traditional ceremonies, songs and dances had been denied through Canadian laws and colonial policies.
Fontaine has said that he would like to see the Act of Recognition replace the 1876 Indian Act.
"I'm referring to correcting, making history right," said Fontaine.
UTC