#UofTGrad17: Three things you should know about honorary grad Edward Burtynsky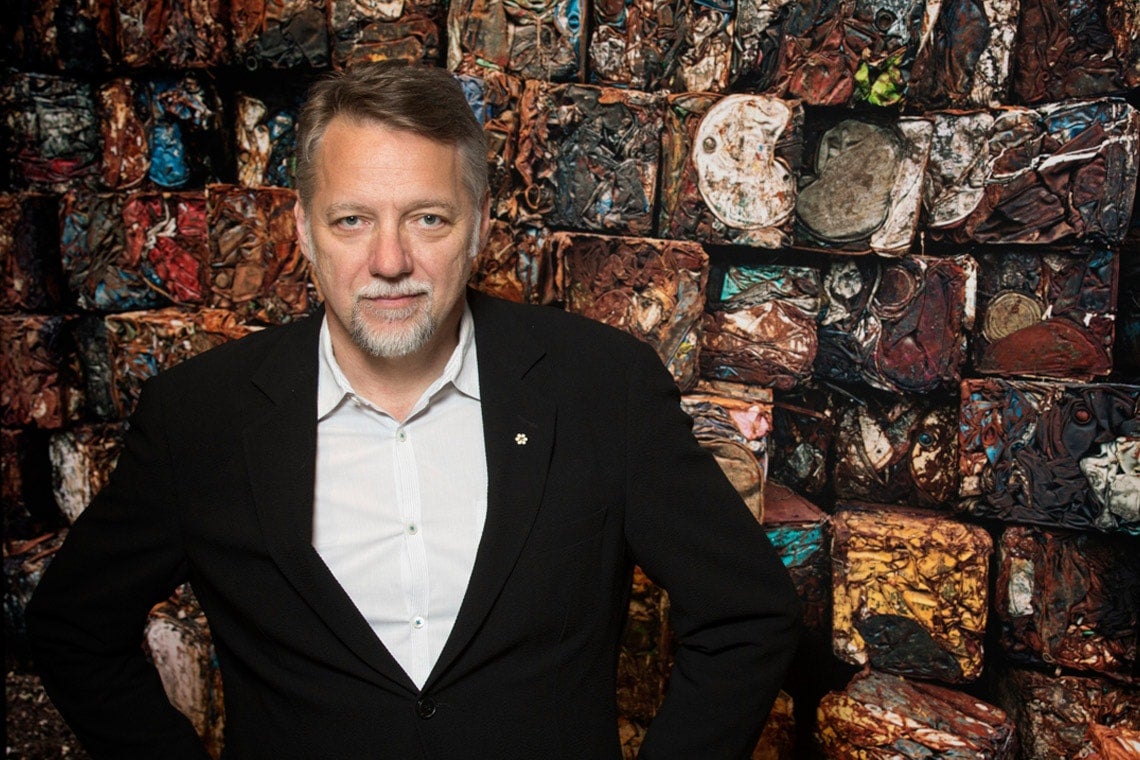 Acclaimed photographer Edward Burtynsky's fascination with industrial landscapes has taken him around the world, from the nickel tailings of Sudbury, Ont., to the salt pans of Gujarat, India.
The striking images he captures provide a visual commentary on human achievement and its often negative impact on the environment.
Today, Burtynsky will receive a Doctor of Laws, honoris causa, "for his excellence in the arts, as a Canadian photographer who has had a profound influence on society through his vivid portrayal of environmental issues." He is among 16 people being recognized with honorary degrees by the University of Toronto in 2017.
U of T News asked each of the honorary graduates to share an iconic Canadian moment – a feeling or experience they wish each of their fellow graduates could share. Below, are three things you should know about Burtynsky including his Canadian moment.
---
Photographic journey
Burtynsky's interest in industrial spaces was sparked by the General Motors plant in his hometown of St. Catherines, Ont. After his father installed a dark room in their home, he discovered the magic of photography.
"Photography was this instant compositional tool that in a fraction of a second captures an idea," Burtynsky said in a Globe and Mail interview. 
His first roll of film was dedicated to his dog, Tippy, but he has since opted for more ambitious projects.
Burtynsky has employed everything from giant tripods to drones in order to capture a bird's-eye view of the surreal-looking, man-made landscapes that have appeared in the world's most prestigious art museums including the Guggenheim in New York, the Tate in London and the Art Gallery of Ontario in Toronto.
In the works
Burtynsky's art sends a strong message about the future of our planet.
"We're at a critical moment in history where we're starting to hit the thresholds of human expansion and the limits of what this planet can sustain," Burtynsky told The Guardian. 
His latest endeavour, Anthropocene, is a film and multimedia project that follows a group of geologists who are exploring a theory that humans have brought on the next geological era through urbanization, agriculture and global warming. It's set for release in 2018.
His most Canadian moment
Burtynsky has fond childhood memories of a very Canadian pastime – camping.
"Times spent hiking, fishing and simply being immersed in untrampled nature – that I can reflect upon today as powerful vignettes, laying a unique foundation for the perspective I developed of our country and its still-vast landscapes," he says. "Those experiences, particularly as a child, equipped me with an appreciation and irreplaceable understanding of the deep, cosmic relationship we have with the planet. And that is at the very core of the person and artist I've become."
He urges U of T's newest alumni to find inspiration in Canada's wilderness.
"Go camping this summer or take a walk off the beaten paths available to us here in Ontario, here in Canada, and sit with that untouched wilderness.
"Let yourself be surrounded by nature as it intended for that landscape. Think of it as a reference point to the cosmic forces that have shaped all of life on this planet. Listen to it, see what it has to say."
UTC