#UofTGrad17: Three things you should know about honorary grad Amal Basha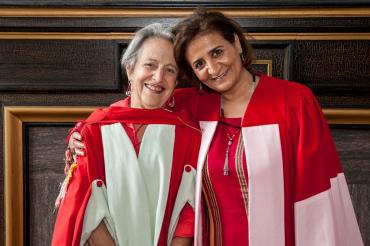 Yemeni activist Amal Basha has been fighting for human rights and gender equality in the Middle East for more than 25 years.
Today, Basha will receive a Doctor of Laws, honoris causa, "for her outstanding service for the public good, as an uncompromising advocate for gender equality and human rights."
She is among 16 people being recognized with honorary degrees by the University of Toronto in 2017.
As she talked to graduates today about fighting for human rights and the two-year war that has ravaged Yemen, Basha said the honorary degree was a surprise, a welcome recognition for her efforts: "I felt like the universe was being gracious to me, wiping the sadness of my soul, making a touch of tenderness and power, and telling me that what you have done in your life is well-recognized and that, there is still room for joy, despite the sorrow."
Below, are three things you should know about Basha.
---
Fighting for women's rights
Growing up in Yemen, Basha was forced to marry at a young age. By the age of 17, she would have a baby and divorce her husband. Basha then decided to focus on her education. 
"The day after my marriage, I went to school to play soccer," she told the LA Times. "I did not feel I was a woman. It was not time to play the wife."
She completed her education at the American University in Cairo, received a master's degree in international development and gender from the University of Sussex, U.K.
Her career has been dedicated to fighting for the rights of women and girls, many of whom are forced into marriage at a young age.  She co-founded the human rights organization Sisters Arab Forum for Human Rights (SAF), which has played a vital role in this mission, tackling corruption and inequality and addressing issues affecting vulnerable communities.
Activist at risk
Basha is an outspoken critic of the Yemeni government, pushing to hold it accountable under international humanitarian law. For example, a 2009 SAF report that looked at the violation of prisoner rights in Yemen led to a United Nations investigation into unlawful killings by security forces.   
She has been supporting and assisting the peaceful demonstrators in her country calling for democracy since the beginning of the uprising. She also has been informing the international public on the development of the human rights situation in Yemen.
But Basha's activism has sometimes put her in harm's way.
According to the International Federation for Human Rights, she's received numerous threats and once found that someone had tampered with the brake line in her car.
Tireless work recognized
For her pioneering work, Basha has been awarded a number of national and regional awards including Arab Woman of the Year by the Takreem Foundation in 2014 and Person of the Year by the Al-Saeed Foundation for Science & Culture in 2007. 
UTC