Students graduated from St. Michael's College today (photo by Sheila Eaton)
St. Michael's College – affectionately known as St. Mike's – is known for its close-knit community and emphasis on social justice.
Cynthia Nwabuokei and Michael Borsk have followed the social justice path of other St. Michael's College students.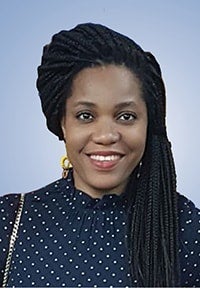 Nwabuokei (left), a trained engineering technologist from Nigeria, just completed a bachelor of science in environmental science and environmental health and hopes to pursue a career focused on water and environmental sustainability.
"I am fascinated by the idea that you can use water and then re-use it in different ways, which includes capturing energy from it while minimizing waste. Being able to re-use water is a key element for managing our water resources," she said.
Borsk (right), a history major, assisted his professors for the Canada by Treaty: Negotiating Histories exhibit at Hart House, focusing on Canada's legal agreements with Indigenous peoples. 
They are among the 740 students graduating today from St. Mike's.
In Nwabuokei's case, it wasn't always an easy road.
The 33-year-old, who immigrated to Canada in 2012 with her family, juggled being a mom while pursuing her undergrad. She found support with the First-in-the-Family Peer Mentorship program for students who are the first in their families to go to university.
And in a close-knit community like St. Mike's, she says, she found encouragement from the college registrar, Damon Chevrier.
"He often said to me: 'Cynthia, you are a success, and you should be proud of yourself for being able to combine full-time studies, working and raising three kids.'"
Borsk caught the history bug in high school. He now plans to pursue a master's degree in history.
Borsk says he wanted to be part of putting the Canada by Treaty exhibit together "because it offered a unique opportunity to produce academic work that is aimed at a larger, non-academic audience. I felt this was important: treaty making is the foundation of the country. It is literally what allows for newcomers from all centuries to call Canada 'home.'"