#UofTGrad17: Facing terminal cancer, U of T student completes her PhD
"She's not just a role model for her daughter but for other graduates"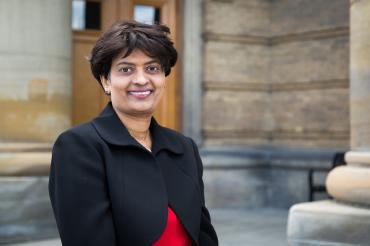 Cancer did not derail Precilla Veigas's dream of achieving a PhD. 
Today, Veigas is receiving her PhD from the University of Toronto's Institute of Medical Science in a private degree presentation ceremony, with her 15-year-old daughter, family and colleagues nearby.
Doctors had warned her she might not make it to convocation next month.
Veigas learned she had cancer in 2015. She had completed her research but still had half of her PhD thesis left to write.
"My whole world turned upside down," says Veigas. "But, I didn't give up because I wanted to see my daughter grow in front of me.
"She was only 14, and I didn't want to imagine her growing up without a mother."
Veigas is one of the first in the Class of 2017 to receive her degree. From June 6-22, almost 14,000 students will graduate from the University of Toronto receiving a variety of degrees during 27 ceremonies held at Convocation Hall.
About 40 people attended attend Veigas's ceremony today, including family from India.
"Today's ceremony is a recognition of Precilla's outstanding achievements in research," says Luc De Nil, vice-dean of students at U of T's School of Graduate Studies and professor of speech-language pathology. "Having the courage and determination to complete a PhD is amazing, and it is especially important to recognize that she achieved her goal despite significant health challenges."
Veigas had to navigate through life's many detours as she pursued her lifelong passion to become a scientist. First, she endured two international moves – Dubai, then Canada – both of which had few opportunities for someone with a master's degree from India. After arriving in Canada in 2005, she persevered, completing a clinical research program at Humber College while travelling from North York to Hamilton by public transit to work towards a new master's degree at McMaster University.
Veigas initially began working as a research intern with Laurie Morrison, a professor at the Institute of Medical Science and researcher at Sunnybrook Health Sciences Centre. She moved on to manage large, multi-centre studies with hospitals and emergency medical services across Ontario. Eventually, she decided she wanted to work towards a PhD and secured a spot in the lab of Sandro Rizoli, a professor of surgery and critical care medicine. 
Veigas's PhD research focused on a type of blood test that assesses bleeding and clot ting disorders and how it can be used in the emergency room or hospital to help doctors make better decisions about blood transfusions.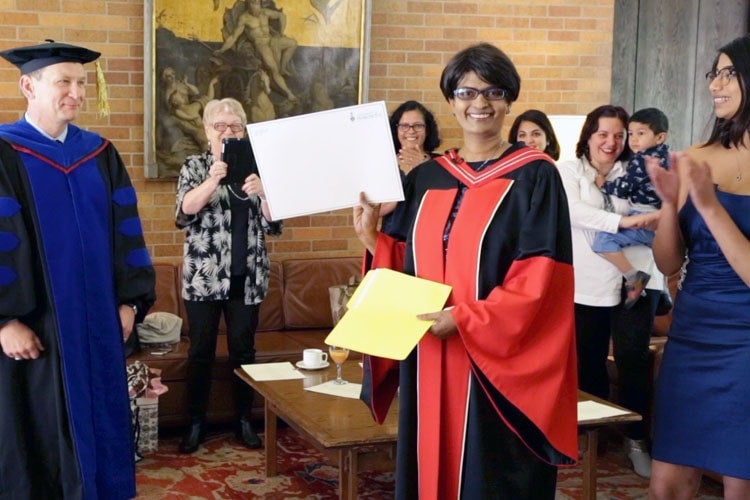 At the time of her diagnosis, Veigas was given six months to live – one year at best. Last December, doctors gave her another six months.
Despite a bleak prognosis, Veigas continued her studies, exploring the value of ROTEM, or rotational thromboelastometry, for early transfusion management of significantly bleeding trauma patients who have trauma associated coagulopathy, a condition where blood's ability to clot is impaired on arrival to the emergency room.
The standard tests used in hospital ERs were originally designed to detect genetic bleeding disorders like hemophilia. Although most trauma centres rely on this test, it isn't predictive of bleeding or especially quick to yield results. By comparison, ROTEM can give initial results in as little as 10 minutes in the form of a graph that can be viewed on a remote computer screen and can be seen by physicians in the ER, blood banks, labs or wherever they are needed.
"If this test is implemented in major trauma centres following guidelines based on my findings, maybe patients will be managed effectively and saved," says Veigas. 
Other research shows that ROTEM helps tailor transfusions of blood products like red blood cells, plasma or platelets to individual patients and enables rational use of blood products. Previous studies have also shown a reduction in mortality.
The technology is relatively new but is already established in Europe. St. Michael's Hospital is using the device for patient care, and Veigas says more hospitals are also expected to start using it, generating more data to justify her findings. 
The potential to help future emergency room patients is just one legacy Veigas is creating. She is also sharing her love of learning with her 15-year old daughter – just as Veigas's own mother fostered it in her. 
"My mother kept telling us that if you study well, no one can snatch it from you. No one can rob education from you, and it will take you places," she says. "I want to be a role model to my child. I always tell her, 'Whatever you do, you have to do with close to perfection if not 100 per cent perfection. You have to work hard toward your goals. You may fail – it's okay. You can learn from your mistakes. Whatever you want to become, work toward it with 100 per cent passion.'"
Associate Professor Vasundara Venkateswaran is a graduate coordinator at the Institute of Medical Science. Venkateswaran became a mentor to Veigas, helping to guide the PhD candidate through the process. The associate professor, who is also a scientist at Sunnybrook, would often visit Veigas during her trips to the hospital for cancer treatments. 
"It was never about herself. It was always about her desire to complete her degree," says Venkateswaran, who is appointed to the division of urology in the department of surgery. "She has this power and determination to go far and beyond to achieve her dream. She's not just a role model for her daughter but for other graduates."
Veigas is preparing to submit a third paper for publication – and hopes she won't have to stop there. If she is healthy enough, she says she wants to continue pursuing her lifelong passion for science.
"I feel I've accomplished what I wanted to do," says Veigas. "Cancer didn't prevent me from doing that." 
Medicine