#UofTGrad16: Mihil Patel, the University of Toronto's top student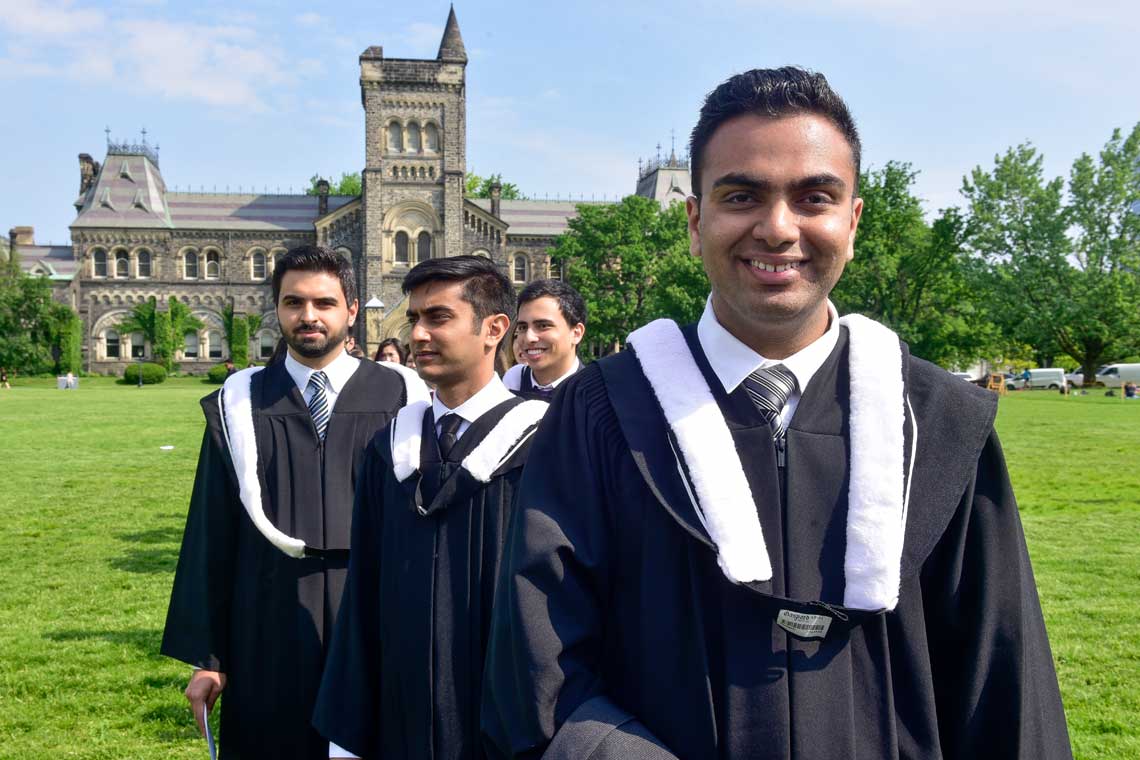 The next step for the University of Toronto's top graduating student: medical school.
"In the village where my family is originally from, a doctor is vitally important and is admired because they can have such a positive impact on people's lives," Mihilkumar (Mihil) Patel says. 
He recalls a trip to India in 2012 to visit his dying grandmother.
"If it wasn't for the amazing care my grandmother received I wouldn't have been able to say goodbye to her one last time. After witnessing that first hand, I knew it was something I wanted to do." 
Patel, 21, is this year's recipient of the John Black Aird award for the top student at U of T. He graduated with an honours bachelor of science degree on June 2, crossing the stage of Convocation Hall with his fellow U of T Scarborough graduands. It's the fourth year in a row a student from U of T Scarborough has received the honour.
He will also receive the Governor General's Silver Medal, awarded to the graduating student with the highest marks among all U of T science students.
"When I got a phone call that I would be receiving these awards I was really surprised and wasn't sure what to say," says Patel, who was on his way to his part-time job as a tutor when he first heard the news. 
"I'm very happy and at the same time humbled by it because I've never experienced an honour quite like this." 
A long-time resident of Scarborough, Patel attended high school at Woburn Collegiate Institute near Markham and Ellesemere, just down the road from U of T Scarborough.  
He says he was attracted to the campus because of the neuroscience program, a discipline that combines his love of many different areas of math and science.  
"I'm very interested in cognition, specifically exploring how people perceive things that are happening in the natural world around them," he says. 
Patel says he valued his research opportunities above all other academic experiences. He worked in the behavioral neuroscience lab under Assistant Professor Rutsuko Ito where he examined the effects of cocaine on fear-based behavior as part of his thesis. 
"Mihil had been known amongst his peers as a bit of a 'genius', and true enough, I was able to see this first hand when he became the first student ever to score a 100 per cent in the multiple choice section of a notoriously difficult midterm in one of my courses." Ito says. 
(Below, Professor Bruce Kidd, U of T vice-president and principal of U of T Scarborough, congratulates Patel/photo by Ken Jones)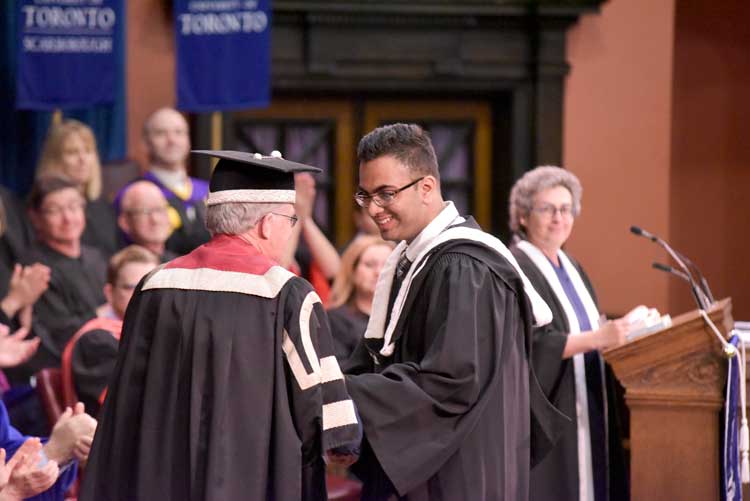 These days, Patel is working in Assistant Professor Jonathan Cant's cognitive psychology lab doing research on visual scene perception.
"What I appreciate about the labs I worked in at UTSC is that you get to try everything – running experiments, analyzing data, writing reports," Patel says. "It's diverse training that you may not get elsewhere."
Along with tutoring high school students in math and physics, he's also developing a mobile app to help users avoid injury or infection and identify whether they need to seek medical treatment. 
Patel also dedicated much of his spare time as an undergrad volunteering at the Rouge Valley Centenary Hospital. He first began as a 'pathfinder', a volunteer that helps direct patients to where they need to go when they arrive at the hospital. He then went on to help in caring for patients with neurodegenerative diseases including Alzheimer's.
"I learned a lot about being patient and caring, but also the importance of treating Alzheimer's patients as people, with the respect they deserve," he says. 
"Compassion can go a long way, so I tried to make sure they were as comfortable as possible, to gain their trust but also know when to pull back and let them do certain things on their own. I feel that people need to feel that element of dignity, no matter how sick they are."
Patel says he hopes to bring all the lessons he's learned about patient care with him on the next leg of his journey in becoming a doctor.        
"Mihil is a truly exceptional and well-rounded student, and the awards are very well deserved," Ito says. "We will miss having him in our lab."