#UofTBTS16: U of T alumni share their wisdom with the class of 2020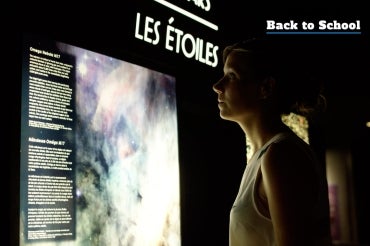 From first day nerves to memorable moments, U of T News spoke with a handful of University of Toronto's high-achieving alumni about how their university experience shaped who they are today.
---
Natalie Panek 
Master of Science, Aerospace, Aeronautical and Astronautical/Space Engineering. Graduated 2009.
Few people can call themselves a "rocket scientist", but Natalie Panek (pictured above) is one of them. The U of T grad works for MDA, the company that developed the Canadarm. She's currently working on a Mars rover program – how cool is that? 
Panek is also an advocate for inspiring young women to pursue careers in science and tech.
"We need more women working in tech industries to stand up and say 'my job is super cool; this is why I love it,'" she says.
Here's what she has to say about her U of T experience: 
What was your biggest takeaway from your time at U of T?
Definitely how important hands-on experience is. Going into an experimental masters where I was having to come up with my own test setup and troubleshoot the equipment when I ordered it and got it in our facilities and actually doing the data collection. It's one thing to read your books and study and a totally different game to apply what you're learning to a real life situation 
A moment you'll never forget? 
I remember every Tuesday and Thursday playing ultimate Frisbee on the field outside of UTIAS with the other students. We literally played year round. I remember putting grocery bags inside our shoes to keep the snow out in the winter so we can all get a break from our research so we can exercise and hang out together.
What advice do you have for the class of 2020?
Embrace challenge and always look for situations outside of your comfort zone. Because they may be scary and intimidating at first but you'll learn so much for them. It challenges and tests your capabilities and it helps you grow into a better person.
---

Shalane Katugampola 
B.A. Economics, UTSC. Graduated 2007. 
Shalane Katugampola is a master of the digital realm. After graduating from U of T, she worked for Canadian media giants like CBC and Toronto Star as they were building their online presence. She then made the move across the continent to Seattle where she now works as a global product manager for Amazon.
What does it take to score a job at one of the world's biggest tech companies? Doing your homework, says Katugampola.
"I researched the company's leadership principles, read letters to the shareholders, learned which areas of the business they were focused on expanding, and spoke to current employees to understand what their experience at Amazon was like," she says. 
Here's what she has to say about her time at U of T:
This year's first year students are the class of 2020. What advice do you have for them?
My parents always encouraged my brother and I to participate in extracurricular activities because they offer valuable life skills that you don't learn inside the classroom. Similarly, I would advise future students to round out their experience and take advantage of all that U of T has to offer. Get the most out of your classes, but also join student organizations and meet new people. University is as much an academic experience as it is a social one, and it is the combination of these two experiences that translate so well into the working world.
A moment you'll never forget?
I was a part of a competitive dance team all throughout university. I spent a lot of time with the team, and we really became a family. Being a part of this group enriched my experience at U of T, making it both fun and educational at the same time. I met a lot of great people and developed new skills. It really shaped me as a person.
Who was your favourite professor?
Professor of International Development Studies, Jack Arn. He's memorable because he allowed us to be hands-on in his classes. Rather than simply teaching theory, he had us put theory into practice. When you're out in the real world, that's really all there is – application. I specifically recall being in his 4th year project management course, where I learned skills that I have applied throughout my career.
---
Danièle Dennis 
Honours Bachelor of Arts, Arts and Culture Specialist, UTSC. Graduated 2015. 
Danièle Dennis knows the power of fostering community creativity. She, alongside three UTSC alumni, founded Y+ Contemporary, a Scarborough-based studio space and gallery that's being used as a platform to showcase local artists. 
"A lot of the art scene is very downtown-centric and unless you are actively involved in that network and know those people," she says. "It can be exclusionary."
Dennis is headed to the University of Pennsylvania to pursue her Masters of Fine Arts after receiving a full scholarship. 
This is what she has to say about her U of T experience:
What is the biggest takeaway from your time at U of T?
It's the importance of being in the experience and not trying to rush. It's the importance of being in the moment and soaking up all the knowledge you're able to get. 
When you show your professors and peers you're really dedicated and passionate, at U of T they were really able to reciprocate that in terms of the support they offer to you. They're all on your side, they all want to see you succeed and flourish as an artist. 
Who was your favourite professor?
Professor Tanya Mars. She pushed me a lot in terms of performance. That's really where I think my practice started to evolve.
There's a lot of notable faculty there – professors that are very passionate and invested in the success of the students.
What advice would you give the class of 2020?
Have fun – I think it's about the learning experience but it's also about the people that you meet. I think you learn a lot through these institutions and the faculty but also learn a lot from your peers as well. 
---
Eugenia Duodu
Ph.D, Medicinal Chemistry, UTM. Graduated 2015. 
Eugenia Duodu was able to combine her passion for community engagement and her love of science when she became the CEO of Visions of Science, an organization that aims to get students from low-income and marginalized communities to engage in science, technology, engineering and mathematics (STEM) fields. 
"I had witnessed first-hand the impact of being able to be the recipient of meaningful engagement and how that was transformative in my life and my ability to connect with numerous opportunities," she says.
Here's what she has to say about her U of T experience:
What is the biggest takeaway from your time at U of T?
The school demanded excellence. What was really cool about U of T was the support that I got from the profs. The excellence was required but the support that was available was so important to me. 
A moment you'll never forget? 
It wasn't from undergrad but even before that. My first introduction to U of T was the summer mentorship program while I was in high school. 
It was an opportunity to know what it is like to be in med school or any science field. That was program is why I decided to go to U of T out of all the universities. 
What is your advice for the class of 2020?
I feel like by 2020 careers aren't going to be as concrete and spelled out as they were in the past. I know that I used to struggle in undergrad because I knew that wanted to do something but it did not exist yet. It was a struggle to know well what I would do with myself. 
Pursue your passion unapologetically and don't worry if your career has not been created yet, maybe you just need to create it.
The world is changing and it's a world where you can make of it what you can.
---
Rehman Merali 
PhD candidate Autonomous Space Robotics 
Rehman Merali (above, right) is still completing his PhD at U of T, but he is a "graduate" of the Rotman School of Management's Creative Destruction Lab – an incubator for tech startups. 
"The best way to describe it is 'Dragon's Den' meets 'Survivor'," Merali says. 
He and his high school friend Brian Lee (above, left) founded teaBOT, an automated tea dispenser that lets you customize your blend. You can try it out on campus at the Green Beet Cafe. 
U of T has been crucial in helping Merali think both like an engineer and a businessman. Here's how:
What is the biggest takeaway from your time at U of T?
In an academic environment as I was in the PhD program, it really taught me to research and analyse the problem before investing the time and money on one particular solution. The ability to consider multiple solutions without getting too focused too quickly. That was really, really helpful. 
A moment you'll never forget?
Our work at the lab was field robotics. We would take these robots to the Canadian Space Agency and literally drive them around see if our algorithms worked and test them in the field. The most memorable part is going out in the field in a big, sandy, lunar terrain, trying to write code on my laptop while this robot is driving itself around. The problem solving skills that came out of that were really fantastic.
What is your advice for the class of 2020?
Think outside your discipline. Just because you're in an engineering or arts or science program, keep your eyes and ears out for other opportunities because a lot of your skills will be transferable. 
University of Toronto is exceptional for having such a huge student body. I would encourage students to take advantage of the different clubs on campus and different interest groups and not to get pigeon-holed too quickly. 
---
Ina Foalea
Bachelor Commerce, UTM. Graduated 2012.
Since graduating from U of T, Ina Foalea has dedicated her career to health care, taking her all the way to Uganda for a year on behalf of the Clinton Health Access Initiative. 
The UTM valedictorian says she enjoys using what she's learned about business, economics and health care in her career and encourages current students to do the same.
"It's interesting when you can combine everything into creating something else," she says.
Foalea is currently completing her MBA at Harvard Business School.
Here's how she remembers her U of T experience:
What is the biggest takeaway from your time at U of T?
Academics play a very important role but there are so many more lessons to be learned outside classrooms. That doesn't mean those lessons don't involve the study part. You learn those technical skills in class but it's so important to learn those soft skills outside class. That's either through extracurricular activities or being able to make that connection with your peers, and even with the faculty and finding your interest and your niche. There's so many opportunities all the time.
A moment you'll never forget?
I was providing a speech for the university and my parents cannot speak English. For graduation, I invited them to come listen to the speech. I hired them a translator and they actually understood the speech. My mom started crying and then my dad started crying and he never cries. It was exciting because after four years of work and it was their work as well – they supported me and helped me with my tuition. They don't live in Canada so it was a big journey to even come there. 
What was your first day of school like?
Foalea moved from Romania to Canada for university so it was a particularly hard transition for her.
I was absolutely petrified. Good advice for the class of 2020 is to not be as nervous. This sounds cliché because I'm starting school again but push through the first couple of days. Everyone is going to feel uncomfortable; everyone is not in their natural habitat. Make sure you're yourself and go through the first couple of days until you get accustomed to it.