#UofTBTS16: Student tools you don't want to miss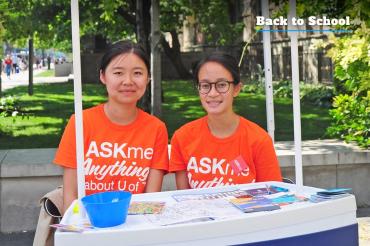 Whether you're new to campus, or a pro, you may not be aware of all the things U of T has to offer. To help new and returning students, we've provided essential tips to help you get the most out of your university experience.
Commuter's cheat sheet
First thing's first, getting to campus. How will you commute?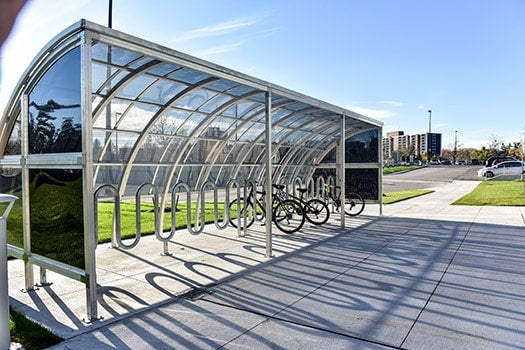 Bike station at UTSC (Photo by Ken Jones)
Whether you take plane, train or automobile (ok, maybe not the plane part… ), you need to know where you're going! Luckily, U of T offers interactive maps to help plan your route and find classes. And yes, there is an app for that (Android and iOS).
Media corner
If you're on campus with time to spare, why not take a few minutes to find out what's going on in university news or listen to your favourite jams?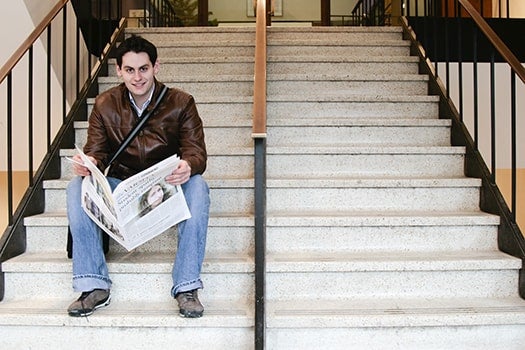 (Photo by Jason-Krygier Baum)
Food frenzy
There's nothing worse than sitting in class with a rumbling tummy. Fear not, there are a wide range of affordable, sustainable and nutritious food options available on campus. You can even check out weekly location menus online, grab fresh food from the UTSC Farmers' Market every Wednesday, or see where to Dine on Campus at UTM! If you purchase a campus meal plan, you receive discounts at select dining halls and eateries on campus, as well as deals at the U of T Bookstore. Meal plans are available at the St. George Campus, UTM and UTSC. And don't forget you can load funds onto your TCard to use at participating food locations.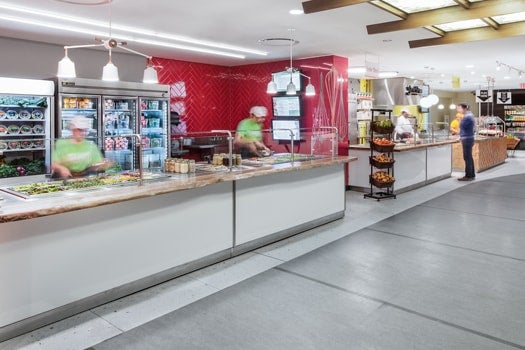 Quench your thirst
Thirsty after dining at a delicious campus eatery? Wash it down with some H2O - there are plenty of fountains on campus, all conveniently outlined on a map. But be sure to bring your own bottle. U of T is bottled water free!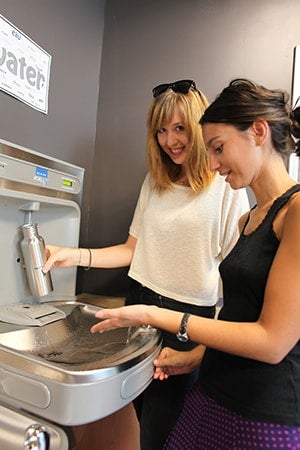 Need something a little stronger? There are many coffee joints on campus, including Diabolos Coffee Bar (located in University College's Junior Common Room), Beachgrove Cafe (UTSC Science Wing), and North Side Bistro (located in UTM's Deerfield Hall), where you can sip certified fair trade teas or coffee.
Books Galore
Need a textbook for next week's quiz? Head on over to your University of Toronto Bookstore for new and used textbooks or book rentals. And while you're there, check out U of T sweatshirts, school supplies and more.
Require a source for an essay you're working on? Check out the list of 40+ libraries on campus. Incoming Arts & Sciences, Applied Science & Engineering and OISE graduate students can benefit from the Personal Librarian program, where they are paired with a University of Toronto librarian during their first year. UTSC and UTM students can contact a Liaison Librarian to learn more about what the library can do for them.
Kick it into high gear
It's all about balance – take a break from your studies and get moving!
Intramural sports offer different levels of competition in many sports through leagues, tournaments and special events. Participate in a faculty or college team, or form/join open teams.
Prefer exercising solo? With U of T's many facilities, you can check out the gyms, pools, strength & conditioning centre, indoor track, dance studio, cardio machines, tennis & squash courts and steam rooms, all available for student use.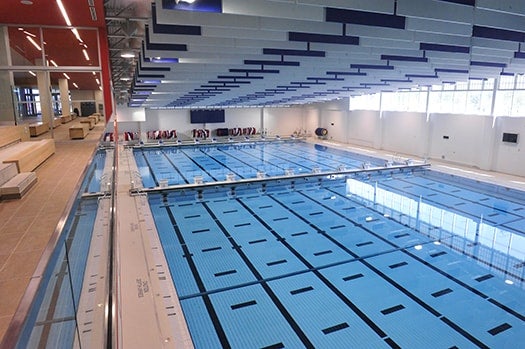 Toronto Pan Am Sports Centre at UTSC (photo by Ken Jones)

La Culture
Treat your eyes to a visual delight and experience art on campus. You can visit the university's art galleries for free, including the Art Museum at the University of Toronto, Doris McCarthy Gallery and the Blackwood Gallery, just to name a few.

                                             (Photo by Johnny Guatto)
Get out there!
Do you like student politics? Are you passionate about a hobby? There are numerous opportunities to get involved, join a club, run for student government or attend an event on campus. If you're interested in finding out more, check out the Ulife and students' unions at the St. George Campus, UTM and UTSC.
Want more?
Keep up to date on what's happening on campus and how you can participate in university life at U of T:
Twitter, Instagram or Facebook
Twitter, Instagram or Facebook (UTM)