#UofTBTS16: "The world is your oyster," President Gertler tells new students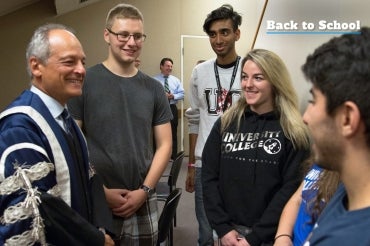 At an orientation event this week, University of Toronto President Meric Gertler greeted students with the following advice:
"At U of T and here in Toronto, the world is truly your oyster so take full advantage of it," he said.
The message is in keeping with the President's view that U of T is uniquely positioned to offer students a world-class education, as well as the experience of living in one of the world's most diverse and cosmopolitan cities, Toronto.
The orientation ceremony for University College was held at Convocation Hall, and the President reminded students that they will return here at the end of their undergrad.
"In roughly four years' time, chances are you will gather here in Convocation Hall once again," President Gertler said. "You'll be surrounded by friends and family who will proudly watch you cross this stage as you receive your degree. By then, you may be about to launch into your career, to go to graduate school, or be on the cusp of other adventures yet to be determined. No doubt, you will be a changed person. You'll have conquered U of T and you'll be ready to take on the world!"
The orientation event also saw student leaders offering first years advice on everything from getting involved in extracurricular activities to making use of the university's 44 libraries.
"I say this very often – get involved in any way possible," said Ramsey Andary, a fourth year commerce student and president of the UC Literary and Athletic Society. "The university is more than the courses and the things you learn from the classroom. I have learned a lot more from the people around me – my friends, my colleagues, the professors, and everything outside of the classroom."
First year cognitive science student Austin Koehler followed his sister to U of T.
"My sister did her undergrad at U of T and I felt pretty familiar with it already," said Koehler. "But besides that I felt it was just a really good place to get career opportunities and to network with people. I really love the atmosphere here--the architecture, the history. There's a long history of alumni here who are people I find inspiring."