U of T student Kevin Ledda (centre) and grad Quratul Ayn (right) answer questions for new international student Julianne Tito (left) at Pearson Airport (Photo by Johnny Guatto)
The University of Toronto booth and a student who could speak Tagalog drew Julianne Tito to the university's welcome stand at Pearson Airport.
The incoming first-year, who is Filipino, had just arrived in Toronto, a city she has never visited.
But Tito soon discovered that there was no reason to worry. When the family she's staying with arrived to pick her up, the friendly student at the booth who was answering her questions on commuting and orientation let out a big laugh.
"Oh my God, you're staying with them," Kevin Ledda said. "This is so funny. I've known them for years. It just goes to show you how small the world actually is."
And so played out just one of many scenes unfolding at U of T's welcome booths at Pearson International Airport. This is the second year U of T has set up student-staffed welcome booths at Terminals 1 and 3. With approximately 5,000 new international students coming in this year, the booths play an important role as the first point-of-contact for students flying into Toronto for the first time. The booths, which are open daily from 8 am to 10 pm, have 18 student greeters this year, speaking 19 different languages, including Mandarin and Tamil. They're eager to give newcomers their first welcome to Toronto, while providing directions to campus, information on Back to School activities and practical advice on clubs and T-cards. 
"It's really helpful to have a booth like this as an international student," Tito said. "It's useful to find people right at the airport who go to your school, and can tell you more about it."
Lucy Fromowitz, the assistant vice president for Student Life, says it is important to find a way to assist students like Tito who are often stepping off of a plane and heading straight into a new chapter in their lives. 
"When our students arrive at the airport, often after long journeys, we wanted a safe, friendly place where they would be welcomed, and could get assistance, with anything from an opportunity to phone home, find lost luggage, or get directions to campus," Fromowitz said. "Our terrific students and alumni who staff our booth speak 19 different languages and understand the experience firsthand."  
But international students are not the only ones stopping by.
"We are also attracting questions from travellers interested in advancing their own education, or asking for information for their children so this is a great opportunity for people coming into Pearson from around the world learn more about U of T," Fromowitz said.    
Students working at the booths have been busy sharing photos on Instagram of themselves with new arrivals including a student refugee from South Sudan who will be attending U of T's Scarborough campus.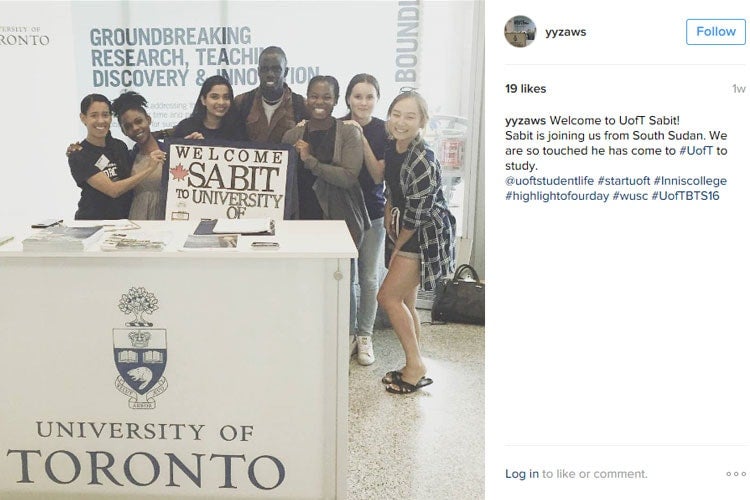 Kimberly Foralin, who has been working at the booth for two years and just completed her master's degree in political science, says greeting the student refugee really stood out for her. 
"He shook the hand of every person working at the booth, and when we told him we were so happy to meet him, he told us he was so happy to meet us and for this warm welcome," Foralin said.
The booth also helped connect a U of T student working at the stand, who is an international student from Barbados, with a new student coming in from her native country — they had gone to the same high school, and he remembered her brother who was a year younger than him.   
Zana Marquez, who is completing her undergraduate in Italian and European Studies and is an airport greeter this year, said it wasn't until she met the student a few days after he had gone through the booth at an international students' workshop that the two made the connection. 
"It was cool to be part of his first experience at U of T and to be part of a team that received him at the airport," Marquez said. "I told him to save my number on his phone and that if he needed anything he had a friend who he can always reach."
 
For greeters, they draw on their own personal experiences to help new students flying into town. Many were once incoming international students too--the university enrolls about 16,000 international students from over 100 countries. The booths also staff students from all three campuses. New students are given various resources, including handouts from the Centre for International Experience, TTC maps and information about public transportation. 
"The booths weren't here when I first came," said Foralin, who is originally from Nigeria. "Being in a different country can be scary, but we want to show [these students] that they have lots of guiding hands and everything will be okay." 
Tito also has found herself a new go-to-person for U of T questions. Ledda knows the family Tito will be staying with in Ajax through a Christian youth ministry group. As Tito left the terminal, Ledda assured her that "she'll be in good hands."