#UofTBackToSchool: You're home! U of T international students get warm welcome at Pearson Airport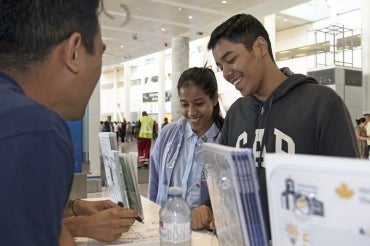 It's a 20-hour journey from Dar es Salaam in Tanzania to Toronto – the longest trip Moksha Antani has ever taken, but also the most exciting.
She's about to begin her first year at the University of Toronto's Rotman Commerce program, and, even after an exhausting day of travel, she finds it hard to contain her enthusiasm.
"I'm looking forward to new people, new culture – everything!" she says.
Thousands of international students pass through Toronto Pearson International Airport's Terminal 1 and 3 on their way to U of T. While they share first-day jitters with domestic students, they also have the hefty task of navigating their way around an unfamiliar city.
That's why U of T airport welcome teams are there. The teams, made up of students from U of T Mississauga, U of T Scarborough and the downtown Toronto campus, help new international students with anything they need, from directions to residences to advice on the best place to exchange money.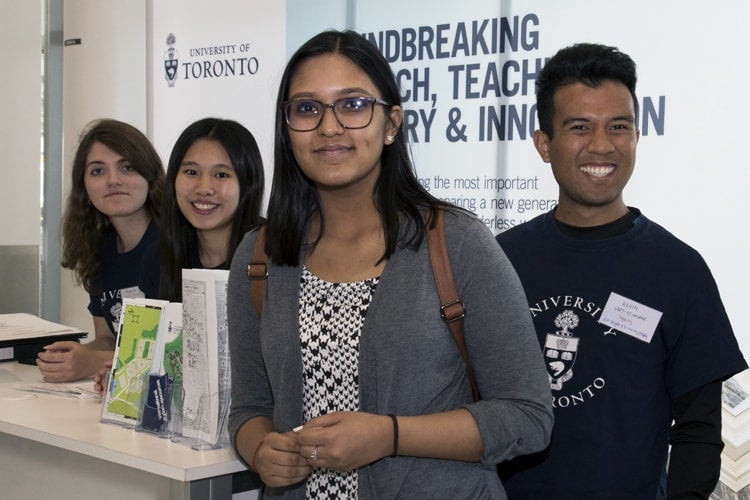 Moksha Antani was glad to see some friendly U of T faces at the Pearson welcome booth (photo by Romi Levine)
So far this year, students from 41 different countries – from the tiny island of Mauritius to the Baltic nation of Estonia – have come by the welcome booths.
People also visit the booth to ask for everything from directions to the nearest washroom to information about U of T's engineering programs.
The welcome team has witnessed some amazing moments too, from tearful reunions to a hoard of fans waiting to greet the 13-member Korean Pop boy band Seventeen – as seen in the video below.
Like the incoming first-years, the welcome team comes from all over the world, with 19 students who speak over 22 different languages.
"I'm an international student so I understand the importance of this for having a good first impression and getting help," says Salman Khan, a management student at U of T Scarborough, who came to study in Toronto from Bangladesh.

U of T's MasterCard Scholars were given a warm welcome in Terminal 3 (photo by Romi Levine)
Khan's booth-mate, Ingrid Llambi, is an English and cinema studies student at U of T's downtown Toronto campus. Llambi says when she sees the relief in students' faces, it drives home how meaningful – and necessary –  the welcome booth is.
"Getting to do that is really great and they really need it in that moment," she says. "They're super grateful, excited and happy."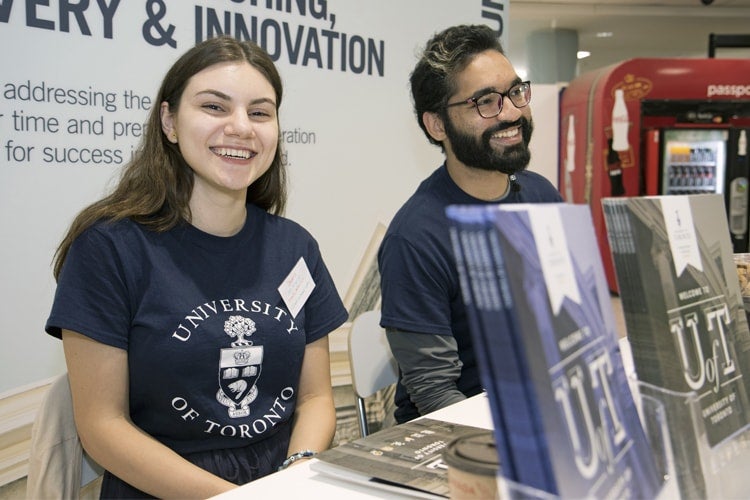 Ingrid Llambi and Salman Khan are two of the 19 student greeters at Pearson airport (photo by Romi Levine) 
Mahaksh Malhodra says he was thankful for the U of T presence at the airport – it helped to calm his nerves.
Coming from Varanasi, India, Malhodra decided to study computer science at U of T "because it's the best," he says.
He's looking forward to exploring his new city and can't wait to make his way up the CN Tower and take a photo with the Toronto sign at Nathan Phillips Square.
The welcome booths will continue to greet students until Sept. 10.
UTC