Students help Michelle Cheung, a human biology student, move into her shared dorm at Sir Daniel Wilson residence in University College (photo by Geoffrey Vendeville)
Thousands of first-year students started a new chapter in their lives by moving into their dorms on the St. George campus on the weekend. 
Like worker ants, University of Toronto student volunteers helped newcomers move into their residences, lugging boxes, mirrors and mini-fridges up flights of stairs and through narrow hallways.
As of Tuesday, 15,700 first-entry students are registered to start classes at U of T. More than half are women. About 54 per cent are from the Greater Toronto Area while 21 per cent come from other countries. 
U of T News caught some of the move-in action on Sunday.
---
At University College, about 650 first-year students moved into residence over the weekend. Frosh leaders, including Julia Ayse Gercek and Jacqueline "Jax" Wong (below), greeted new students and their families as they pulled up to Sir Daniel Wilson Residence on St. George Street.
"Once you get to your door, we cheer 'You live here' and it makes an instant connection – not only to the building but to the community as well," Wong said.
Julia Siciliano, a commerce student from North York, unpacked her belongings in Whitney Hall with her dad Massimo, who graduated from the same U of T program in 1990.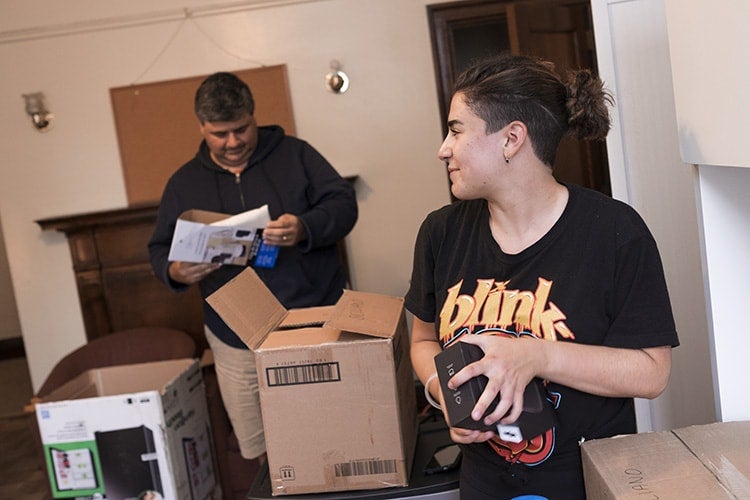 Up the street, Woodsworth frosh leaders welcomed new students with music blaring from speakers. Stephanie Anter, whose son Nathaniel is enrolled in mathematical applications in economics and finance, borrowed a luggage cart from her hotel. Justin Zelnicker, an international relations and employment relations student (below), gave them a helping hand.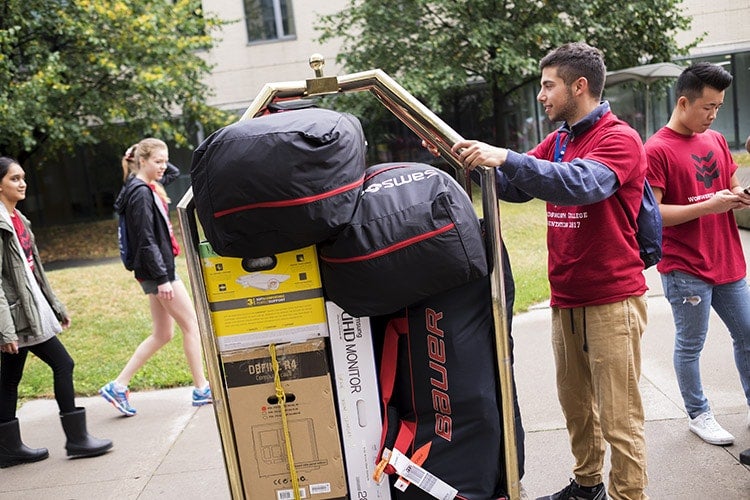 At nearby Innis College, it took a co-ordinated family effort to move Elizabeth Pratt (below, left), an engineering science student, into her suite-style residence. Even her 13-year-old sister Camille (below, right) chipped in.
Meanwhile at Trinity College, Maclean Rozansky and Haris Sheikh teamed up to carry a mini-fridge across the quad. They greeted newcomers with a smile.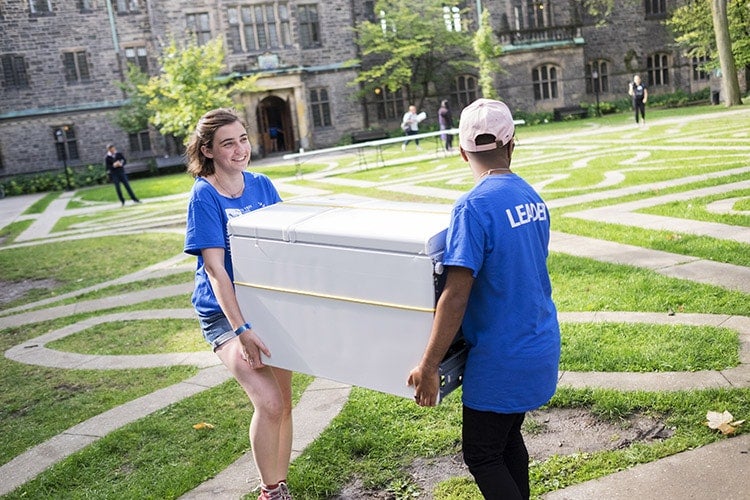 "We're trying to create an atmosphere that shows that no matter (the students') interests or strong suits that there's a place for them here and they can find a really wonderful home," Rozansky said.
Over at Victoria College, the Bhambra family was preparing for another one of their own to start their studies at U of T. Nikhil Bhambra is part of the class of 2021, majoring in computer science. His older brother Shaan graduated in June of this year in molecular genetics and global health. Nikhil's mom Anna (below) helped her son make his bed in the Upper Burwash Residence.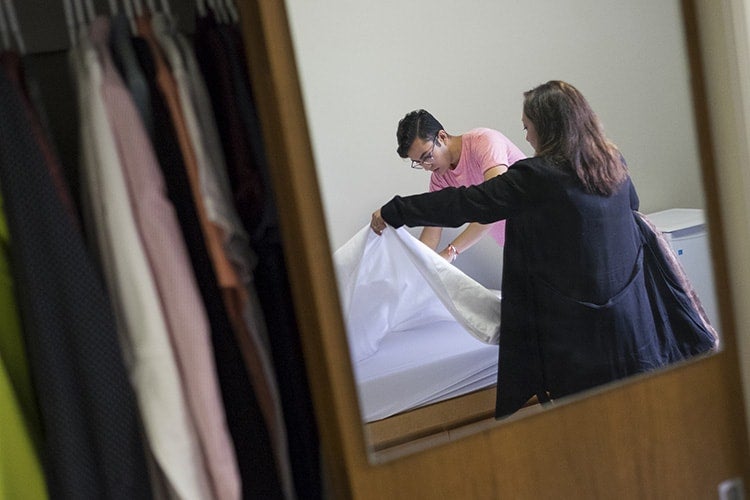 Victoria College upper-year students Ben Levy and Tara Moulson moved so many fridges ...
... that they kept count with tally marks on the back of their orientation t-shirts.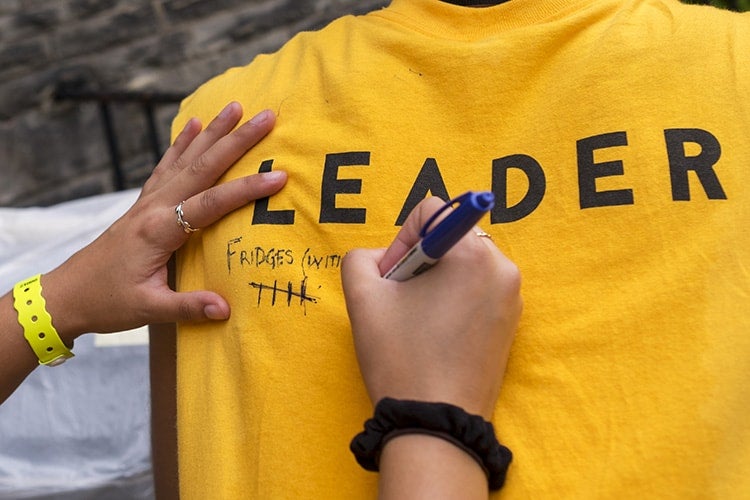 At New College, Joaquim Landry, a biology student who plays guitar, got lots of help moving into his new digs. (He's looking for a band, by the way.)