Universities are gateways to opportunity and knowledge, Gertler tells international forum in Japan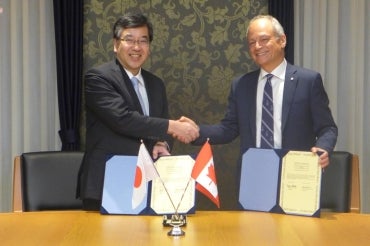 Universities are gateways – gateways of opportunity for young people, gateways to new knowledge, and gateways to their local regions and to the world, University of Toronto President Meric Gertler told delegates at a forum on science and technology in society this week.
The forum, which was also attended by U of T vice-president international Ted Sargent, was held in Kyoto, Japan. President Gertler participated in a panel on the role of universities, alongside Japan's minister of education, culture, sport, science and technology. Sargent took part in a panel on the development of nano-industry.
Besides attending the science and technology forum in Kyoto, President Gertler also travelled to Tokyo where he met with U of T alumni and students.
He also signed collaboration and student exchange agreements with the president of the University of Tokyo and met with Ian Burney, the Canadian ambassador to Japan. The president was scheduled to arrive in Singapore on Oct. 5. 
Great event & speech tonight in #tokyo with @UofT President Gertler and a fine bunch of @uoftalumni! #UofT pic.twitter.com/Vh1kYXEzjW

— Darren Menabney (@Darmenab) October 4, 2016
Universities are gateways of opportunity because they give students the tools and experience they need to succeed and thrive, President Gertler said at the forum, noting that a quarter of U of T's domestic undergraduate students come from families with a household income under $50,000.
They're gateways to new knowledge because they generate and collaborate on the research and innovation that drives the world, the president said. "Taken together, our institutions generate a vast amount of new knowledge, most of which finds its way into goods and services and ideas that improve and enrich the lives of the globe's population."
Finally, universities are geographical gateways – gateways to their local regions and to global knowledge networks.
"Our prosperity depends not only on the knowledge, know-how, and experience found at home, but also the knowledge originating in other leading centres of research and innovation around the world," he said. "The new ideas, fresh perspectives, and novel approaches we encounter when crossing geopolitical and cultural borders help create new knowledge and solutions – by testing our assumptions, shifting the frame of reference, and offering new concepts."
For Sargent, it was his first major international address since being appointed vice-president international early this year. A renowned researcher in nanotechnology, Sargent argued that the world should use low-cost, abundant renewable energies such as wind and solar to synthesize chemical fuels for energy storage, especially liquid carbon-based transportation fuels.
New technologies are emerging in university labs around the world – including the University of Toronto and the University of Tokyo – that can do this efficiently and effectively, Sargent said.
The result is renewable fuels that close the carbon cycle and reduce CO2 in the atmosphere, he said.