United by impact: U of T alumni a global economic, social and cultural powerhouse, survey finds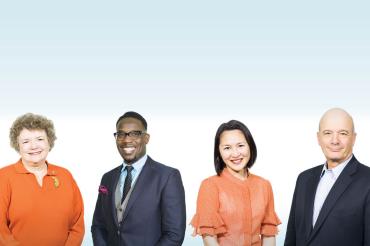 It's one thing to know something anecdotally, quite another to have the hard data to back it up.
Now, thanks to its first-ever Alumni Impact Survey, the University of Toronto can more accurately measure the impact of the social, economic, cultural and artistic achievements of its 545,000-plus living alumni on a local, regional and global scale.
The survey found U of T graduates generate US$368 billion a year – on par with the GDP of Norway – through the 190,000 private sector companies and non-profit organizations they've created. These ventures have generated 3.7 million jobs in locations around the world, with the majority in Ontario. On average, that's almost seven jobs created by every graduate.
"These results confirm what members of the University of Toronto community have known for decades – that our extensive alumni network is a significant driver of economic growth and societal well-being both at home and globally," said U of T President Meric Gertler. "Our graduates are also making important artistic and cultural contributions around the world, and they are giving back to their communities as volunteers.
"The university would like to thank all of the alumni who took time out of their busy schedules to complete our survey."
More than 21,000 U of T alumni who graduated from the 1940s to the 2000s completed the 15-minute online survey. The response rate is in line with similar surveys conducted recently by other leading universities such as Harvard, Stanford and MIT.
Other highlights of the survey include:
Overall, 97.6 per cent of alumni in the labour force are employed – primarily in knowledge-intensive sectors such as education, law, social, community, government services and health, at rates significantly higher than the Canadian workforce average.
One in four alumni has founded at least one company or organization, and among that group, 13 per cent are serial entrepreneurs, having started at least three.
On average, U of T alumni volunteer more of their time than the average Canadian. In total, U of T alumni volunteer 2.8 million hours per month – more than 300 person years a month.
More than 330,000 U of T alumni have produced more than 760,000 professional, academic or artistic contributions, including over 89,000 who have published a literary work, performance or visual art piece for the public.
Conducted last spring, the voluntary survey is believed to be the largest of its kind ever undertaken by a Canadian university.
"The amount of data we've received is impressive – and we've only started to scratch the surface to show the depth and breadth of the accomplishments of our alumni in various sectors and across various age groups," said Vivek Goel, professor at the Dalla Lana School of Public Health and U of T's vice-president of research and innovation, who co-led the survey with Associate Professor Shiri Breznitz of the Munk School of Global Affairs. "The results are inspiring."
The number and nature of alumni-founded ventures is one area already receiving further study, he said.
For example, preliminary data show women in their 20s and 30s are virtually on par with men in founding companies and organizations. Although the overall numbers still show male alumni are founders in greater numbers, it looks like the balance is starting to change, Goel said.
The U of T Alumni Impact Survey data, was reviewed and approved by the university's Research Ethics Board. The analysis is rigorous and ongoing, Goel said.
U of T is now providing a comprehensive overview of survey results on the alumni website.
UTC