From the lab to the gym: U of T Mississauga physiology students receive hands-on experience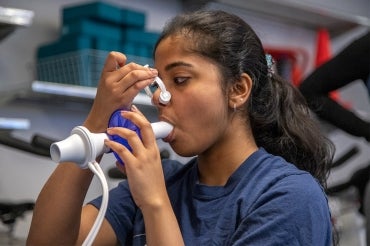 A group of undergraduate physiology students at the University of Toronto Mississauga are ditching their lab coats in favour of gym clothes.
The students are hitting the gym and getting their hearts pumping for a fourth-year course created and taught by Bryan Stewart, a professor in the department of biology and cell and systems biology. The course relies on a first-time partnership with the Recreation, Athletics and Wellness Centre (RAWC).
Every second week, the students head to the RAWC for their lab, where they use a myriad of tests to measure physiological responses to activity, including blood pressure and respiratory output. Each session has a specific component; one week students might use electrocardiograms, the next they may learn about respiratory volume.
Students analyze the data they've collected during the weeks between labs.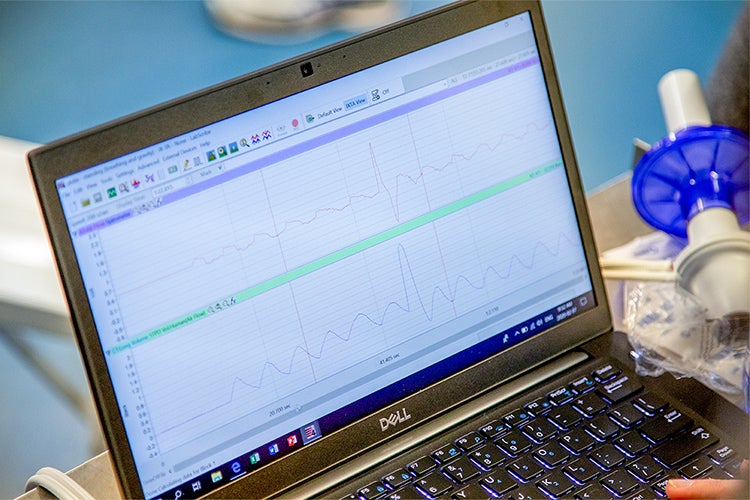 Students measure respiratory volume during a fourth-year physiology lab held at the RAWC (photo by Drew Lesiuczok)
"It is the only course on campus like this," says Stewart, noting the hands-on experience is useful not only for for students heading into the medical field, but for anyone who wants to speak intelligently with health-care providers about electrocardiograms or gas levels when they, or their relatives, receive care.
"It is important they are exposed to this," Stewart says. 
Athulya Ajith, a fourth-year biology and psychology student, signed up, in part, because she had never gone to the RAWC to work out and this was one way to stay fit and healthy while also learning new skills.
"The equipment is cool to see," she says, adding that the lab gives her a chance to see results on an actual subject and gives her exposure to testing equipment before she goes to medical school.
Stewart, who recently completed a one-year leave after serving as the vice-principal, research at U of T Mississauga, developed the class as a natural continuation of the third-year physiology class he previously taught.
"I have always wanted to do a lab course," says Stewart, whose first degree was in human kinetics. The third-year class is a foundational physiology course, Stewart says, while the focus of this new course is about adaptations to a variety of environments. 
Students use exercise and activity to learn about adaptation, such as examining how someone's physiology adapts when training, or answering questions like why a resting heart rate decreases over time with exercise. The focus, Stewart says, is what happens on a physiological level.
Stewart says the partnership with the RAWC is new for both the gym and the academic arm of the university. The RAWC not only gives students access to exercise equipment, but provides them with a real-world environment where they have to troubleshoot or work around other users.
"I am really happy with the level of support I've gotten both from my department and from the dean's office," Stewart says, adding that he plans to continue the course in upcoming years.
UTM