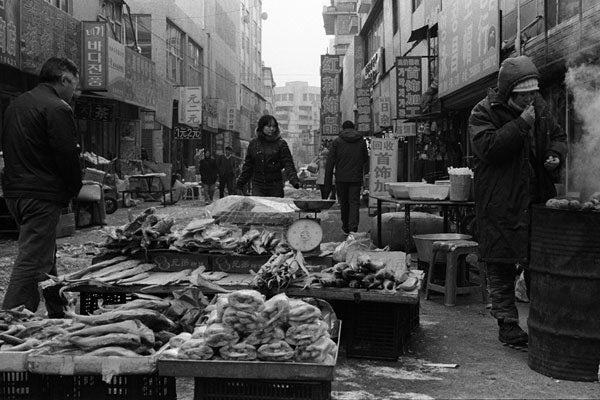 Undergrads visit South Korea, Demilitarized Zone
"The conversations I had in both South Korea and China provided alternative viewpoints that simply cannot be taught in a classroom or read in a book"
Exploring North Korea? Not possible. But for U of T students studying North Korean history and Asian modernity there's another option: travelling to South Korea and a region of China known as the "third Korea". 
Known as Yanbian Autonomous Prefecture, the region is located in China's northeastern Jilin Province, bordering the Democratic People's Republic of Korea (DPRK) – a.k.a. North Korea.
"Our visit to Seoul, South Korea and then the city of Yanji in Yanbian, China was the best possible way to study issues pertaining to North Korea, besides, of course, a visit to North Korea itself," says Victoria College student Allison Conners.
Yanbian was once home to as many as 2.5 million Koreans. Over the past two decades, however, the Korean population has shrunk to the point that the region's unique character is in danger of disappearing within a few generations. Conners was one of nearly a dozen students in Andre Schmid's historiography of North Korea course who recently travelled to South Korea and Yanbian to find out why this has happened and explore how this small region provides a window into Chinese-Korean relations and a different perspective on the mysterious regime that is North Korea.
Boasting the largest settlement of ethnic Koreans outside of the Korean peninsula, Yanbian is seen by many Koreans as their ancestral home. Often described as North Korea's "lifeline to the outside world," as it is where the majority of the DPRK's trade takes place, Yanbian is considered to be one of China's few truly bicultural societies.
"My individual research topic for the trip was on Sino-North Korean relations and the issue of North Korean migrants or refugees fleeing to China," said Conners, a fourth-year student studying international relations, East Asian Studies and African Studies. 
"This is a taboo subject in Yanbian, so our visit to Seoul allowed me to conduct meaningful research beforehand."
Since the 1990s, the area has seen increases in the use of Chinese in everyday speech and enrolment of Korean children in Chinese language schools. This has happened in conjunction with Chinese economic policies that actively encourage flows of investment, trade and people from both South and North Korea into China, and with many ethnic Koreans moving to South Korea for economic purposes.
Going to Yanbian allowed the students to study the impact of such cultural and economic policies on the shrinking Korean minority population living in China, and explore themes of integrated Korean identity, historical memory and migration, and Chinese economic policy towards the DPRK.
"It was there that we were able to speak with members of organizations such as Helping Hands Korea, the Border Peace School and Freeport," said Conners. "Our visit to the Demilitarized Zone with Professor Henry Em and students from Yonsei University was especially insightful. On the other side of the North Korean border, visits to Yanbien University and Yanbien University of Science and Technology similarly helped us to gain more of a 'local's perspective' on issues affecting the region."
The excursion was part of the Faculty of Arts & Science International Course Module program, which adds an intensive international learning experience to undergraduate courses. 
"The conversations I had in both South Korea and China provided alternative viewpoints that simply cannot be taught in a classroom or read in a book," said Conners.
The experience of visiting the North Korean border from both the southern and northern sides – within a matter of a few days – was one of the most memorable experiences for Conners. The miles of empty demilitarized and heavily guarded terrain on the South Korean side stood in marked contrast to the lightly guarded and seemingly 'open' border alongside China.
"In hindsight, the contrast between the two experiences is very indicative of the relations between North Korea and its two neighbours."
(Read the students' blog about their international learning experience.)
Sean Bettam is a writer with the Faculty of Arts & Science at the University of Toronto.