Undead diva: U of T opera students mix high art with zombie kitsch
They researched their parts by watching "Night of the Living Dead," YouTube videos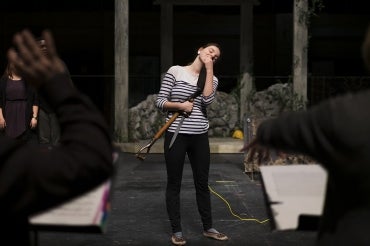 Rebecca Gray had never practiced groaning for an operatic role, until rehearsing for the lead in the University of Toronto Opera composition program's 20th anniversary production.
The master's student in opera stars as the un-dead diva Nellie Melba in Prima Zombie: The Diva that just Wouldn't Stay Dead, an original work composed by seven students. The libretto was written by the opera program's resident stage director, Michael Patrick Albano.  
In the early 20th century, the real Dame Melba regaled audiences from Sydney to Brussels. In the U of T production, critics pining for the "golden age" of opera bring the coloratura soprano – who gave her name to Melba toast and peach Melba – back from the grave using a gypsy curse and a cartoonish electric generator.
Safe to say, the role was a departure for Gray, who more recently played Frasquita in Carmen with the Cincinnati College-Conservatory of Music Summer Studio. Although she usually doesn't like to put on much makeup, she is excited to sing in zombie face paint. 
"I have really enjoyed being ridiculous, and it has been a chance for me to explore sounds I never knew I could make," she said during break at a recent rehearsal at U of T Faculty of Music's MacMillan Theatre.
She researched the part by watching Night of the Living Dead and YouTube-ing videos of "teenagers in their bedrooms making zombie noises."
For the young composers, too, the piece presented unique challenges. Stephanie Orlando, who is pursuing a master's in music composition, says she drew on music by Melba's historical near-contemporaries (composers like Donizetti, Puccini, Verdi) but added a dark twist.
"She's a little distorted now, as a zombie, and so is the music," she said.
Each composer wrote their scene individually, and the work was stitched together like "the Frankenstein monster of an opera" that it is, said Liam Ritz, in the bachelor's of composition program.
Opera aficionados sometimes take the genre too seriously.  But no one would accuse the composers and performers of the irreverent Prima Zombie of that.
The production pokes fun of diva worship and music snobs, said Daevyd Pepper, who plays theatre critic Addison Witless. It's also full of in-jokes like Pepper's favourite scene, Melba's zombie aria:
It's not enough to give my art
My fans demand my heart
So take it, take it now!
At that point, Gray rips a plastic heart out from under her shirt and throws it at the audience. 
"It's a joke about how we have an unrealistic idea of perfection," Pepper explained. "People expect us to act perfectly, but they also want us to bare our souls and our hearts."
Albano has staged over 30 operas at U of T and written many libretti for U of T Opera Student Composer Collective, including Rob Ford: The Opera. He says he encouraged students to go wild. 
"When you start breaking the rules, there's a great feeling of liberation, almost like anything goes," he said.
And it paid off.
"A lot of the stuff you see successfully working on stage are things the singers thought of themselves," he said.
Prima Zombie: the Diva that just wouldn't stay Dead, directed by Michael Patrick Albano and conducted by Sandra Horst, will be performed Feb. 5 at 2:30 p.m. at the MacMillan Theatre, 80 Queens Park.