This ultra-thin hot water bottle designed by a U of T PhD student could help ease menstrual pain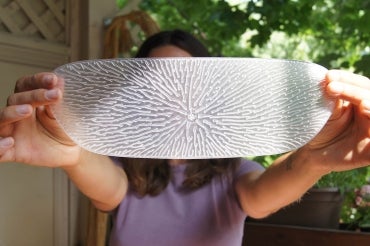 A team led by a PhD candidate at the University of Toronto's Faculty of Applied Science & Engineering has developed the world's thinnest wearable hot water bottle to relieve menstrual pain in the lower abdomen.
Although dysmenorrhea – also known as menstrual cramps – affects up to 95 per cent of those who experience monthly menstruation, it is commonly undertreated, and the list of market-ready design solutions has traditionally been short.
"In terms of products to be worn on the body, there's the bulky hot water bottle, a more than a century-old technology, and then there's expensive electrode machines that deliver shocks to your lower abdomen," says Charlie Katrycz, a PhD candidate in the department of materials science and engineering.
Katrycz and his collaborators – including U of T alumna Katherine Porter (art history), Robin Linton and Graham McLaughlin – have created Undu, a wearable, pain-mitigating underwear product, measuring just a third of a centimetre thick, that can be worn comfortably and seamlessly under high-waisted underwear to deliver heat therapy on the go. Just like other heating packs, it can be heated in the microwave or boiled in water.
What makes the product unique from other gel packs is Katrycz's patented air-casting technology and manufacturing approach. He calls the result Loonskin. The technology works by injecting fluid channels that imitate those found in blood vessels and veins – imagine capillary beds under the skin – within silicone materials.
"This branched-out pattern is reminiscent of biological structures. They're also the kind of geometrical shapes that'd be great at delivering or taking away heat, so I wanted to find ways to make this technology wearable," says Katrycz, who is currently researching generative manufacturing technologies under the supervision of Associate Professor Ben Hatton and Professor Glenn Hibbard.
"My friends pointed out that this method could be a great device to relieve menstrual pain," says Katrycz.
Despite their intricate shapes, Undu's materials can be manufactured with simple mechanisms: two paper spacers and thin plastic film create a port to pump air and fluid channels into the silicone.
"The fastest way to make a large number of something, in terms of creating moulded, plastic objects, is injection moulding. The slowest method is 3D printing, but that method allows for the manufacturing of more complex objects," explains Katrycz.
"Our manufacturing method accesses the complexity of 3D printing, while retaining the speed of injection moulding. That means we'll be able to easily and quickly produce many different designs and sizes of this product – including customizing for different body types."
To inform the design of Undu, the team conducted a survey, asking 100 respondents to draw and describe where they experience cramps. They were also asked to indicate their current methods of pain relief, with many saying they used over-the-counter painkillers, cannabis and hot water bottles.
Linton has used all three methods to combat dysmenorrhea and is currently the team's product tester. "I got involved in this project because menstrual pains have affected me every month for 16 years, sometimes requiring me to miss school and work," she says. "Experiencing intense pain on a regular basis for so long had me feeling like this would just be my life for the next 30 years."
The thinness of the product is an advantage, but has led to challenges in other areas. Current prototypes retain heat for only about 20 minutes. "It is important for relief to last as long as possible," says Linton. The team's goal is to get to two hours without sacrificing comfort.
Undu is an entrant in this year's James Dyson Award, an international design competition that celebrates the next generation of design engineers. In the fall, the team plans to get more people to test new designs. In addition to the current application, the team is also looking at how it can leverage the Loonskin technology to help people through other wearable products.
"This product could help address a problem that the market hasn't historically paid much attention to," says Porter, who is working on the industrial design of Undu. "For me, this was a socially important project to work on."
"It's incredibly important that we all work to reduce the stigma around discussing menstrual pains, as it is a worldwide issue that impacts so many people," adds Linton. "It's been eye-opening to work on this project with people who do not menstruate, and the more we talk about it and support one another, the better."
Engineering