The Uber effect: innovation in the fast lane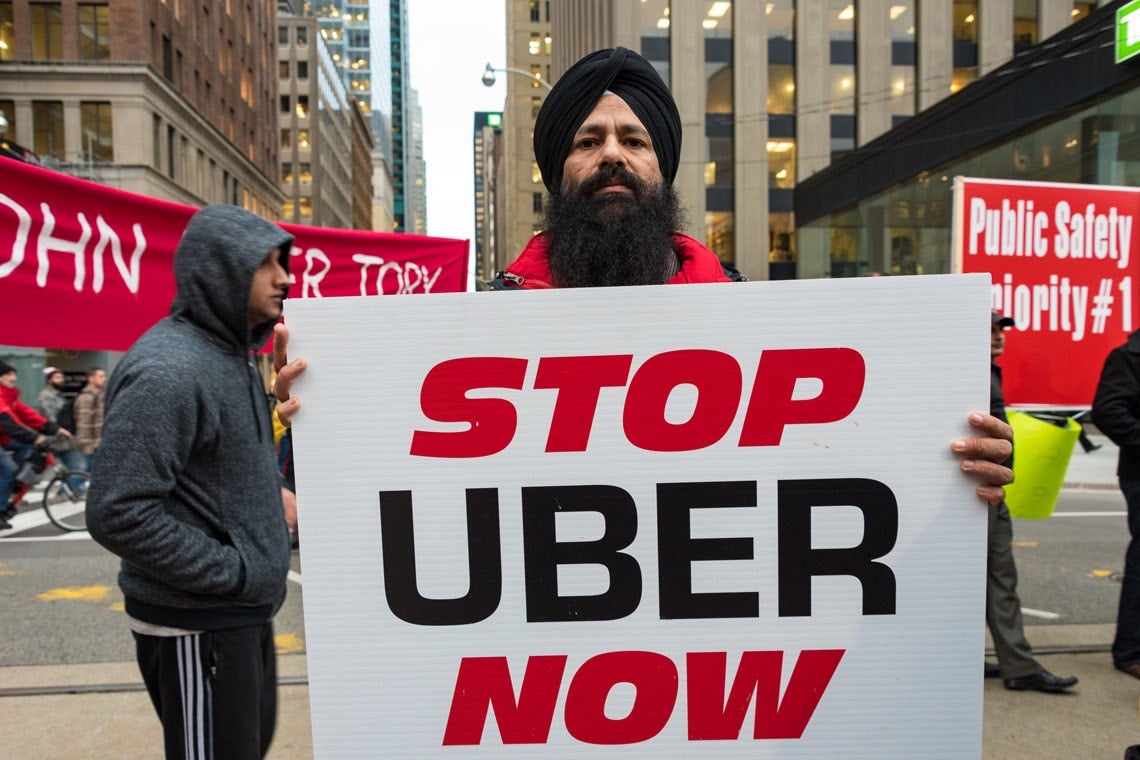 Back in March, Shauna Brail was at a geography conference in San Francisco about to present recent findings from her study on Uber and municipal governance. As she scrolled through the news minutes before her presentation, she learned that the city of Ottawa had just released draft regulation guidelines for Uber and other ride hailing firms, suddenly rendering some of her findings obsolete. The ride hailing industry — and the government's response to it — is changing faster than experts can research it.
Brail, senior associate at the Innovation Policy Lab at the Munk School of Global Affairs and urban affairs advisor to U of T President Meric Gertler, is looking at how Uber's business model disrupts cities. From municipal governance to economic impacts, Uber's emergence in the transportation sector has created ripple effects that cities around the world have had to learn to navigate.
"The first piece of our study is looking at regulation because that's what determines in which cities Uber can launch and continue to operate," says Brail, who is also director of the University of Toronto's Urban Studies program at Innis College. "They started off operating in a legal grey zone and advocating for keeping that grey zone. But more recently they have shifted tactics and they're now embracing regulation. I think there's also been an acceptance that making ride s haring illegal isn't going to make it go away, so governments are thinking about ways to work with it, to their advantage."
This "grey zone" in the transportation sector isn't new. Dollar vans, jitney services and unlicensed airport shuttles have been quietly thriving for decades. But Uber is the first company to disrupt the industry on such a large scale. In just seven years, Uber's valuation has grown to be estimated at $60 billion dollars, operating in nearly 473 cities and 76 countries worldwide. Since 2014, the number of Uber employees has grown from 400 to 6,500. On the streets of Los Angeles, Ubers outnumber taxis 11 to 1. And unlike the humble jitney operators of the world, Uber has $1 billion set aside to fight municipal regulation. "Uber has developed a model that takes advantage of technology," says Brail. "They've come up with new ways of doing old things."
Uber's success is a clarion call to Toronto's transportation sector about the importance of innovation in business and policy. Despite doing their best to keep up with an ever-changing transportation landscape, Brail says that municipal legislators tend to take a reactive approach to change, which impedes innovation. "In Toronto, we have a fractured but fairly powerful taxi lobby that's developed over decades and been subject to stringent regulations," she says. "There's been almost no innovation in the taxi industry for decades, in part because they were in such a heavily regulated space. However, Toronto just undertook a major ground transportation review a couple of years ago. At the time, they updated many regulations, so it's not that they weren't aware of what was on the horizon...it's that their systems and processes are designed to be reactive, not proactive."
With technology advancing at an exponential rate, Brail says it's worth considering how regulation can keep up with rapidly changing trends. Uber, for instance, is already testing self-driving cars in Pittsburgh, with automated taxis slated to hit the road as early as 2017. This means the heated debate over ride hailing may be an ancient discussion in the not-so-distant future. "One of the most challenging pieces of this research is how fast the field is moving," says Brail. "So, a huge question is how can municipal governments begin to think and work in a more proactive way that fosters innovation? If a municipality doesn't figure out how to behave in an innovative way, will that affect their future potential for economic growth?"