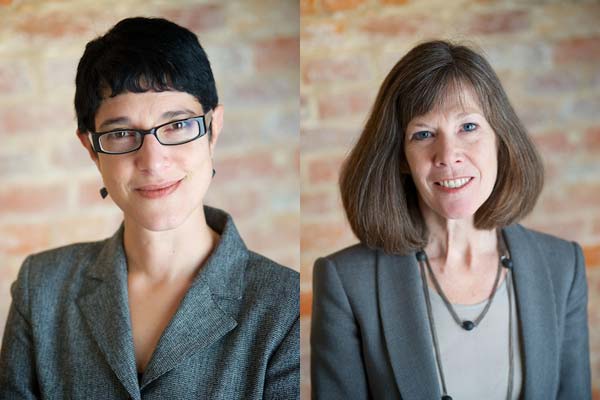 U of T's YWCA Women of Distinction 2013
Faculty, alumnae honoured
University of Toronto faculty members and alumnae are receiving Toronto YWCA Women of Distinction Awards this year for their outstanding work and "bold vision in significantly improving the lives of women and girls at home and abroad".
Of the seven women honoured in 2013, four are members of the U of T community: the Faculty of Law's Dean Mayo Moran and alumna Justice Gloria Epstein (LLB 1977) of the Court of Appeal of Ontario; Dr. Ophira Ginsburg, assistant professor, Faculty of Medicine and the Dalla Lana School of Public Health; and Woodsworth College alumna Amanda Dale, executive director of the Barbra Schlifer Commemorative Clinic.
"The University of Toronto faculty and alumnae receiving this honour are renowned for their leadership and their contributions to building a better society," said Cheryl Misak, vice-president and provost. "The university is pleased to see these remarkable women recognized."
Professor Moran, the first woman dean of the Faculty of Law, has raised awareness for such issues as gender and diversity in the legal profession, access to justice, Aboriginal economic development and the Indian residential schools settlement agreement. She launched the Women in Transition program to assist women re-entering the legal profession, and the Internationally Trained Lawyers Program, to help new Canadians with law degrees facilitate the maze of licensing requirements to practice in Ontario.
"I am honoured to receive the YWCA's Women of Distinction award," said Professor Moran. "I have always passionately believed in the importance of education in realizing the full potential of all individuals. Access to education has been especially transformative for girls and women and I am proud to be recognized by an organization like the YWCA which makes a tremendous difference."
Ginsburg, a clincian-scientist at Women's College Hospital, is an advocate for women's access to medical care both locally and abroad. She educates immigrant women on breast cancer and the importance of proper diagnosis and treatment, and has volunteered in Vietnam and Bangladesh where access to treatment for breast cancer is limited. In Bangladesh, Dr. Ginsburg co-founded the Amader Gram Breast Care clinic to help disadvantaged women receive free treatment for breast cancer. She also created clinical guidelines to help doctors in the area provide the best breast cancer treatment possible.
"I am thrilled to be selected for this honour," said Ginsburg. "The incredible work of the Toronto YWCA is so very inspiring and I am truly humbled to be considered among this community of amazing women."
Alumna Justice Epstein (pictured left), considered a trailblazer in the legal profession, honed her legal skills at two large firms and later founded one of Toronto's first women-owned legal firms. Epstein lectures frequently on supporting women lawyers, sharing her experiences with raising three children and advancing her legal career from the bar to the bench.
She volunteers her time on boards of organizations such as Pathways to Education, which encourages marginalized youth to complete high-school and attend post-secondary institutions, and the Ontario Justice Education Network, which promotes a more inclusive justice system.
Alumna Dale (pictured below, left) recently completed her master's degree at Oxford University where she won the Morris prize for best law dissertation; her topic was the intersection of women's international human and cultural rights.
Dale has been a leader in Toronto's feminist movement for three decades, making important contributions to a range of organizations such as Quimaavik Shelter (Nunavut), Sistering, Opportunity for Advancement, Nellie's Hostel, St. Joseph's Women Health Centre and YWCA Toronto.
An advocate for increased political participation for women in Ghana and Sudan, she is an active board member of Inter Pares, a global feminist social justice organization, and the Woman Abuse Council of Toronto.
Dale is executive director of the Barbra Schlifer Clinic, Canada's only legal, counseling, and language interpretation clinic.
"The YWCA gives out this award because we want to acknowledge the determined, innovative work that is being done to address the specific barriers and challenges faced by women and girls," said Heather McGregor, YWCA Toronto CEO. "The award recipients are doing tremendous things to build a world in which all women and girls can thrive. We want to celebrate that work and encourage others to join in."
Recipients formally receive their awards at a celebratory and fundraising dinner for the YWCA Toronto on May 2, 2013.