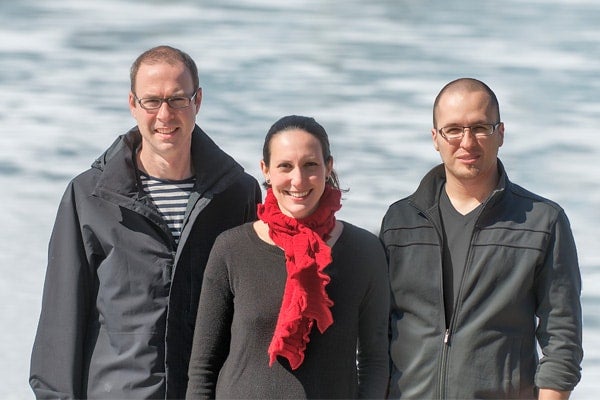 U of T's Mason White and Lateral Office at Venice Biennale
Global architect's firm chosen to represent Canada
An exhibition organized and curated by Assistant Professor Mason White and the design company Lateral Office will represent Canada at the 2014 Venice Biennale in Architecture.
The Canada Council for the Arts and the Royal Architectural Institute of Canada announced March 26 that Arctic Adaptations: Nunavut at 15" will represent the country June 7 through November 23, 2014 at the Biennale, which is widely regarded the world's most prestigious architecture exhibition and competition.
Lateral Office, the company founded in 2003 by White and his partner Lola Sheppard, an associate professor at the University of Waterloo, will organize and curate the exhibition which will be based on collaborations between five design teams and five Nunavut-based organizations. The five themes of health, education, housing, recreation and arts will be explored through architectural models, videos, interviews, photographs, maps, animations and soundscapes, evoking the unique landscapes and architecture of Nunavut.
The exhibition will tour Canada after it returns from Venice.
"This is the first time that we are sending an exhibition about Canada's North to the Venice Biennale in Architecture," said Robert Sirman, Director and CEO of the Canada Council. "Given the rise in national and international interest in the Arctic, this is a timely exhibition. 'Arctic Adaptations' will bring attention and insight to the unique challenges and opportunities that Nunavut is facing, and the possibility for architecture to positively impact its future."
It's the latest in a series of accolades for Lateral Office and White, who teaches at the John H. Daniels Faculty of Architecture, Landscape, and Design at the University of Toronto.
Just three months ago, Lateral Office became the inaugural recipients of the Arctic Inspiration Prize for the team's work on the Arctic Food Network. And, earlier this year, Lateral Office — which also includes Daniels Faculty graduate Matthew Spremulli — received the 2013 Progressive Architecture Award from the American Institute of Architects.
Writer Dale Duncan asked White about the project at the root of these awards and what it's like to work and teach in the Canadian north.
Tell us about your research.
Our approach focuses on architecture that confronts environmental, climatological, social, and even economic challenges. I'm really interested in how architectural design has to inflect or react when it is pushed by such extremes.
You received the Arctic Inspiration Prize in December for the Arctic Food Network — tell us about that project.
The Arctic Food Network is a shared network of buildings designed to facilitate regional food harvesting. There has been a large of influx of southern food into Inuit communities, which is altering diet and has had a dramatic effect on people's health. This project is really trying to find a contemporary way to encourage and inspire the re-adoption of the abundance of food readily available, what I like to call the arctic food basket.
Traditions change: dog sleds aren't as common now as snowmobiles. So the thinking was to create a network of structures, such as kitchens, overnight shelters, fishing cabins and greenhouses, that embrace the contemporary Inuit lifestyle. We didn't want to create a specific design for a specific site. Instead, we've made the network customizable: You could order 20 structures to form a network or you could order five—it's not a one-size-fits-all approach. We're still in discussion with a lot of hunters, trappers, youth and elders who can advise us on what might work and what might not work. I think that offering flexibility in uncertain times and in an uncertain context is helpful and more realistic in the world of design and planning.
What is it like to work in the arctic?
It's cold, but really beautiful. I've now been to all eight circumpolar nations, and there is a really rich relationship between community and landscape.
How did students react when you took them there?
 
One day there feels like a week down here because you experience so many new things. I took students to Iqaluit, the capital of Nunavut, which has a population of about 7000 people. By the end of the first day, we ran into the people we had just met that morning. It has this powerful intimacy, and yet you can feel its remoteness, and I think the students really sensed the power of what community means when you're all sharing this powerful regional context.
What drew you to this field?
Different contexts and regions often impose powerful restrictions on architecture that would turn some people off, but I'm quite excited by these kinds of restrictions because they force you to ask new questions and do new things. I am also drawn to exploration and travel. There's the tradition in architecture of going to Rome to see the great monuments or going to South America to see new works. Architects have to be present; they have to experience a site. For the Arctic Food Network, it was important to not only see the north, but feel it and meet the people, which one can't do from afar.
How does your current work relate to other programs you've been working on?
I'm interested in the relationship between infrastructure and design. Last year, I taught a design studio and took a group of students to Medellin, Columbia to see a project that I consider an amazing example of social infrastructure: cable cars that travel over very dense underprivileged neighbourhoods on the steep hillside surrounding the city. Given the typography and the density of these communities, it had become difficult for residents to access their homes. These new cable cars allowed people to navigate across communities. Sometimes they were linked with schools and libraries. They had the power to create a new identity within a community that had previously been marginalized.
What drew you to U of T?
I was attracted to the way that the architecture, landscape, and design disciplines were all housed under one roof. This semester, I have a thesis student in each department, and I think that all of them are discovering rich intersections between the different disciplines. The Daniels Faculty is quite supportive of strengthening these ties. Finding relationships between urban design, landscape and architecture is the way many innovative cities are going, too.
Why should today's students study architecture?
It's a field that has a really powerful mix between science and art. There are amazing new technological developments within the discipline and new entrepreneurial ways in which an architect can position herself or himself. Architecture offers such an amazing range of study, from physical, tangible things to very powerful cultural issues.