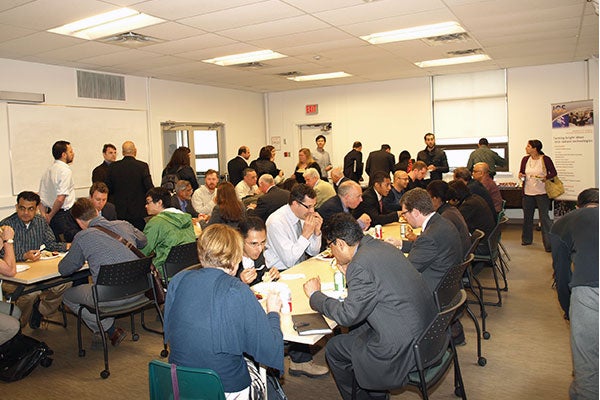 U of T's clean tech innovators meet industry, funders
Imagine you're a brilliant University of Toronto graduate with a great technological fix to the world's environmental problems. And you've got all you need to succeed.
Scientific smarts? Check. Educational pedigree? Yes. An office full of hardworking employees and passionate co-founders? Definitely.
Funding and industry connections? Well, not so fast.
To help entrepreneurs in Toronto's burgeoning clean technology sector succeed in making potential business connections, the U of T Impact Centre recently teamed up with Sustainable Development Technology Canada (SDTC) for its first ever industry challenge.
Dubbed the Virtual Incubator, the event featured some of Canada's largest companies explaining their current obstacles to aspiring U of T technology entrepreneurs. A few months from now, the industry veterans and technopreneurs will reassemble to discuss potential solutions. 
"This is a godsend for us," said Mehdi Ravandi, a U of T engineering grad and serial entrepreneur who attended the gathering.
Located at U of T's Banting & Best Centre for Innovation and Entrepreneurship, the Impact Centre at U of T is an ecosystem of students, entrepreneurs, and businesses that transforms world-leading university research into innovative products and start-ups. (Read more about the Impact Centre.) Founded by the federal government in 2001, SDTC is a non-profit foundation that aims to build a sustainable development technology infrastructure in Canada.
Virtual Incubator brought together: entrepreneurs; representatives from General Electric, Enbridge and the Canadian Electricity Association; and government funders such as the Natural Sciences and Engineering Research Council of Canada.
As Ravandi explains, a lot of entrepreneurs with a scientific or technical background may not have the business connections to help their start-ups discover funding opportunities and expand.
"This event is a good way to bridge that gap," he says. And he should know. Ravandi is now on his fourth start-up company, called Wheelspan, which is in the early stages of developing hybrid-electric vehicles.
Wheelspan was one of approximately 40 startups based in the U of T's Impact Centre to participate in the event.
"We are thrilled to partner with SDTC's Virtual Incubator on this unique event aimed at seeding collaboration between industry, academics and entrepreneurs," said Richard McAloney, director of Technology Management, Impact Centre.
Creating green and sustainable technologies that meet the needs of the market and society is incredibly difficult, explained McAloney.
"The Impact Centre is working to develop this new event format into a platform for developing solutions to other grand challenges in the future."
John Adams, director, Stakeholder Relationships with the SDTC, was pleased by the event's participants. He pointed out that it's always good for industry partners to know what innovative technology is being developed by university researchers. The SDTC has more than $1 billion in government funds and was recently recapitalized under the Federal 2013 budget for $325M.
Devin McCarthy, director of Transmission and Distribution at the Canadian Electricity Association, agreed that established industries must be kept aware of what is in the innovation pipeline, but stressed that for full value, ideas must flow in both directions.
"Canada's electricity sector is experiencing a period of change not seen in 50 to 60 years," said McCarthy. "Today's grid planners and operators must communicate anticipated technological needs as well as a commitment to trying new approaches in order to focus Canada's brightest minds on solving electricity-related issues. This forum was an excellent opportunity to move the conversation forward on both of these fronts."
SDTC's industry-focused Virtual Incubator works with its key partners to develop Canadian clean-technology entrepreneurs providing company introductions and guidance on business and project plans, with a goal of developing high-quality demonstration projects under the SD Tech Fund and ultimately the commercialization of the technology. U of T's Impact Centre is exactly the place to find those entrepreneurs, said Adams.
Rocco Vita, Enbridge's director of Alternative and Emerging Technology, was impressed by the energy and passion of the entrepreneurs at the event. And he's well aware of the challenges they'll face as they strive to commercialize their research. One of the biggest challenges for techno entrepreneurs is "making the right contacts and getting the right audience for their ideas," said Vita.
Bradley Smith agreed. As vice-president of Regional Programs with General Electric, he appreciated the passion of the attendees.
"A start-up is a labor of love," he said. "It's taking something that's a concept and turning it into something concrete. It's infectious and encouraging."
Dominic Ali is a writer with University Relations at U of T.