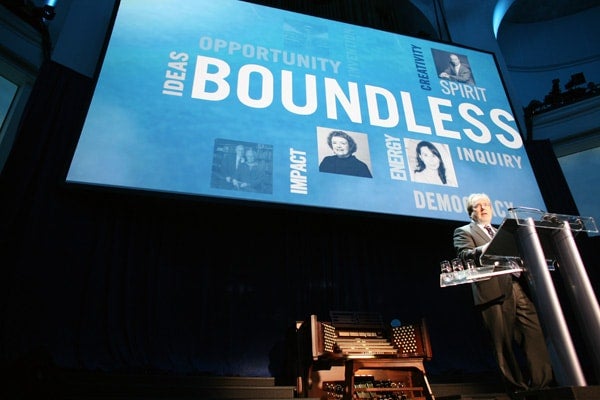 U of T's Boundless campaign surpasses $1 billion mark
The University of Toronto's $2-billion Boundless campaign, the largest fundraising campaign in Canadian university history, has already surpassed the $1-billion mark.
'Boundless' was launched in November to a gathering of 1,000 students, faculty, alumni, donors, and friends at Convocation Hall.
"At the end of January, we surpassed the $1-billion mark, the halfway point of the campaign. The University owes tremendous thanks to the many donors who have made this possible with their generous support of our faculty, programs and students," said David Palmer, vice-president, Advancement.
The Campaign for the University of Toronto is expected to help expand U of T's global leadership capacity across critical areas of knowledge and help develop the talent, ideas and solutions for future challenges.
"This milestone is more than just a number: it reflects a strong belief, in the public and among our community, in the importance of higher education and advanced research at the University of Toronto.  The thousands of people who have generously contributed to this landmark have helped U of T set the pace for fundraising in Canada, while helping broaden our impact on the world stage," said Palmer.
Since November 20, significant momentum has been building for the Boundless campaign. Innis College, the Faculty of Law, the Faculty of Arts and Science, and Victoria University in the University of Toronto have successfully launched divisional campaigns.
In late November, U of T celebrated the opening of the renovated Lassonde Mining Building, which houses the Lassonde Institute of Mining and the Goldcorp Mining Innovation Suite, as well as new student design studios, teaching spaces and a rooftop meeting room, and February saw the groundbreaking for the Goldring Centre for High Performance Sport. 
Other divisional launches are being planned across all campuses, colleges and faculties.   
In the coming weeks, said Palmer, the University will share news of new benefactions and other campaign events, including the May 23rd launch of the University of Toronto Mississauga campaign.