U of T welcomes federal budget provisions for work-integrated learning, international education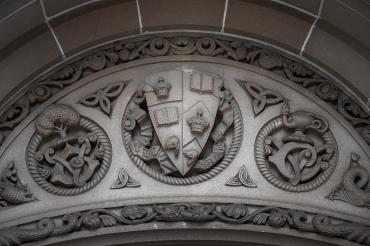 The University of Toronto is lauding a number of measures announced in Tuesday's federal budget aimed at giving more students the opportunity to learn in the workplace and around the world.
The budget also supports research by promising to create more master's and doctoral scholarship awards through the federal granting councils. 
"These investments in experiential learning are investments in Canada's future," said U of T President Meric Gertler, the co-chair of Canada's Business/Higher Education Roundtable, which has been advocating for increased investments in work-integrated learning.
"The investments are good news because they will drive economic growth by giving Canadians the skills they need to succeed," he added. "They will enhance the success of U of T graduates and others across the country who are entering the labour force."
Touting his fourth budget as an investment to create "well–paying jobs and the promise of a better future," Finance Minister Bill Morneau said it includes several measures to help students get ahead in a competitive, increasingly inter-connected world.
The budget targets 84,000 new student work placements across the country by 2023-2024. "This will be a significant step toward ensuring that, ten years from now, every young Canadian who wants a work placement will be able to get one," Morneau said in his prepared remarks. 
These opportunities – ranging from co-op placements to internships and applied research projects – provide students with a chance to hone their skills on the job while giving employers access to new talent and ideas. 
The budget plans to support work-integrated learning through investments of:
$631.2 million over five years in the Student Work Placement Program to create 20,000 work-integrated learning opportunities, including for students outside STEM (science, technology, engineering and math)
$150 million over four years in Employment and Social Development Canada to foster partnerships with innovative businesses and create another 20,000 opportunities by 2023-24 
$17 million over three years in the Business/Higher Education Roundtable (BHER), representing some of Canada's largest companies and universities including U of T, to help forge partnerships and create more work-integrated opportunities across Canada. BHER has committed to creating an additional 44,000 work-integrated learning placements and opportunities per year by 2021. President Gertler is a co-chair of BHER with Dave McKay, president and CEO of RBC, and Anne Sado, alumna and president of George Brown College.
Morneau also unveiled an International Education Strategy to give more post-secondary students the chance to travel for their studies and acquire critical cross-cultural skills.
Although many employers look for graduates who can thrive in a globalized work environment, only 11 per cent of Canadian undergraduates have a study-abroad experience during their degree, according to Universities Canada. A higher share of U of T students go abroad – about 20 per cent – but the university is aiming to increase that number to 30 per cent.
U of T has been a vocal proponent of increased funding for international mobility, aligned with the university's own goals to prepare graduates to meet global challenges. Last year, U of T increased funding for study, work and research abroad opportunities available through the Centre for International Experience.
The latest federal budget promises $147.9 million over five years and another $8 million per year ongoing for the International Education Strategy. It includes an outbound student mobility pilot program and an investment "to promote Canadian education institutions as high-calibre places to study."
Though the 2019 budget provides more funding for graduate research, U of T is eager to continue working with the government to support the full costs of research. The budget sets aside $114 million over five years and $26.5 million per year ongoing in new funding for the federal granting councils to create 500 more master's level scholarship awards and 167 three-year doctoral scholarship awards through the Canada Graduate Scholarship Program.
"Since graduate students play a key role in our research enterprise, today's announcement adds an important complement to the government's past investments to bolster the country's research strength," President Gertler said.
Other key investments include:
Parental leave coverage for graduate and post-doctoral students: $37.4 million over five years, starting this year, and $8.6 million per year ongoing to the federal granting councils to expand parental leave coverage from six months to 12 months for students and post-doctoral researchers who receive granting council funding
Canada Training Benefit: $1.7 billion over five years and $586.5 million per year ongoing for a new Canada Training Benefit. One component is a new "training credit," intended to help workers aged 25 to 64 with the costs of training fees. Workers accumulate $250 per year to a lifetime limit of $5,000 and apply that credit against half of training fees at universities, colleges and other eligible institutions. They would then claim a refund when they file their tax return. The other component is the Employment Insurance Training Support Benefit to provide income support when an individual needs to take time off work
Indigenous Student Support: A number of investments, starting in 2019-2020, to ensure that Indigenous students have better access to post-secondary education, and more support to ensure that they can succeed during their studies. This includes investing $327.5 million over five years to renew and expand funding for the Post-Secondary Student Support Program while the government engages with First Nations on the development of long-term, First Nations-led post-secondary education models
UTC