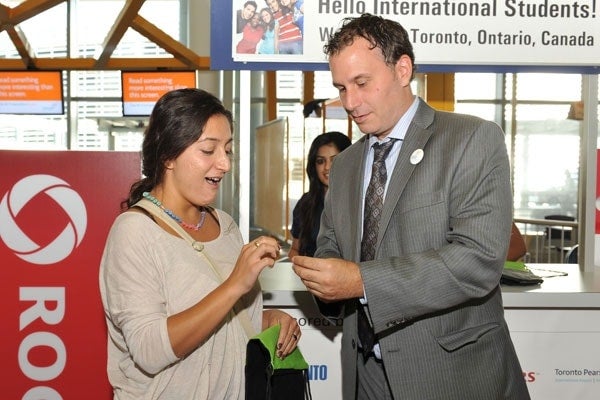 U of T welcomes, assists international students at airport
Swedish U of T student first to arrive
For many students, starting university is both exciting and intimidating. Add to that long distance air travel, customs, immigration and arriving in a strange city where they don't know anyone and one might wonder why they do it.
"International students are resilient," said Miranda Cheng, director of the Centre for International Experience (CIE).
However, she knew more could be done to make them feel welcome when they landed at Pearson International Airport and decided to do something about it. Cheng approached Jagdish Yadav, education adviser at the office of Toronto Mayor Rob Ford's office about an airport welcome and the city took up the call.
The City of Toronto, along with its partners, the Province of Ontario, Greater Toronto Area universities and colleges and Rogers Communications Inc., established the International Students Welcome Booth at Pearson.
The first student to approach the booth was Parvin Yazdani, a U of T psychology exchange student from the University of Göteborg in Sweden.
It is Yazdani's first trip to North America. She actually arrived the day before the booth opened, but went back to the airport the next day because she wanted some information about Toronto.
"I don't know anyone in Toronto," she said. "I really wanted to get the welcome kit and I had some questions."
The booth was open from Aug. 22 to Sept. 5 from 6 a.m. to noon and from 4 p.m. to 11 p.m. Student ambassadors from the various universities and colleges handed out kits containing SIM cards for their cellphones, maps and other information about Toronto, and Rogers provided a free phone call home so students could let their parents know they arrived safely.
Jing Cui, a U of T student ambassador who worked at the booth, said it was very popular; those staffing the booth ended up shortening the break between noon and 4 p.m. to accommodate demand.
Among the students Cui helped were three late arrivals who needed reasonably priced accommodations on the Friday night of the Labour Day weekend. "Many arrive in Toronto without accommodation and need help finding a place to stay," she said.
Cui helped other students find lost luggage and locate the people who were scheduled to pick them up at the airport. One student in particular couldn't find the person she was supposed to meet and was very distressed.
"[The girl] was crying and very upset," said Cui. She offered the student the use of the phone, thinking the phone call home would help comfort her. "She felt better and stopped crying after she spoke to her mother," she added.
What advice would they give to international students travelling to Toronto?
"Avoid arriving on a Saturday or Sunday," said Cui.
"It's good to come early," agreed Yazdani. "I came a week ago; it's given me a chance to find a place, meet other exchange students and attend orientation events."