U of T undergraduate students track variation in languages spoken by Toronto's immigrant communities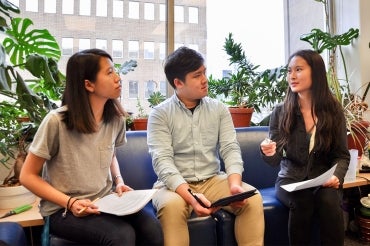 Famous for its ethnic, cultural and linguistic diversity, Toronto is an ideal location for examining if, how and why languages change across generations of immigrants and their descendants.
Three undergraduate students in the University of Toronto's Faculty of Arts & Science recently set out to examine variations in Cantonese pronunciation through the Heritage Language Variation and Change (HLVC) project, an initiative of U of T's department of linguistics spearheaded by Professor Naomi Nagy.
The mandate of the HLVC is to collect and analyze linguistic data from ten languages – from Korean to Tagalog – to examine how they change after they are imported to Canada and passed down to successive generations.
"Our goal was to look at how the Cantonese language changes between different generations of speakers in Toronto versus in Hong Kong," says Mira Chow, a third-year Innis College student who is pursuing a specialist in anthropology with focus on society, culture and language, as well as a minor in physiology.
The student researchers focused on so-called "lazy pronunciation" in Cantonese – more formally known as "denasalization" – where the "n" and "l" sounds at the beginning of some words are interchanged.
"We noticed that in very common words, denasalization was taking place," says Chow of the idea that sparked the project.
However, the group's findings were counterintuitive. They initially assumed that "lazy pronunciation" might be more common in Toronto than in Hong Kong, since the stereotype is that a language somehow "degrades" in a new country.
"To our surprise, this type of pronunciation actually started in Hong Kong and occurs at a higher rate there than it does here in Toronto," says Jonathan Ng, a fourth-year University College student who is majoring in linguistics and sociology.
"We're still not exactly sure why this is the case," says Chow, "but some scholars suspect that frequency in use might be related to increased variation."
In other words, common words subject to denasalization are used more frequently in the home country.
The student researchers are all native Cantonese speakers who grew up in Hong Kong and attended international schools where English was the language of instruction before coming to U of T. Nagy, who supervised the student project through the Research Opportunity Program, says heritage speakers and international students are invaluable to her research because of their linguistic skills and cultural experience.
"I don't speak a lot of the languages we're looking at," says Nagy. "But I can work collaboratively with students who have the necessary expertise – and the field of sociolinguistics and my research portfolio both grow."
All three students are particularly interested in sociolinguistics – the subfield of linguistics that examines social and cultural variables in language.
"What drew me to this project, as an overseas student, is that I really get a sense of how my heritage language is different when I'm away from home," says Kate Cheung, a third-year Woodsworth College student who is double majoring in anthropology's society, culture and language stream as well as human geography.
"I'm very interested in questions about how to preserve culture and language after migration."
Ng also sees connections between the personal and the academic realms of the project.
"This project connected my identity and who I am with theories about language," he says. "I learned a bit of Japanese growing up in Hong Kong, so I'm really interested in how people of the same ethnicity but different backgrounds come to speak the same language in different ways."
Nagy initiated the project because of what she perceived as a gap in the field of sociolinguistics – one that was highlighted when she moved to Toronto after spending 12 years at the University of New Hampshire, which she calls "a very, very English-dominated university and state." 
"The field has been focused on variation and change in big North American majority languages – English, French, Spanish – that are supported by institutions like schools and media. It can be a very Western discipline, so we don't really know if variation and change work the same way in other languages that are spoken here in North America, because so few have been studied."
"When I came to Toronto, I realized we could look at other languages fairly easily with people who live here," says Nagy. "Is the Italian or the Korean or the Russian that is spoken by several generations of people here in Toronto a systematically different dialect from what is spoken in their home countries?"
The HLVC project is an ongoing and fast-growing one, and Nagy says she's always happy to connect with students interested in contributing.
"Sometimes students say, 'I'm sorry I can't work for you this summer professor because I'm going home and staying with my grandma in Italy.' But I tell them: 'Take a recorder with you!'"
The students presented their findings at the Arts & Science Undergraduate Research Forum, an interdisciplinary event showcasing undergraduate research conducted through the Research Opportunity Program, Research Excursion Program and International/Indigenous Course Module Program.
"What struck me is how people from different disciplines were actually interested in our project," says Cheung. "It felt like a big accomplishment when people understood our work and saw how it might relate to them."
"I'm still working on the HLVC, and there are a lot of unsolved questions," says Cheung. "For example, how old is this particular variation in Cantonese? How has Cantonese been affected by other Chinese dialects with different roots?"
One thing is certain: there remain many more questions than answers, which means research opportunities for students of all levels in the project will continue to grow.
UTC