U of T, UBC professors participate in forum on Bill C-16 and gender provisions of the Ontario Human Rights Code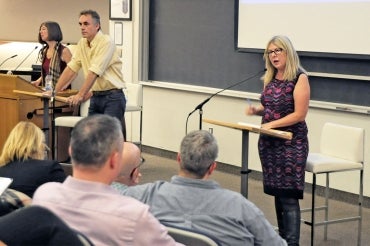 In a tightly packed lecture hall Saturday, the University of Toronto held an academic forum to discuss Bill C-16 and the gender provisions of the Ontario Human Rights Code (OHRC).
"This is doing what a university does best: providing a forum at which scholars with expertise can engage in searching discussion of even the most difficult topics," said Professor David Cameron, dean of the Faculty of Arts & Science. 
Mayo Moran, professor of law and provost at Trinity College moderated the forum, which was held by the Faculty of Arts & Science. 
Panellists were Jordan Peterson, a professor of psychology at U of T, Brenda Cossman, professor of law and director of the Bonham Centre for Sexual Diversity Studies at U of T and Mary Bryson, professor of education and senior associate dean, administration, faculty affairs & innovation, Faculty of Education, University of British Columbia.  
Bill C-16 amends the Canadian Human Rights Act to add gender identity and gender expression to the list of prohibited grounds of discrimination. Under provisions of the OHRC, which came into effect in 2012, people are protected from discrimination and harassment on the basis of gender identity and gender expression.
Bill C-16 and OHRC provisions have been subject to discussion on and offline after Peterson posted a series of videos on the topic. Professors, students, community members and media weighed in, with much of the conversation taking place on social media and on campus during public demonstrations.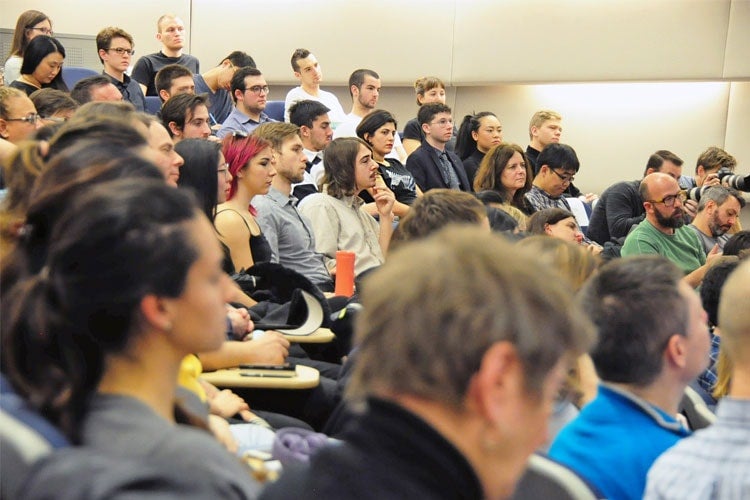 The forum began with Peterson and then Cossman each speaking for 10 minutes followed by Peterson and Bryson who took turns speaking. Moran then posed follow-up questions to each of the speakers before opening it up to questions from the audience.
 "We need to start talking and listening," Peterson said during his opening remarks. 
"What you have to do is you have to articulate your thoughts in the public forum so that other people can attack you – hopefully in a corrective manner," he said. 
For Cossman, supporting Bill C-16 is about compassion and human rights.
"Why it all matters is because people matter. I worry that we moved into a place now – not only a post-truth politics but a post-empathy politics where we no longer seem to care about people. And this at the end of the day is about people – it's about trans and gender non-binary people," Cossman said. 
"All this is about, all human rights are about, is respect and dignity. And if you can throw in a little kindness on the top – that would be even better."
Bryson (pictured below) said the forum was taking place at an important moment.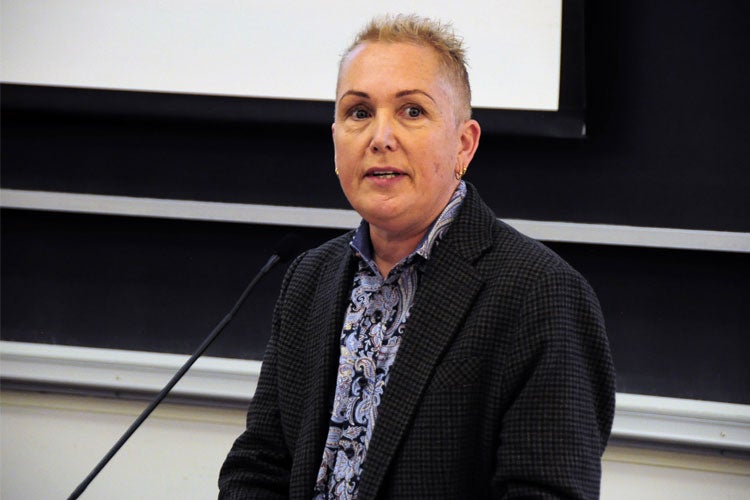 "Yesterday, Bill C-16 passed third reading in the House of Commons and tomorrow is Trans Day of Remembrance. If you only hear this, know that I am unwavering in my belief that the fundamental rights to safety and the humanity of trans and non-binary people are not up for debate."
Bryson also spoke of "our responsibility in creating institutional climates that take very seriously the goal of reducing inequality. That has always been a fundamental goal of education."
No protests or disruptions occurred during the forum, which lasted about 100 minutes and was attended by many students as well as media and community members. You can watch a recording of the event below: