U of T Truth and Reconciliation committee releases interim report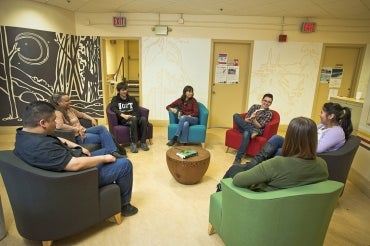 In the span of only a few months, U of T's Truth and Reconciliation Commission Steering Committee has taken great strides toward developing its recommendations. The Committee, which was formed in response to the federal Truth and Reconciliation Commission's challenge to Canadians to engage in an ongoing process of reconciliation, has released an interim report which outlines the work the Committee has done thus far and how the team will continue to work toward the December 31st report with final recommendations.
"Our meetings have been very promising and the Committee is in agreement that all recommendations should be forward-looking and action-oriented with tangible and well-defined goals," said Professor Stephen Toope, director of the Munk School of Global Affairs and co-chair of the Truth and Reconciliation Commission Steering Committee. "There is a healthy scepticism borne of many years of broken promises in Indigenous relations across our country. Despite this, the Committee has a great sense of hope and a deep commitment for positive change."
In its first meeting, the Committee created five Working Groups to focus on the topics of Indigenous curriculum, Indigenous students, Indigenous faculty and staff, Indigenous co-curricular education, and Indigenous research ethics and community relationships.
In an effort to encourage an openness to all ideas, the Committee refrained from providing the Working Groups with specific terms of reference and asked that the recommendations be tri-campus focused, taking into consideration the complex nature of the University. Upon the request from the Working Groups, each group has been connected with an Indigenous Elder to help guide their process.
The Working Groups are also conducting additional consultation on their topics with other stakeholders both formally and informally. The work done by each Working Group was compiled in an interim report submitted to the Committee.
Another key priority for the Committee is the creation of an inventory of all Indigenous-themed programs and initiatives across the University.
"This is the first time the University has conducted an inventory of Indigenous initiatives and it's proven to be an interesting and helpful resource for both the Committee and the Working Groups," said Toope. "The more we can learn about the ongoing Indigenous initiatives at the University, the better we can assess any gaps or areas for expansion. The inventory reaffirms the distributed responsibility of Indigenous initiatives at the University. Every school, faculty and department is working on these issues in different ways with the common goal of improvement."
While the Committee has not yet formed any recommendations, it will continue to work with the Working Groups to submit a final report to the president and vice-provost by December 31, 2016.
"We know reconciliation does not happen quickly and we are committed to creating institutional mechanisms to promote continuing action into the future," said Toope. "With the work the Committee and University is doing, we are striving for U of T to earn a place worthy of Indigenous students."