U of T takes on 'alternative facts' at this year's Science Literacy Week
Alumnus and event founder Jesse Hildebrand speaks to U of T News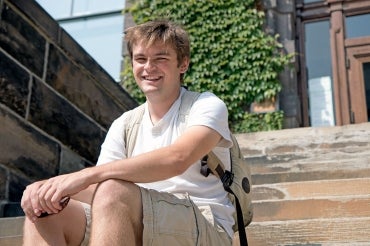 Social media has become the misinformation superhighway. With so many conflicting perspectives being shared online, it's becoming harder to differentiate hard science from science fiction.
Science Literacy Week – a nationwide event promoting science engagement and education – brings together academic institutions, libraries and organizations to highlight amazing discoveries and fascinating literature while also teaching people how to think critically about the information they come across.
The University of Toronto is taking on "science in a post-truth era" – featuring talks, exhibitions and interactive events at all three campuses until Sept. 24.
Explore book displays on pseudoscience and controversial topics in engineering, check out Thomas Fisher Rare Book Library's collection of iconic artifacts, debate the existence of extraterrestrial life, meet real scientific experts at the Human Library, and much more.
For U of T alumnus Jesse Hildebrand, Science Literacy Week started as a personal passion project and became his full-time job.
He founded the week in 2014, "and it snowballed from there," he says.
From a modest local event, the week has become a Canada-wide celebration, with 720 events from B.C. to Newfoundland.  
Now supported by the Natural Sciences and Engineering Research Council of Canada (NSERC), Hildebrand works on promoting and showcasing science engagement projects year-round.
U of T News spoke with Hildebrand about this year's event and why it's important for the scientific community to tackle fake news.
---
This year, a lot of the week's events are addressing fake news. Why do you think it was important to take on that topic?
All the U of T libraries joined together and that was their theme – to do post-truth and fake news. It's really important. There are so many competing sources of information out there now. If you look at libraries across the country, they're making sure people know the right sources of information and how to identify "alternative facts" and make better choices when it comes to figuring out who to trust. Those events help equip students and people generally with the skills necessary to do that.
Does the shift in the way information and misinformation spreads worry you?
I think there's this pervasive pessimism over the last two years and there's good reason for that – there's a lot of things that are worrying to people, but certainly people not trusting their government, government not trusting the news, people not accepting science facts as reality is not something that's new to civilization. This has happened a lot in a lot of places, in Canada and the United States, many times over the last 100 years. I'm sure we'll get back to a better spot very soon. 
What can people look forward to this week?
We have a lot of events that would appeal to people who otherwise would never want to go to a science event: live storytelling; stargazing; we're blowing stuff up; there's an anatomy tour where you can go and see actual cadavers; there's an iconic book showcase – the original copies of Newton and Darwin from hundreds of years ago. With those sorts of events, I hope people will take the time to come and check it out. 
How would you like to see people engaging with science after Science Literacy Week? 
The more we work to get these groups together, do great science events year-round, and showcase that whether you're going on a date, whether you're taking your kid somewhere after school, whatever you're doing, there's some great way to engage with science. The hope is that this serves as a springboard to these groups doing more work year-round and exciting the public 365 days a year.
UTC