U of T students win international clean energy competition with sustainable yacht design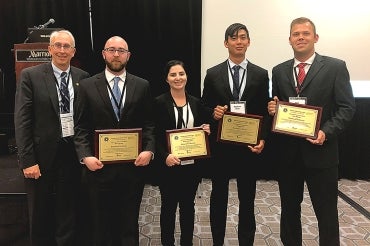 A team from University of Toronto's Faculty of Applied Science & Engineering has won an international clean energy design competition. Its design for a sustainable recreational boating system, dubbed Motion+, took first place at the global 2017-2018 Hydrogen Student Design Contest, an annual competition organized by the Hydrogen Education Foundation in Washington, D.C.
The team's winning entry comprises a hydrogen-fuelled amphibious motor boat named the Hydronautic+ and its companion refuelling station fHuel+. It is based on the idea of using off-peak renewable energy to turn water into hydrogen that can replace gasoline as the power source for the vessel. It offers a sustainable, noise-free and emission-free alternative for the boating industry.
The project grew out of MSE458/MSE1058 Nanomaterials in Alternate Energy Systems, a course taught by Professor Steven Thorpe, a professor in the department of material sciences and engineering, that is taken by fourth-year undergraduates and graduate students. The Motion+ team members are Jessica MacInnis, a master's of engineering candidate, Yuri Savguira, a PhD candidate, Matthew Chen, a master's candidate, and Bryan James, a former U of T student who is now a PhD student at the University of Florida.
"Our team took a design developed in the classroom and presented it against global competitors," says MacInnis, who managed safety and regulations for the yacht and refuelling station design. "To win first place was a thrill and came as a result of our team designing a practical solution to current boating challenges"
One of 33 worldwide teams competing for the top prize, Motion+ presented their concept at the Department of Energy Annual Merit Review in Washington D.C. Their focus on the marine industry demonstrated a unique perspective that impressed the judges. The new design allows for the enjoyment of boating without harming lake ecology or surrounding wildlife.
Throughout the course and the many design sessions that followed, the team took advantage of the resources in the technology-enhanced active learning (TEAL) classrooms that have been piloted in the Sandford Fleming building since 2014. TEAL rooms are also a major feature of the recently opened Myhal Centre for Engineering Innovation & Entrepreneurship.
The TEAL model provided a dynamic environment where the team could design their product and develop a business proposition. There they came up with the critical amphibious features enabling the craft to refuel on land, an elegant solution that addressed a number of challenges around hydrogen access.The combination of classroom learning, design concept, innovation and entrepreneurship turned a course project into a first-place win for the team.
"TEAL gave our team the right environment to create an award-winning concept and design," says Savguira, the team's project manager. "Our win in Washington showcases the opportunities that learning spaces like this can offer students."
Engineering