U of T students travel to India to research delivery of social services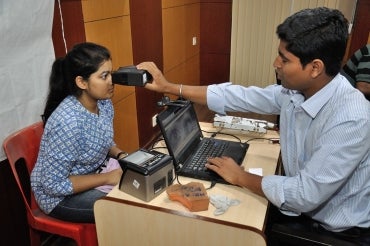 A national registry in India, called Aadhaar, helps social services better reach citizens in a country where 40 per cent of births aren't registered and 70 per cent of the residents have no nationally recognized piece of identification.
The registry now provides more than 99 per cent of India's adult population with a national identification number that can be accessed via biometric data, such as fingerprints or iris scans. These identification numbers are increasingly used by citizens to seek social service benefits such as cash transfers and subsidies.
A group of University of Toronto students spent the past academic year researching the reasons behind Aadhaar's remarkably high enrolment rate.
They read government documents, reports and articles about the program and met bi-weekly to discuss their findings and to identify gaps in their knowledge that they could turn into questions for their field research. They spent February and March setting up interviews and finally, in April, they travelled to India to conduct field research by meeting with government officials, civil society organizations and other implementing partners in various parts of the country.  
The research experience was offered through the Reach Project at U of T's Munk School of Global Affairs. The project, which focuses on the delivery of social services to those who are the hardest to reach, is supported by the Mastercard Center for Inclusive Growth and led by Joseph Wong, a political scientist in the Faculty of Arts & Science and associate vice-president and vice-provost, international student experience. It is administered by Kirstyn Koswin, a research officer who accompanied the students to India.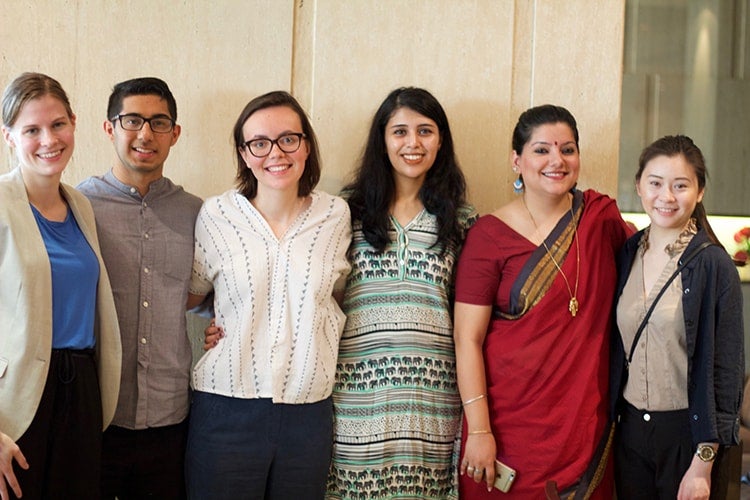 From left to right, students Kirstyn Koswin, Nikhil Pandey, Carol Drumm, Shruti Sardesai, the team's research assistant Sneha Banerjee and Cheryl Young in India
It was the opportunity to do research in the field that attracted graduating student Nikhil Pandey.  
"Most of us had done desk research so being able to go into the field and see how something was being implemented was appealing," said Pandey, who is pursuing a double major in economics and international relations. "I'm really interested in developmental economics, and this was an opportunity to research successful development policies."
Shruti Sardesai, who is graduating this month with a master's degree in global affairs, said she had previously done an internship dealing with the logistics of global delivery and "wanted to get some insight into how delivery works for different countries depending on the schemes they implement, and the ultimate goals of those schemes."
"Being Indian, I was interested in working with Indian delivery schemes and supplementing my knowledge of how the central government rolls out social delivery across the country," she said.
The researchers spent five days in the field to learn how the government has been able to enrol 99 per cent of the adults in India, even though many live in remote areas or are migratory.
"We drove two or three hours along a dirt road to a rural village," Pandey said.  "We saw how four-wheelers with loudspeakers were used to make announcements in areas with lower technological penetration."
Pandey discovered that being in the field is completely different from doing desk work: "I never realized how much planning and front-line ingenuity are involved in social service delivery," he said.
The students are working on a final report based on their project to be posted on the Reach Project website.
"We demonstrated that you can conduct high-level research as undergraduates, said Carol Drumm, who is graduating this month with a degree in ethics, society and law. "Even for a short period, field research is so critical to confirm the information you have, get insights and fill in your knowledge gaps."
Drumm was also excited to be witnessing the beginning of a shift in Indian society.
"There is a real sense that the country is bursting at its seams, trying to keep up," she said. "There is a sense that people want more transformative change. The country is at a crossroads, and Aadhaar is part of that change. It was interesting to be studying progress that is happening in real time."
For Cheryl Young, a third-year student in the MD program, one of the highlights was speaking with NGO officials who worked on enrolling homeless individuals.
"It is one thing to read about how introducing formal identification to those previously without it provides a sense of agency and a potential means of empowerment," she said. "But it's another to see in front of you a binder full of bank accounts that were newly opened by homeless individuals, which was only made possible by having recognized identification."
Munk