U of T students travel to Georgia to experience what it's like to build a new democracy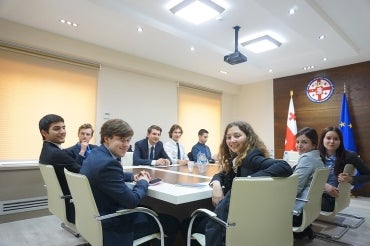 Students in Associate Professor Robert Austin's class put aside their books during reading week for an immersive learning experience a continent away in Georgia, an emerging democracy at the crossroads of Europe and Asia.
Offered through the Faculty of Arts & Science's international course module program, Austin's class titled, "Enlarging Europe: The European Union and its Applicants" tries to give undergrads a rare opportunity to experience fieldwork as part of their studies. Austin, who teaches history at the Faculty of Arts & Science and is a specialist at the Munk School of Global Affairs' Centre for European, Russian, and Eurasian Studies, has taught the course for over a decade. 
 
Each year, students examine the role and impact of the European Union through the lens of a potential member and then travel to that country to gather insights for a final research report.
"Field research is a great skill to have," says Austin, who has taken students on nearly 20 trips over the last ten years to places like Kosovo, Azerbaijan, Bosnia, Montenegro and Albania. "Coordinating the interviews beforehand, the persistence and follow up required − it's a great exercise in project management. And once you're there, everything that happens matters. All of it builds practical learning and confidence." 
So last month, Austin and nine students set off to Georgia to seek out local perspectives on the country's possible EU membership.
In a series of interviews and group discussions set up in Tbilisi, the country's centuries-old capital, students spoke with representatives of government, civil society, industry and academia to explore different aspects of Georgia's experience at the intersection of East and West.
"The Georgian Orthodox church officially supports EU integration," says Josh Gold, a third-year peace, conflict and justice student who looked at the role of the church in Georgian politics. "It is by far Georgia's most trusted and powerful institution. I'm interested in how it might use that influence to engage the West and strengthen Georgia's fledgling democracy."
For Gold and others, the fieldwork was the culmination of many weeks of preparation that involved learning about the political culture and history of Georgia, deciding on a research topic, then identifying and reaching out to the right people in Tbilisi to secure interviews in advance of the trip. 
"There was lots of prep," says Tea Cimini, who is in her third year of European and peace and conflict studies.
Her research looked at EU membership and gender equality, including women in decision-making and judicial reform on issues like domestic violence.
"The best part of the experience," she says "is that we got to meet with such knowledgeable people and really learned to think on the spot. It was truly memorable – the highlight of my experience at U of T so far."
In Tbilisi, students spoke with local experts and stakeholders about a wide range of topics related to the country's possible EU membership from its impact on energy policy and education to international investment law and the country's global brand.
"The trip was amazing," says Jacob Janek, a third-year European studies student. "We interviewed professors, politicians and local residents. It provided a lot more information than we could glean from across the Atlantic."
Austin describes the experience as transformative for students. Not just for the knowledge and skills it imparts, but because "it makes them better citizens," he says.
"Toronto is isolated from so many realities," he says. "This experience puts students on the frontlines of something very important, to see first-hand what's involved in building stable democracies in a very unstable area."
Munk