U of T students return to the field for 2022 Research Excursion Program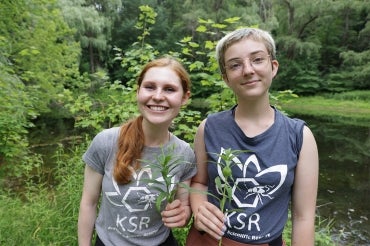 When the pandemic halted in-person instruction at the University of Toronto in the spring of 2020, it also paused valuable experiential learning opportunities like the Faculty of Arts & Science's Research Excursions Program (REP).
But with pandemic restrictions now easing and students back in the classroom, the program is once again providing undergraduates with a chance to take part in a faculty member's research project off campus.
Lily Peters and Abigail Wagner spent the summer taking part in a study of the parasitic goldenrod gall fly and the common goldenrod plant at U of T's Koffler Scientific Reserve at Joker's Hill (KSR), located north of Toronto in a region of the province known as the Oak Ridges Moraine. The site comprises 350 hectares of wetlands, pastures and forests – and the wildlife that calls those habitats home – and is used by the university for research, training and public outreach.
A member of Victoria College, Peters is entering her second year in an ecology and evolutionary biology specialist program with a genome biology major. Wagner, meanwhile, is entering her fourth year in a genome biology and physiology program and is a member of St. Michael's College.
"This has been my first real experience doing research," says Peters. "I'm planning to do a master's degree or PhD, so I wanted to see if research was for me and see what type of research I liked. I wanted to get a feel for how this type of research is done."
Wagner, for her part, says she is interested in genomics and wants to pursue a career in genetic counseling. "Our project is related to uncovering how different characteristics correlate with different gene variations and how common these variations are in a population – so it was just what I was looking for," she says.
The students' REP supervisor is Arthur Weis, a professor in the Faculty of Arts & Science's department of ecology and evolutionary biology. Weis studies natural selection – one of the mechanisms by which species evolve – in particular, when evolution occurs over a short period of time.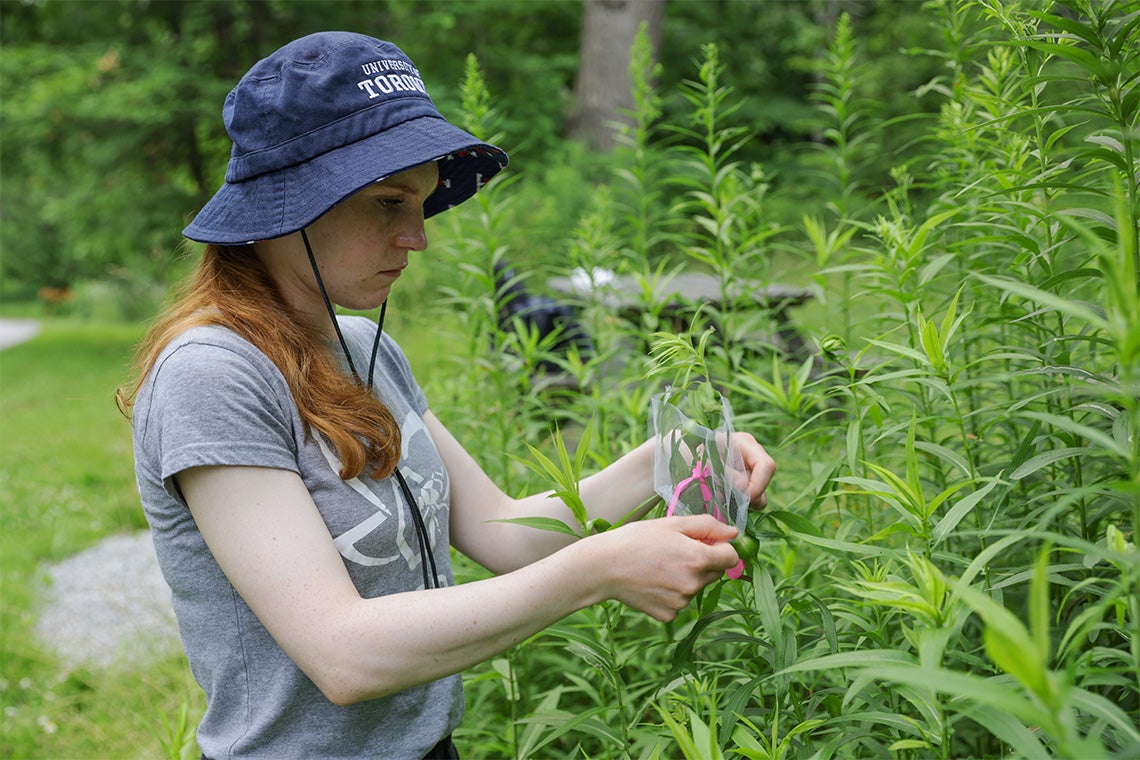 Abigail Wagner "bags" a gall to protect it from parasitic wasps (photo by Kemeisha McDonald)
The goldenrod fly is a parasite that lays its eggs on goldenrod plants. After about 10 days, a larva emerges from the egg and burrows into the plant's stem, triggering the growth of a gall – a round, tumour-like sphere measuring a half-inch to an inch in diameter. The larva survives the winter inside the gall and in the spring, the adult fly emerges, ready to start the cycle over.
Peters and Wagner are helping Weis in his research into the genetic connection between individual flies and the size of the galls their larvae produce.
Gall size is important. Larvae in small galls are vulnerable to parasitic wasps that lay eggs in galls which then hatch into larvae that prey on the fly larvae. Larger galls offer protection from wasps but larger galls are preyed upon by woodpeckers for the larvae within. The researchers' goal is to shed light on the natural selection forces that favour a gall that is neither too small nor too large – and the genes that may be the basis for determining size.
The students began by finding goldenrod plants with galls. Their next step was to protect the fly larvae from wasps by wrapping the galls in mesh. Over the summer, Peters and Wagner "bagged" over 700 galls.
The students then collected galls and sorted them by size.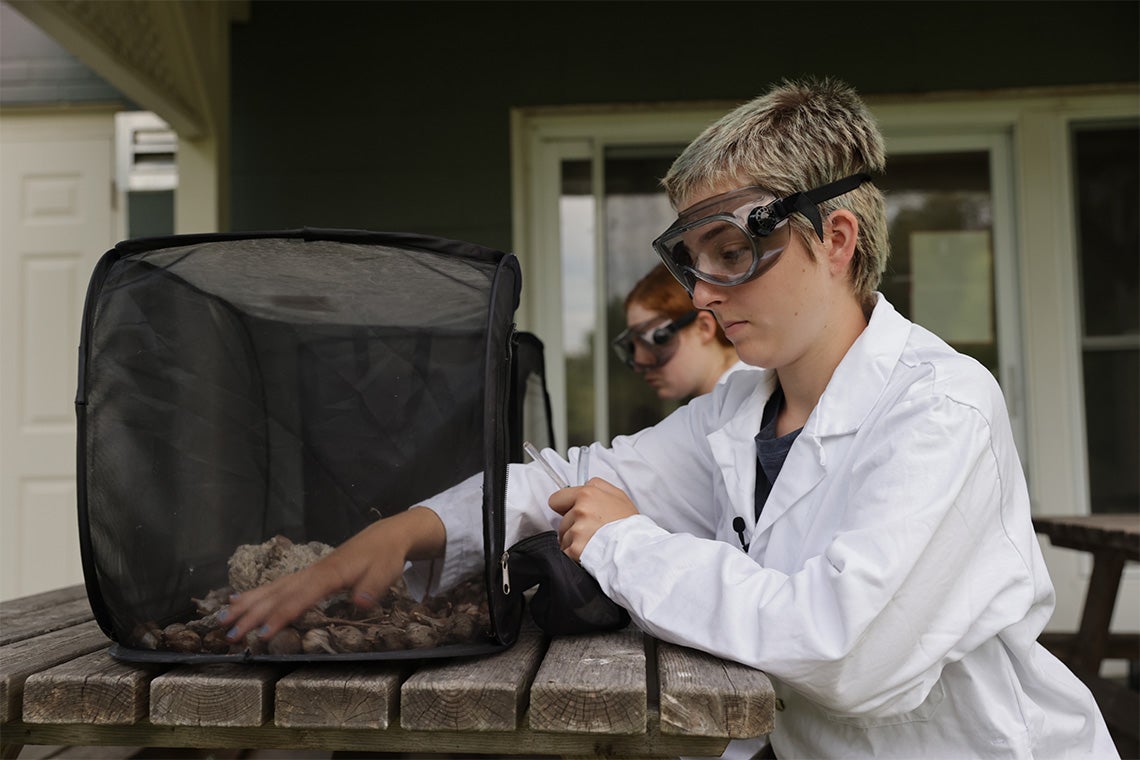 The students collected goldenrod flies that have emerged from galls (photo by Kemeisha McDonald)
"Next, we'll sequence all the flies to figure out whether all the big-gall flies have a similar section of their genome," says Wagner. "Then, we'll look to see if some of the genes in this section play a role in causing a specific size of gall."
For Weis, the program is rewarding as both an instructor and a scientist.
"This is what it's all about – working with students in the lab or in the field," he says. "Students who are curious, enthusiastic and want to learn. And in the process, it extends my own research and helps me answer the questions I'm curious about."
For Wagner and Peters, the experience has provided them with much more than an opportunity to do research.
"It's really added context for me for when I'm reading a research paper," says Wagner. "Because now, I've experienced the entire research process, hands-on."
Peters, meanwhile, says she's planning to pursue a PhD, "so, it's been cool seeing and talking with other researchers up here and learning about what they're doing for their masters and PhDs.
"And working outside in the field all day has been amazing. I've seen so many things – like my first porcupine! It's been a really great experience that's shown me how amazing field work is. It's really solidified in my mind that this is what I want to do for the rest of my life."
Arts & Science