U of T students part of first Canadian team to win prestigious urban design competition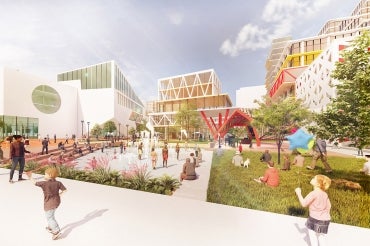 A team of Canadian students, including two from the University of Toronto, recently took home top prize in the Urban Land Institute/ Gerald D. Hines Hines Student Competition – the first time a non-American team has won the prestigious contest.
Ruotian Tan, a master of urban design student, and Chenyi Xu, a master of architecture student, were both members of the winning team, which also included students from York University and Ryerson University. 
The annual competition asks entrants to find a solution to a complex urban design problem – in this case, by developing master plans for the East Village, a neighbourhood in Kansas City, Mo.
"It was a great multidisciplinary learning experience for me," Tan said earlier this year. "It was a very good chance for me to practice and get some good results before I actually go into a professional career."
For the Kansas City project, the student teams had to take into account a number of goals, including economic impact, sustainability, housing affordability and access to transportation. Teams were asked not only to design ways of transforming the neighbourhood, but also to develop phased implementation and financial plans.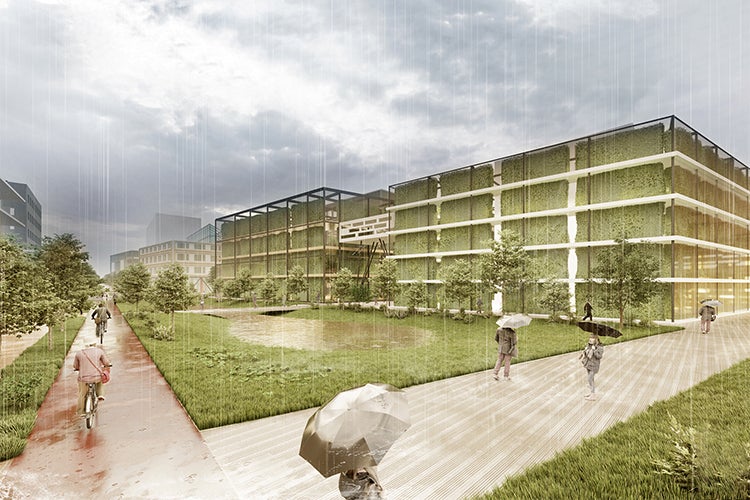 A vertical farming greenhouse was part of the Canadian student team's winning submission (image courtesy of Fusion team)
The Canadian team's design, titled "Fusion," was unique among the competition's finalists in that it didn't include any tourist infrastructure. Instead, the group chose to focus on building a lively pedestrian promenade for locals that was lined with mixed-income residences, office space, retail, and a 107,000-square-foot community centre with housing for seniors inside.
"One thing that distinguished our proposal from the other finalists is that we wanted to create a community for people who are actually living there, rather than attracting tourists or visitors to the site," Tan said back in March.
The group's master plan also included a network of green infrastructure intended to control the flow of stormwater across the site. Permeable pavement and street bioswales would allow the East Village to absorb rain and store it for reuse in a series of local gardens and green roofs. A vertical farming greenhouse would make it possible for the neighbourhood to produce some of its own food.
The team's attention to environmental sustainability and agriculture won the competition jury's approval.
"Fusion stood out as it pushed a new paradigm for an urban neighborhood based on the strong regional legacy of agriculture," ULI Hines jury chair Diana Reid wrote in a statement. "Their financing plan and design enabled economic resilience through small scale food growth and distribution, local culinary incubation, and research-driven employment opportunities."
U of T's Tan and Xu worked closely with three other teammates: Frances Grout-Brown and Leorah Klein of Ryerson University and Yanlin Zhou of York University. They were supervised by Steven Webber and Victor Perez-Amado, both assistant professors at Ryerson's School of Urban and Regional Planning. Raymond Lee, a senior associate at Weston Williamson + Partners, and Christina Giannone, vice-president of planning and development at Port Credit West Village Partners, acted as advisers.
The all-Toronto team, which made its final submission to the competition's jury on April 8 during a videoconference presentation, bested a field of 104 other entries from schools around North America. The four other finalists represented a number of America's top schools, including Pennsylvania State University, Columbia University, University of California, Berkeley and the Georgia Institute of Technology.
In addition to bragging rights, the Canadian students will split a US$50,000 grand prize.
"Reflecting on this experience in its entirety, it's surreal how much we've learned along the way," the Canadian team said in a statement. "Though each member of the team brought different skills to the table, we were strongly aligned in our aspirations for the site and were proud to present our proposal rooted in enabling physical and social connectivity and achieving economic and environmental resilience."
Daniels