U of T students join universities around the world to address laws that suppress media, freedom of expression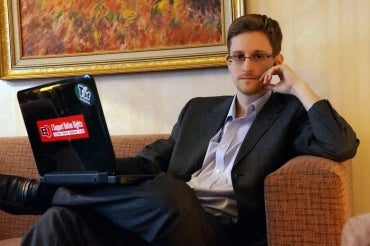 High-profile charges against whistleblowers and leakers like Julian Assange, Edward Snowden and Chelsea Manning are exposing the legal consequences for publicly releasing government secrets and are shedding light on the way nations use the law to suppress media and freedom of expression.
A global network of universities, including the University of Toronto, has begun to engage in a large-scale research project to explore how countries are using local laws to stifle journalists, media outlets and whistleblowers.
The International Human Rights Program in U of T's Faculty of Law is leading the charge in Canada. Students participating in a clinical course, called the Media Freedom Model Laws Project, will conduct research and contribute to a report on how countries are using espionage and official secrets laws to respond to media leaks. U of T will be working alongside Irwin Cotler, former federal minister of justice and attorney general, on the project.
Other participating universities include King's College London, Columbia Law School and Korea University. Each school will tackle a different issue or legal tactic – including blasphemy, misinformation, defamation, and anti-terrorism – and provide regional contexts for the different reports.
The initiative came out of the Global Conference for Media Freedom in July and is part of a larger media freedom campaign and legal panel led by David Neuberger, former president of the Supreme Court of the United Kingdom, and Amal Clooney, human rights lawyer and special envoy on media freedom to the U.K. foreign secretary.
"The tax on media freedom is manifesting in a lot of different ways, and thus far there hasn't been much of a concerted effort to bring all of these threads together," says Vincent Wong, an adjunct professor in the Faculty of Law and IHRP research associate, who is teaching the media freedom course.
U of T students will have the chance to work with Ben Wizner, a lawyer with the American Civil Liberties Union who is the legal adviser for National Security Agency whistleblower Snowden. He will serve as one of the expert reviewers for the report.

"Students will really have the opportunity to not only learn from the readings and from the theoretical angle, but will also talk to some of the key players that were involved in these kinds of ground-shaking cases that are still going on and still having ramifications all over the world," says Wong.

Vincent Wong says the global reach of the media freedom project will give it the scope needed to make a difference (photo by Romi Levine)

U of T law student Kate Somers is looking forward to taking a deep dive into the laws affecting media freedom during the law clinic.
"I was excited to be involved further in that because it's a really great way to learn about what's happening, keep myself informed, and to equip myself with the tools and the connections so hopefully I can continue being part of the conversation about freedom of expression in the future."
Somers says she's interested in working as an in-house counsel for an international newspaper, so the media freedom project, "really lets me reinforce and explore the parallels between journalism and law."
Using a legal cover to silence journalists is a relatively new activity, says Wong, with a prime example being the punishment for those involved in WikiLeaks.
Manning's 35-year sentence (which was commuted after seven years) for leaking classified documents was an unprecedented move by the U.S. government, he says.  
"In terms of severity of sentencing for media leaks, this was completely off the charts. This was multiples of years in terms of length of any sentence that had ever been issued for media leaks for national security," says Wong. "This was really a turning point and it showed how America was using the national security and the espionage acts in a way that had never been contemplated when the espionage act was created about 100 years ago."
Canada doesn't shy away from these types of legal actions, either, he says.
In 2015, Vice-Admiral Mark Norman, who was then the Canadian military's second-in-command, was accused of leaking information about a naval ship contract and charged with breach of trust. He pleaded not guilty and, while the charge was eventually stayed, Wong says the case is a reminder that the long tradition of government disclosure to media is on shaky ground.
"It is really only in the last about 10 years or so that the legal framework all over the world has really shifted against this and has targeted and prosecuted this relationship between government officials and political reporters in the press."
The IHRP report will include a review of problematic state practices regarding espionage and national security laws, and on the flip side, legislation that could serve as positive examples of media protection. Researchers will also look at international guidance on media freedom and freedom of expression from organizations like the United Nations Human Rights Council and Human Rights Committee, and provide recommendations for how to create a legal framework that balances public interest and national security concerns.  
The global media freedom project is a chance to advocate for better global protections for journalists, media organizations and leakers, using the clout of Neuberger and Clooney and the network of university researchers, says Wong.
"We have a unique opportunity and ability here to put pressure on a lot of different governments," he says. "The ultimate point is that it makes a practical impact because if it doesn't, then why are we here? The practical function of this is on the top of the minds of everybody who was involved in this project. That's one of the ways that makes it exciting."
UTC