U of T students heading to the UN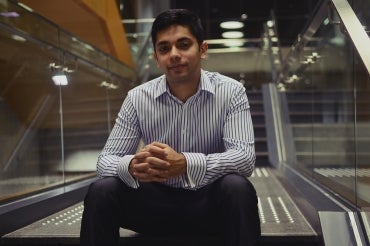 As the United Nations strives to build a more equitable, peaceful and ecofriendly world, it can count on help from some new allies: 14 determined, forward-thinking students from U of T.
Next month, the students from U of T Mississauga will share their input on some of the world's most pressing problems at the UN's 2017 Winter Youth Assembly.
The biannual event connects young adults from across the globe so they can learn about international development issues, share their social change-making success strategies and gain knowledge and resources to improve their local communities. Taking place from Feb. 1 to 3 in New York City, the 19th assembly will explore multifaceted global issues such as poverty, education and sustainable consumption.
The members of the student delegation come from a range of program areas, including environmental studies, mathematics and economics. Leading the group is Eashan Karnik, an accomplished environmentalist who last year completed a bachelor's degree in psychology and anthropology, and who is currently taking courses in environmental leadership and public policy.
"We're looking forward to learning about how different communities are achieving sustainability and sharing our own experiences of how we have achieved similar goals," Karnik says.
Protecting the planet is a priority that was instilled in Karnik at a young age. Growing up, his family excursions included planting trees and cleaning up polluted rivers. He later pursued similar earth-friendly initiatives through his high school's community environment team. That tradition continued when he started at U of T Mississauga where he was an assistant at the school's greenhouse and the sustainability coordinator for the student union. Off campus, he has served since April 2016 as a student member of Mississauga's environmental action committee.
"Working in the environment has long been a passion for me," Karnik says. "Climate change is a universal problem so that's why an assembly like this is important – it allows people from around the world to tackle this common issue."
At the UN Youth Assembly, Karnik and his team will be among 1,000 youths participating in interactive workshops led by distinguished experts from within the UN and other notable intergovernmental and non-governmental organizations.
The topics will include ensuring global access to quality education, promoting responsible production and consumption practices, breaking the cycle of poverty, addressing global warming, improving youth employment outcomes, and exploring solutions such as social ventures and microfinancing.
Throughout the event, the students will focus on addressing these complex social, economic and environmental issues through the lens of the UN's 17 sustainable development goals. Their resulting insights and ideas will lead to the development of a Youth Plan of Action that will help realize the UN's vision to significantly transform the world for the better by 2030.
Karnik, whose career goal is to work as an environmental lawyer for the federal government, credits U of T Mississauga for providing a fertile training ground to study and practice environmentalism.
"I've learned a lot about the holistic nature of environmental issues, and how they are interconnected globally," he says. "U of T Mississauga focuses a lot on sustainability, and I've been able to bring in all sorts of green projects. It's nice to see these issues being talked about and acted on at the university."
UTM