U of T student team takes first place at International Small Wind Turbine Contest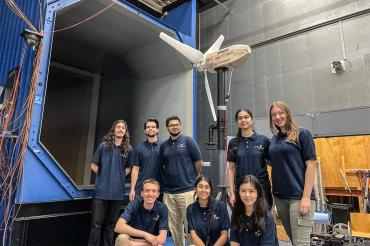 In their first-ever competition, UTWind – a team of undergraduate and graduate students from the University of Toronto's Faculty of Applied Science & Engineering – has taken the top prize in an international challenge to design and build a small-scale wind turbine.
"While we always strived to be a competitive team from the beginning and knew that we had a strong design, we definitely didn't expect to win first place," says David Petriw, a third-year materials science and engineering student who is a member of UTWind.
"The morale of the team is at an all-time high, and we are going to celebrate this win in a big way."
The International Small Wind Turbine Contest (ISWTC) is hosted annually by Hanze University of Applied Sciences in Groningen, Netherlands. To clinch first place, UTWind edged out teams from Denmark, Germany, Poland and Egypt.
"The goal of ISWTC is to build and demonstrate a wind turbine designed for rural regions in Sub-Saharan Africa," says Andrew Ilersich, a PhD candidate at the U of T Institute for Aerospace Studies (UTIAS) and aerodynamics lead for UTWind.
"Every aspect of our design had to be tailored to, or at least compatible with, the region it would be sold and operated in. We also had to show that our design was sustainable, being made from recyclable, low-cost, and locally available materials."
Unlike the large turbines used in commercial wind farms, which can rise to over 100 metres and generate megawatts of power each, small wind turbines (SWTs) are designed for generation on scales from a few hundred watts to a few kilowatts.
To win the contest, teams must demonstrate top-of-class performance across a number of criteria, including power generation, cut-in speed, estimated annual energy production and coefficient of power, which is a measure of the turbine's efficiency.
Performance was measured at the Open Jet Facility wind tunnel at Delft University of Technology. After that, the teams headed to the Science of Making Torque Conference in Delft, to present their business case.
The process of creating the prototype took more than a year from start to finish.
"We began the design phase in the beginning of 2021 and the whole assembly was built in winter semester 2022," says Ashley Best, a third-year student in materials science and engineering who is media team lead for UTWind.
"Our turbine is made from wood and 3D-printed plastics. A few parts were outsourced to our sponsoring machine shop, Protocase, but the majority of the fabrication was done in house by our team – 3D printing, laser cutting, drill pressing, lathing, milling and assembly."
"One of the things that set our team apart was our high coefficient of power, even when operating at very low wind speeds," says Suraj Bansal, UTWind co-president and technical adviser and a PhD candidate at UTIAS.
"In addition, we had a very modular, low-cost and sustainable construction, as well as a self-starting wind-turbine design thanks to our active pitch control system. We are currently creating a mobile app to control and monitor the wind turbine performance right from our mobile devices."
UTWind is one of U of T Engineering's newest design teams, co-founded in January 2021 by Bansal and UTIAS alumnus Ben Gibson.
"I was a member of a similar wind turbine design team at the University of Manitoba, while Suraj had prior experience from his master's research work in the U.S. to design extreme-scale wind turbines," Gibson says.
"We wanted to pass as much of that knowledge on as we could, while both having fun and pushing ourselves to the maximum. And so far, it has worked out great."
Engineering