U of T student team places third in national competition for app that helps children with autism spectrum disorder
A team of three University of Toronto graduate students has designed an app for caregivers that can help improve the accessibility of museums for children with autism spectrum disorder (ASD).
The innovation earned the team third place at the 2019 Universities Canada Innovative Designs for Accessibility (IDeA) student competition, which aims to inspire university students to develop innovative, cost-effective and practical solutions to everyday accessibility-related barriers.
For their entry, Keren He and Yifan Zhang, both master's students in engineering, and Christina Park, a master's student of museum studies in the Faculty of Information, decided to focus on the barriers faced by children with ASD when visiting community spaces such as museums.
Children with ASD can experience sensory defensive challenges, meaning they have a low threshold for response to stimuli and tend to avoid certain kinds of sensory input. However, some children with ASD experience the opposite, referred to as sensory seeking challenges, meaning that they have a high threshold for response to stimuli and tend to seek out extra sensory input.
The app, named MuseGO, maps out the indoor environment according to sensory criteria, such as noise level, lighting and temperature. The virtual map then informs an augmented reality interface that places icons on the screen describing sensory experiences visitors can expect to find in each area.
This additional information helps visitors decide whether to avoid or visit certain areas. By making sensory information visible, the app improves overall guest experience, minimizing stress, exhaustion and confusion.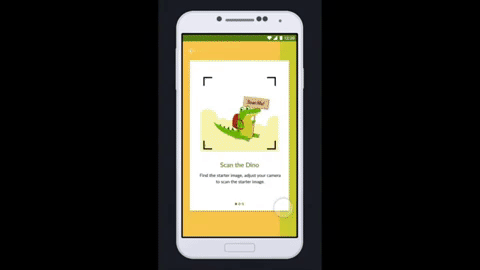 MuseGO is an app that overcomes systemic barriers in museums 
"MuseGO was inspired by a guest speaker in a museum studies course I took at the Faculty of Information," says Park. "The speaker discussed their institution's sensory-friendly programming, so we decided to explore the potential of using a personal mobile device as a tool to break barriers for children diagnosed with ASD in accessing cultural institutions as well as other community spaces such as universities, hospitals, libraries, museums, and shopping malls."
Park took the idea to Creative Applications for Mobile Devices, a course taught by Jonathan Rose, a professor in the Edward S. Rogers Sr. department of electrical and computer engineering, in which students work in multidisciplinary teams to design and develop smartphone apps for a wide range of uses.
By the end of the semester, He, Park and Zhang had a working prototype of MuseGO.
After completing the course, the team decided to pit their creation against 55 other projects in the national IDeA competition. Their third-place finish in the attitudinal/system barriers category comes with a $1,000 prize. They were also encouraged by the positive feedback they received from the IDeA judges, industry and peers.
"It's been very rewarding to have put our learning and skills together to create this app which has been recognized by the greater community," says Zhang. "We're currently working on improving the technical and design aspects of the app to create more intuitive and accurate indoor navigation. On-site user testing in public spaces is one of our key next steps."
Engineering